Mike Maysey - USA
Information from the former TurnerDownhill site, last updated in 2002, so some information may no longer be accurate.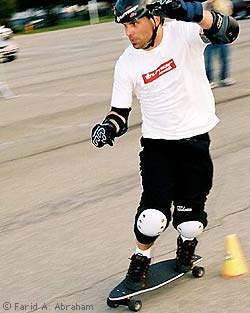 Hometown:
Los Osos, CA
Age:
30
When did you start skateboarding?
I started skateboarding when I was 6 or 7.
What is your most memorable moment from last season?
My most memorable moment last season was meeting Bobby Turner in September 2001. We talked about boards a little, first skateboards then surfboards. He told me a little about T.R. and B.P. (whom I am too young to remember). Mostly though, we talked about riding waves. That night, in the alley behind Bobby's new factory, I rode a cutaway for the first time. That was it. I couldn't get my feet in the right spots at first, but I was hooked on the ride nonetheless. I decided, if I was going to continue skating slalom, I wanted to ride these boards. Something about the foam and fiberglass really agrees with me. That night, I was privileged to be one of only four guys to RIDE the first two of the new generation Cutaways. Paul Dunn, John Gilmour, Howard Gordon and I rode up and down the alley he watched us test the new beginning. Paul got so excited on one of his runs, he hit a bad spot in the alley and sailed a few feet. Bloody, Paul decided it was time to eat. We all agreed. Bobby invited us over for dinner, stir-fried shrimp and veggies with sticky rice, beers and stories. I spent most of the night silent.
Why do you ride for Turner?
The best tools you can ride for the job. It's also the chance of a lifetime to add your name to a list like Peircy, Ryan, Dunn, Gilmour.
What are some of you interests outside of skateboarding?
Surfing, mountain biking, painting, photography, music
What type of slalom skating do you consider your specialty (tight, hybrid, GS)?
My specialty is whatever you can thrown at me.
In what year did you enter your first slalom race? How did you do?
Morro Bay World Championships, 2001, 31st place
Any additional comments?
I'm 30 years old this week and look, I finally became a professional athlete!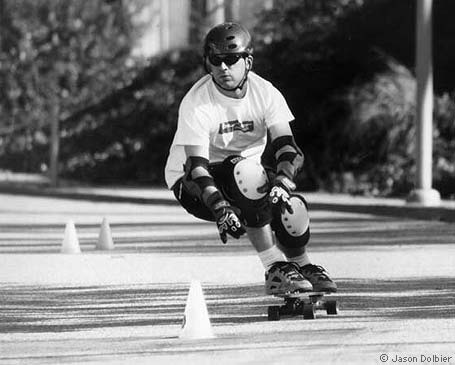 2002 Race Results
FCR Series, The High Peaks Drifter
Breckenridge, CO June 8/9 2002
- 3rd Pro Slalom
FCR Series, Battle By the Bay
San Francisco, CA March 23/24 2002
- 1st Pro Dual Slalom
- 3rd Pro Giant Slalom