name:Adam Winston (joker540 on other forums)
Dob:sept 10 1985 (20 years old right now)
Sponsors:Chixill/skurf skates/mcphails cycle and sport
job: art director for ChiXill, film intern, stencil/airbrush artist
home town: TORONTO CANADA
Recent races: Top challenge 05 came 32/34 got taken out by a torn ligament in the first round
plans for this years race season: to make it to my first races and by the end of the season make it into B class, and make it back on to the cover of naphte this year.. (i was on the cover last summer) make a photo realistic stencil
a bit about how i work, everything has got to be CUSTOM.. i hate the idea of having a board that has a twin out there some place... i want to show up to a race and my board be the only one of its kind.. well paint jobs atleast, i now work for chiXill as thier art director, all the graphics on thier boards are now cut and designed by me, we are hoping to offer the closest thing to one off custom paint jobs possible.... there might only be 3 boards out there with the same paint job. im working on a photo realistic stencil. all my stencils are cut using plastic sheets.. the same used in the over head projectors in high school. and then they are all sprayed used spray paint for an airbrush...
currently trying to get a job in the film world as an editor, so look out for me and my video camera at the races..
skating is a way of life with me, i spend most of my days talking about it, and my nights doing it, i get out skating for a couple hours atleast a couple times a week when the weather is shitty.. and when its night im out all the fucking time, i skate everywhere..
i was introduced at the end of the summer to slalom by CIV and Rob sydia.... local skate heros around here.. also shout outs go to Chris barrett, team founder and wikked guy, i wouldnt have learned as much about the gear and the slalom game if it wasnt for him
little story... when i first decided to branch into slalom i was going to order two offsets cause i had no idea that you only used one in the rear, then chris set me straight
ok here are pics of what i do, THESE ARE ALL DONE IN STENCIL AND SPRAY PAINT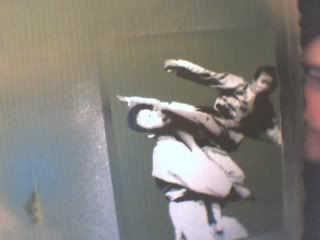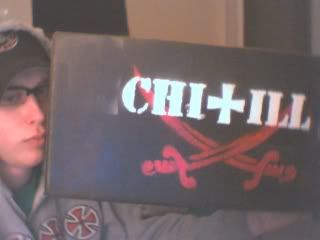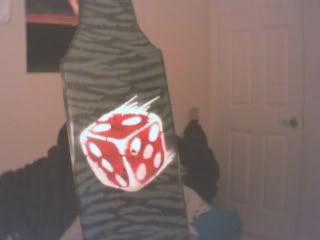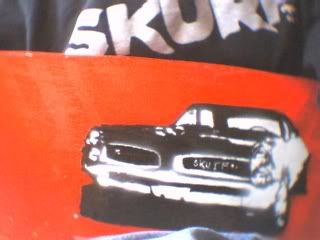 my tribute to pocket pistols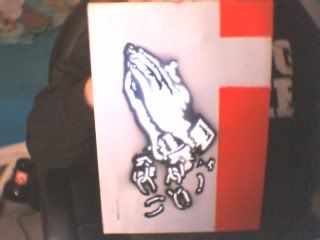 my hand is there to show the SIZE of the stencil.... that thing is MASSIVE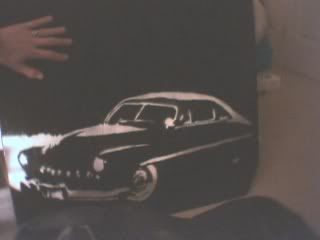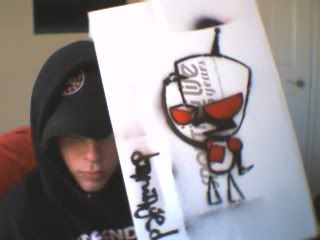 you wont see any of these on ChiXill boards, these are all some of my personal collection
cheers
see you at the races