Anyone wanna race?
Weekend Outlaw, Saturday, February 12, 2011 11:00 AM until we get tired and quit.
Location: Walter Brown Industrial Park, Commerce Drive, Ridgeway, South Carolina at Exit 32 on I-77 (25 miles north of Columbia.)
Directions: Take I-77 to Exit 32 at mile marker 32. Take Peach Road west. Take the first right. Take the next right on to Commerce Drive. Go to end of road at the cul de sac.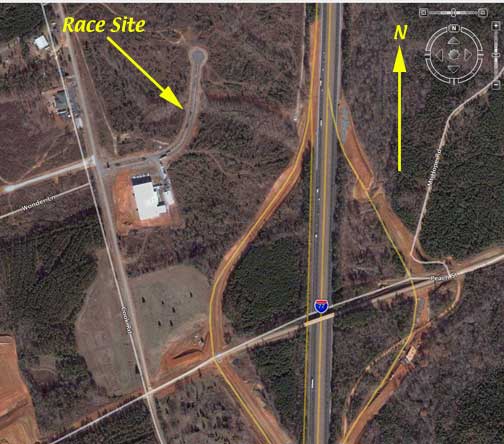 Venue: dead end road in a vacant industrial park. Three-year old asphalt with little or no traffic. Probably a good 8.6-9 out of 10. Can't say 10 because it's only 300 feet long and only 18 feet wide. 5-6% Grade.
Here's a video from an outlaw back in '08. The course will be on the same hill as the tight slalom course at the 1:12 minute mark:
http://www.youtube.com/watch?v=tFE0oaidOvI
Course: will set a good tight-to-hybrid course with around 40 cones. Offsets won't be too extreme but it will be be fast. The surface and pitch will see to it.
Start: push start. Ain't gonna sweat over getting ramps to an outlaw. But even the push start will be downhill to the first cone.
Timing: Dual-lane TrakMate timing with four-tone starts.
Format: Qualifying, bracketing and dual eliminations.
Weather: long range forecast has it clear and in the 50s. If there is more than a 50% of rain on Thursday then we'll cancel. Otherwise, it's a go.
No sign up but let me know with a reply here or on Facebook. Be nice to get at least 10 to race.
One last thing: it's an OUTLAW. Don't get in a twist about it. No one has raced or run cones probably since the Dixie Cup if not longer. Come out Saturday, skate, work out the kinks, compete, burn off some calories.
Ain't life grand?
WT