Lynn Kramer is now the Eight-Time Womens World Champion!! Kramer won 2 of the three events and claimed the overall title for 2010! She is truly a force to be reckoned with ... just a week later claiming more victories at the Farm in CT -- ruling the Open B group over several male racers . . .
Joe McLaren claims his first Overall World Championship in the Pro Men's Division but adds to a long list of World Championship titles at only 17 years old! 2010 is his year with a winning streak of 13 pro races in a row - including sweeping the Nationals in Colorado a couple weeks earlier!
Kyle McLaren - Overall World Champ in the Jr. Men Division. Two wins and one 2nd place in the 15-17 year old category. Kyle also has quite a history in racing at just 15 years old and now adds another major entry on that record.
Both Joe and Kyle were racing in Europe for the very first time!
McLaren Brothers -- World Champions 2010
Check out the newspaper feature on Joe & Kyle in their hometown --
McLaren Brothers Win World Championships - Story from ColoradoDaily
The CZ racing crew did a fantastic job planning and running the race. Major media coverage was arranged as well . . with coverage of the head to head finals from Sunday's hybrid event airing on national CZ television.
Watch the TV coverage online here:
World Championship Racing in Hradec Kralove CZ Rep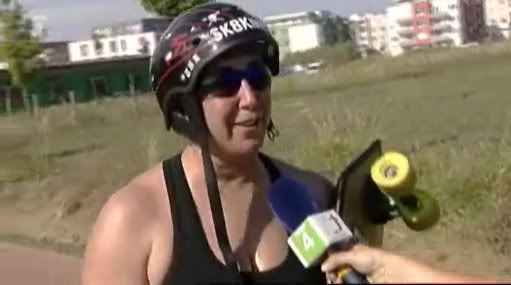 Lynn Kramer being interviewed by CZ TV crew after her victory to clinch the Overall World Champion title
Team rider Janis Kuzmins also claimed a 2nd place podium spot in the Tight slalom and Richy the Brown Bomber (despite being sick with the flu throughout) finished 11th overall in the Pro Men standings.
Still sorting through 100's of photos. Stay tuned for more!
Congratulations to our new World Champions! Sk8Kings and the Axe Army Salute You!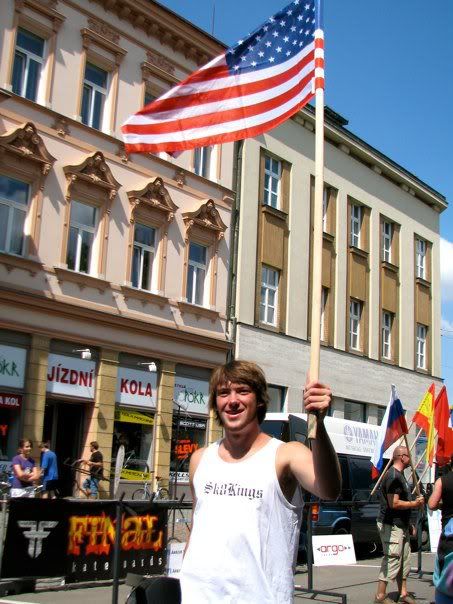 Joe McLaren flying the flag for USA! (photo: Michel Dupont)
###