Gary and Wax... Thank you for producing an awesome truck! Just had my 1st ride on the 90mm and firstly, there was virtually no "break-in" period - they felt like I had always had them.
Secondly, they were so superbly responsive for TS. The courses I set, 5ft 6" - 6ft 6" (a nasty ass TS with lots of offsets, step-overs, hips etc) was no problem with them.
Not to mention how pretty they look on my board ;)....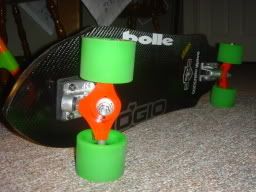 See y'all @ Morro...