the very popular s-cambers(at least they were really popular here in europe) and the flwas in conctruction lead to the birth of a redefined version.inspired by david pirnack this board has a few interesting features which beefed up the previous design study.
the s-camber has a downturned nose-section,no real concave,a tail which is no tail since its too flat.
the PAVEL P(PIRNACK)-CAMBER is a woood,glass/foam,carbon construction with the following new features added to its predecessor.
the nose is upturned(trucks are already mounted at a certain angle.it features an all round concave to hold your foot in place.
the middle section of the board is flat(well,it follows the curve of the original camber) with supportive channels in the foamcore to avoid torsional tweaking.
the tail section has the same spoon effect the front of the board gives and is mainly described as a "pocket".also i need to mention that the tail has a mild concave.
a wider nose and tail section accompany the sidecuts in the middle.
wheelbases range from 18.75-19.75.
dave has a very similar riding style as christoph bauman:powerful with wide turns.this board falls in love with that style and brings the racer closer to the cones plus it accelerates faster,due to its moulds than standard boards.
this statement has been tested several times with timing devices at hand-done by professional skaters!!!!
thanks again to big dave for his precious input on this board and also to frank beste for shaping the mould.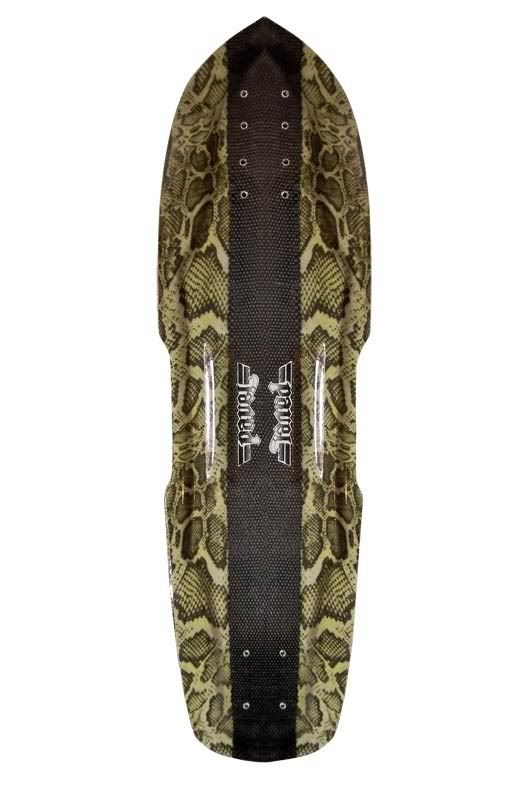 retail price for this all glass on the inner and otuer shell board will be 250 usd or 200 euros