I thought about asking this question on Silverfishlongboarding where I first heard of these new downhill trucks. Unfortunately, I know skaters well enough to realize that if I did I would just be accused of starting a flame war. My real intentions of just finding out something I don't know would be completely ignored in the rising din of those condemning me for asking a question. So, I'll bring it here to SS.com. There's probably a little better chance of getting a rational answer.
I'm not a downhiller and don't keep up with wide-track downhill trucks. After a long lay off I only got back into paying attention to speedboards and downhilling in the past couple of years. So I'm not sure of the lineage of how these trucks developed.
Did Radikal "copy" someone when it came out with the Talon? Is there a truck that was on the market earlier than Radikal with the same sort of geometry that was milled from billet aluminum?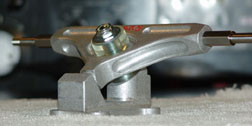 The reason I ask is I don't know if Kalahani copied the Radikal Downhill Talon to produce this truck or if Radikal and Kalahani both copied an earlier truck.