We hereby welcome you to
"Trocadero Grand Prix" aka Paris Slalom World Cup 2008
.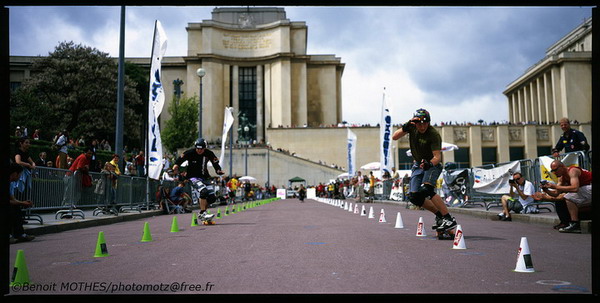 UPDATED: April 9
Date:
May 9-12, 2008 (May 10-12 for the ISSA slalom events)
Location:
Trocadero, Paris, France
Disciplines:
Dual Straight: Saturday
Dual Special: Sunday
Dual Hybrid: Monday
Freestyle: Saturday
Freestyle Battle zone: Friday
Park slalom: Friday
Bowl jam: Friday
High jump: Sunday
Bonus events:
Freestyle: Friday the 9:th (11.00 - 13.00) and Saturday the 10:th (17.00 - 19.00)
Park slalom, Bowl jam Friday the 9:th. (14.00 - 21.00)
High jump, Sunday (11.00 - 13.00).
Organized by:
Riderz Association (
www.Riderz.net
)
Main organizers:
Jani Soderhall (Riderz & ConeRacing.com)
Vincent Berruchon (President of the Riderz Association)
Guillaume StCriq (Riderz & ConeRacing.com)
Race related questions:
grandprix@riderz.net
(Jani or Vincent will answer)
Event website with online registration:
http://event.Riderz.net
(
available NOW
)
Registration fees:
Pro 100 EUR, Am 50 EUR, Freestyle 50 EUR
The registration fee includes participation in ALL events, meals and t-shirt (plus insurance for French riders).
Park slalom + Bowl only: 15 EUR (participation + tshirt, no meal)
High jump only: 10 EUR (participation+t-shirt)
Sponsor contact:
Guillaume StCriq (
scGuillaume@yahoo.fr
)
Timing equipment:
Trackmate with ExcelMate by EttSexEtt run by Daniel Gesmer, Seismic Skate
Rules
Slalom: ISSA rules (Rev 2008), with a few minor, minor revisions (to be announced)
Freestyle: WFSA rules
Other details of interest:
- Prize money
5000 euros
~7800 USD!
- New 1.4m startramps.
- A new concrete skatepark in Paris with bowls etc. Park slalom Race and Bowl contest! (Friday)
- Freestyle event (Friday and Saturday)
- High jump (Sunday)
Welcome!
/Jani