Moderators: Robert Thiele, Petr Matous
ISSA President 2011-2020

Posts: 4245
Joined: Thu Aug 22, 2002 2:00 am
Location: Sweden, lives in France
Contact:
---
Posts: 11
Joined: Tue Nov 09, 2010 7:30 am
REGISTRATION: http://www.skateworld14.cz/en/registration-id9
On the second weekend in August 8th to 10th 2014, there will be theWorld Championship of Skateboarding. On Friday and Saturday the competition will take place 25km far from Polička, in the tunnel Hřebeč. The transportation to the tunnel is organized for all competitors.
The sk8 base before race will be in Herešova Krčma. It is a restaurant on the Polička's square with many two-handed sword outside. This restaurant will be reserved for our sk8ers community. In the evening will wait for you big afterparty with live bands and DJ's (both evenings)
Accommodation
is ensured for everybody (not only for the competitors) in the center of the town. More information about the accommodation
http://www.skateworld14.cz/en/accommodation-id13
.
- There will be the catering and the medical service for all the competitors on the spot of the competition
The T-shirt, 5x meals, entrance ticket to the party, transport to venue to competition is included in the entry fee. + nice contest !
On the Friday August 8th the GIANT slalom in the tunnel Hřebeč (
https://goo.gl/maps/J8PMk
)will start. In case of bad weather the competition will take place in the tunnel. The tunnel length is 360m, width 16m. Weather permitting the competition will take place on the Hřebeč Hill, which is approximately 1km long and leads to Moravská Třebová. The competition day will start with the training at 8AM. The slalom will be approximately 500m long. In these days we are negotiating about the transportation uphill for the competitors. The competition will have 2 rounds (maybe 3 rounds, if there is enough time) in the single line. The best time counts. The big sk8 afterparty with a few life bands will begin in the evening.
On Saturday August 9th will start the HYBRID slalom in the Hřebeč also. The training starts at 9AM. Hybrid will be runin parallel. It's length will be 150-200m. In the end the H2H top 16 (if there is enough time top 24) will start. In the evening begins the sk8 party vo. II. , which will be located in the compound of Polička´s ski slope. Jägermeister party there will DJ plays the music in combination with the live bands.
On Sunday August 10th the competition will take place in Polička, Svoboda's embankment (
https://goo.gl/maps/t9wgk
) .Embankment is on the flatland, so techniqueis more important then days before on the hill. The training starts at 10AM. TIGHT is on the schedule, which will be build parallelly and will continue the same way as the Saturday's H2H.
Categories: Kids, Teens, Juniors, Women, Masters, Amateurs, Professionals
August 8th Hřebeč - GIANT
8 – 9am — registration
8 – 8:45am — GIANT training
8:45 – 8:55am — riders meeting – the rules specification
8:55am — GIANT start – children (2 runs)
9:20am — GIANT start – youth, juniors, women (2 runs)
9:50am — GIANTtraining
11 –11:15am — riders meeting
11:15am — GIANT MASTERS, AM, PRO start ( 2 runs )
8:00 PM Skate party
9:00 PM Winners ceremony — ski slope Polička
August 9th Hřebeč – HYBRID
9am — training HYBRID
9:30am— HYBRID start - children, youth, juniors (2 runs)
10am—training HYBRID
11:30am — HYBRID start – women, maters AM, PRO (2 runs)
15 AM H2H top 16 AM, PRO (the rest of categories if the number of competitors allows)
8:30 PM Jägermeister skate party
9:00 PM Winners announcement- ski slope Polička
August 10th Polička´s embankment– TIGHT (onion slalom)
10am—training TIGHT
11:45am—TIGHT start – children, youth, juniors (2 rounds)
12am —TIGHT start – women, masters, AM, PRO (2 rounds )
2pm—H2H rop 16 AM, PRO, (the rest of categories if the number of competitors allows)
As the race is over, winners ceremony TIGHT, Overall – prizemoney
---
ISSA President 2011-2020

Posts: 4245
Joined: Thu Aug 22, 2002 2:00 am
Location: Sweden, lives in France
Contact:
---
ISSA President 2011-2020

Posts: 4245
Joined: Thu Aug 22, 2002 2:00 am
Location: Sweden, lives in France
Contact:
Hybrid slalom results
Pro Finals: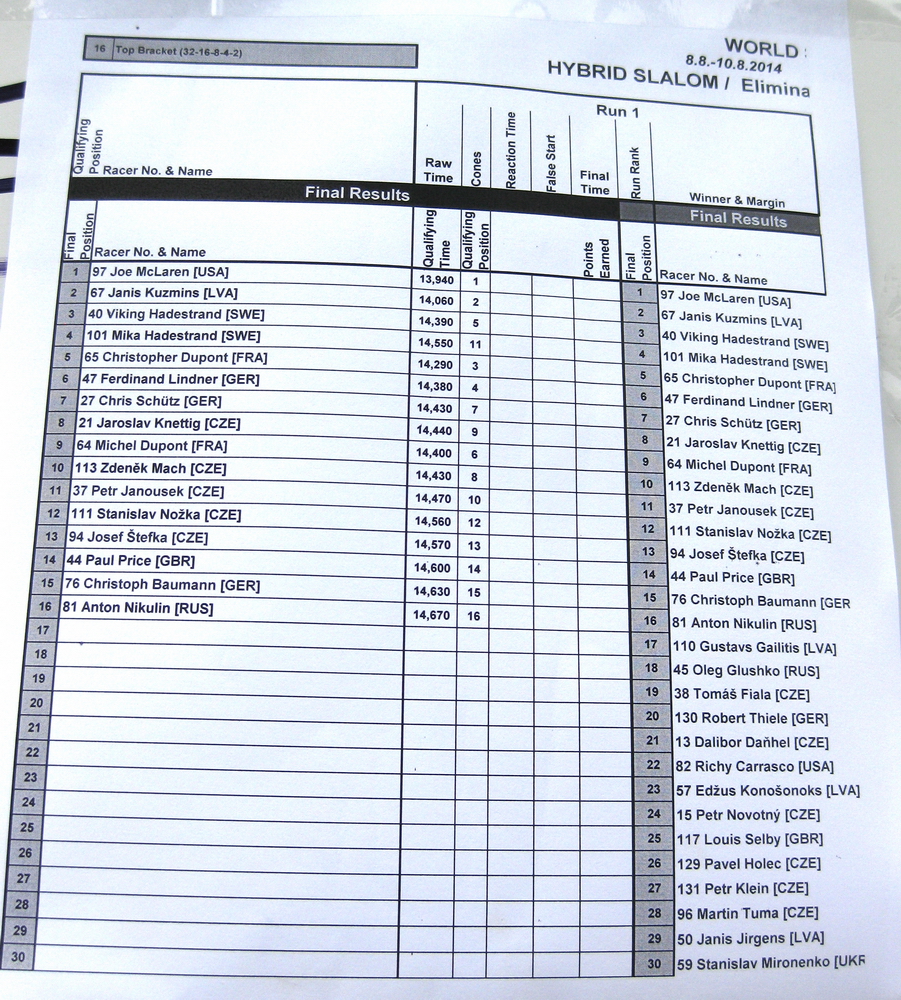 Pro, Qual: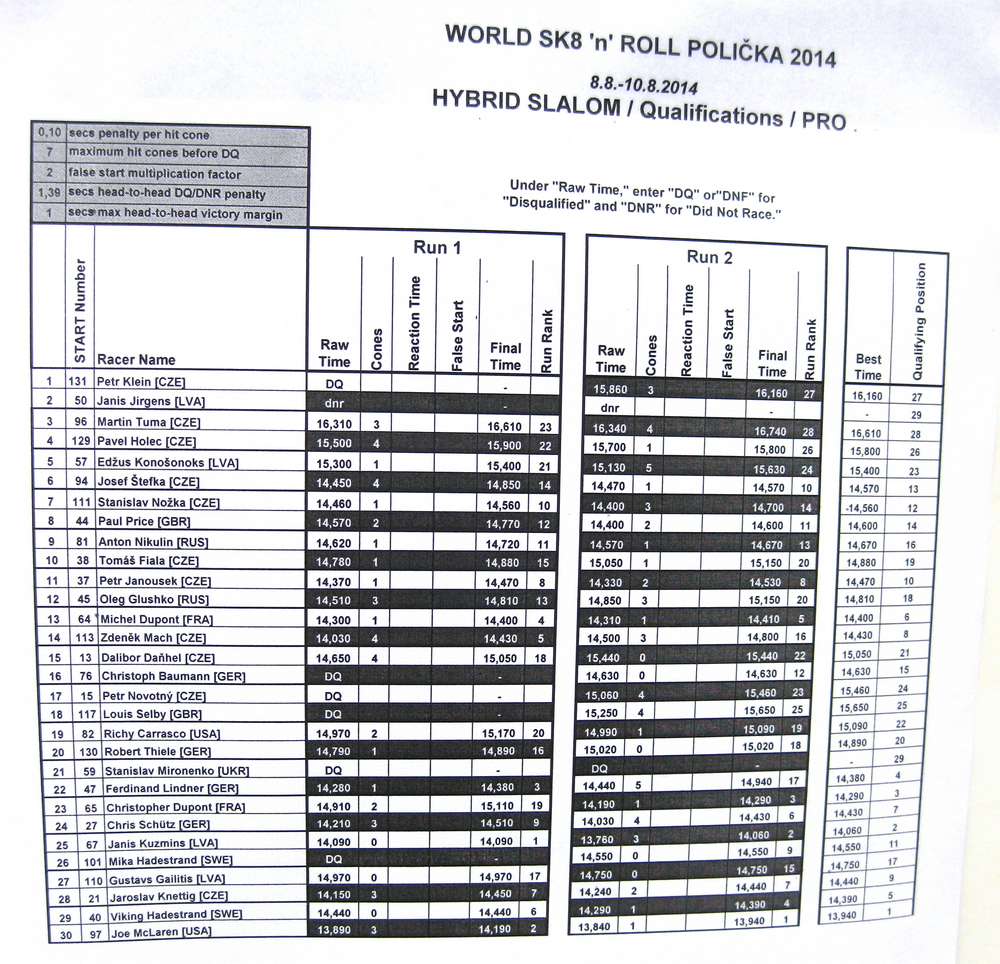 Master, Qual: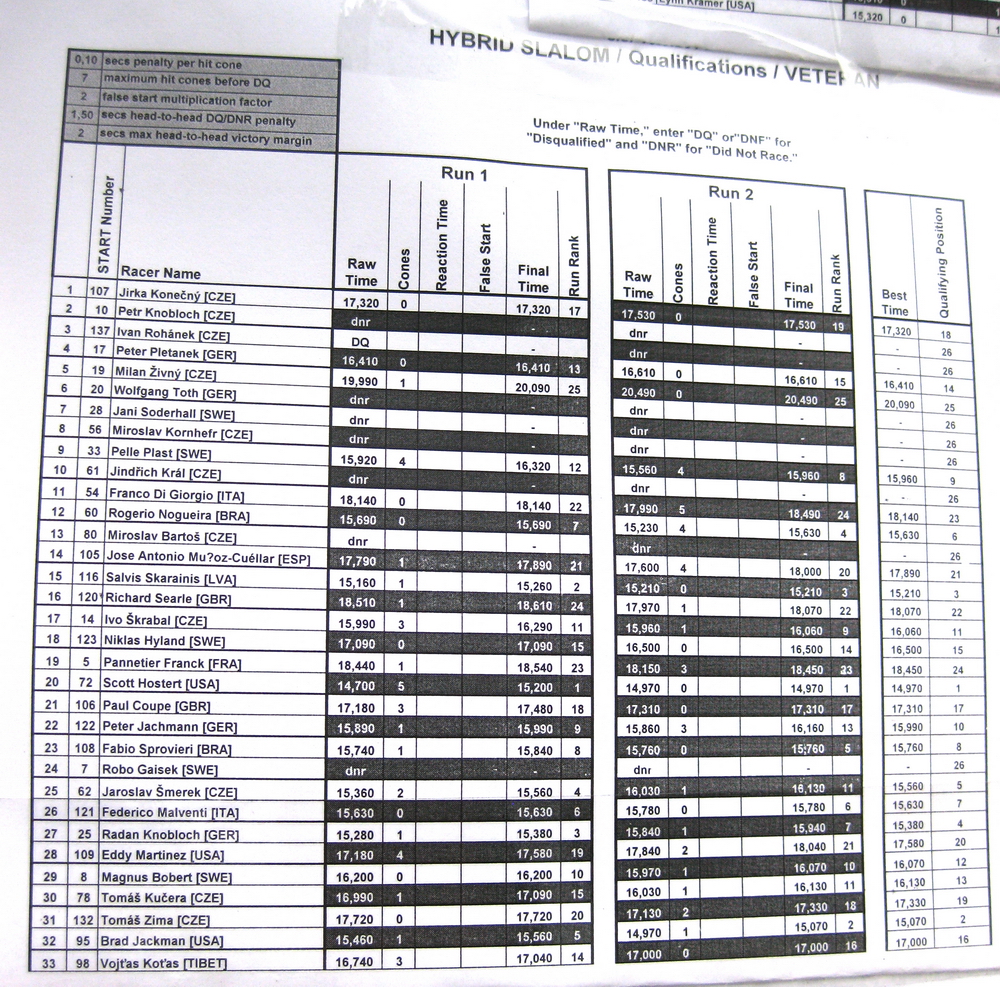 Masters, finals:
(photo missing)
1. Scott Hostert, USA
2. Salvis Skaraine, LAT
3. Radan Knobloch, GER
Women, Qual: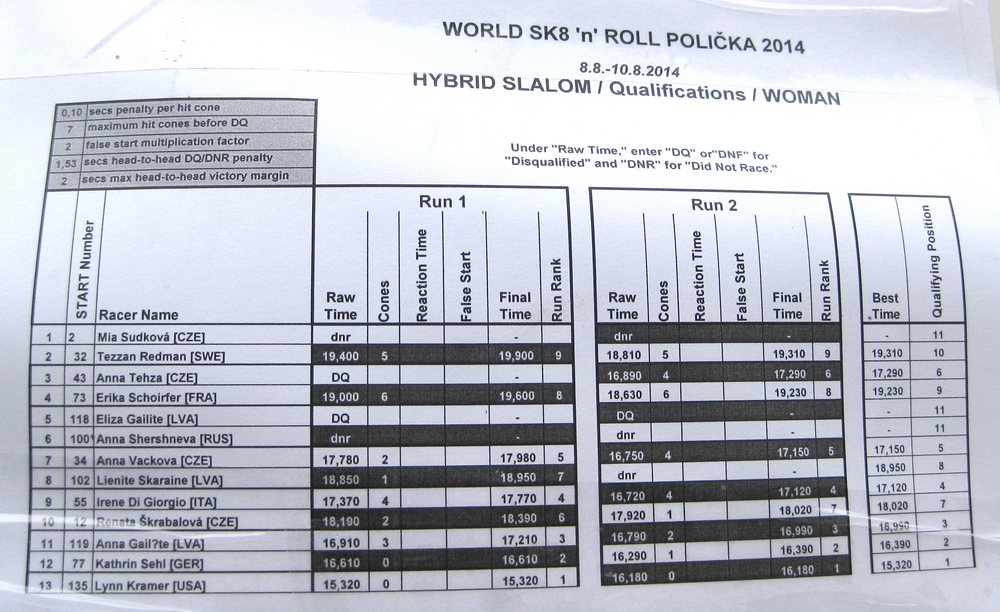 Women, Finals:
(photo missing)
1. Lynn Kramer, USA
2. Kathrin Sehl, GER
3. Anna Gailite, LAT
AM, Qual (finals cancelled due to rain):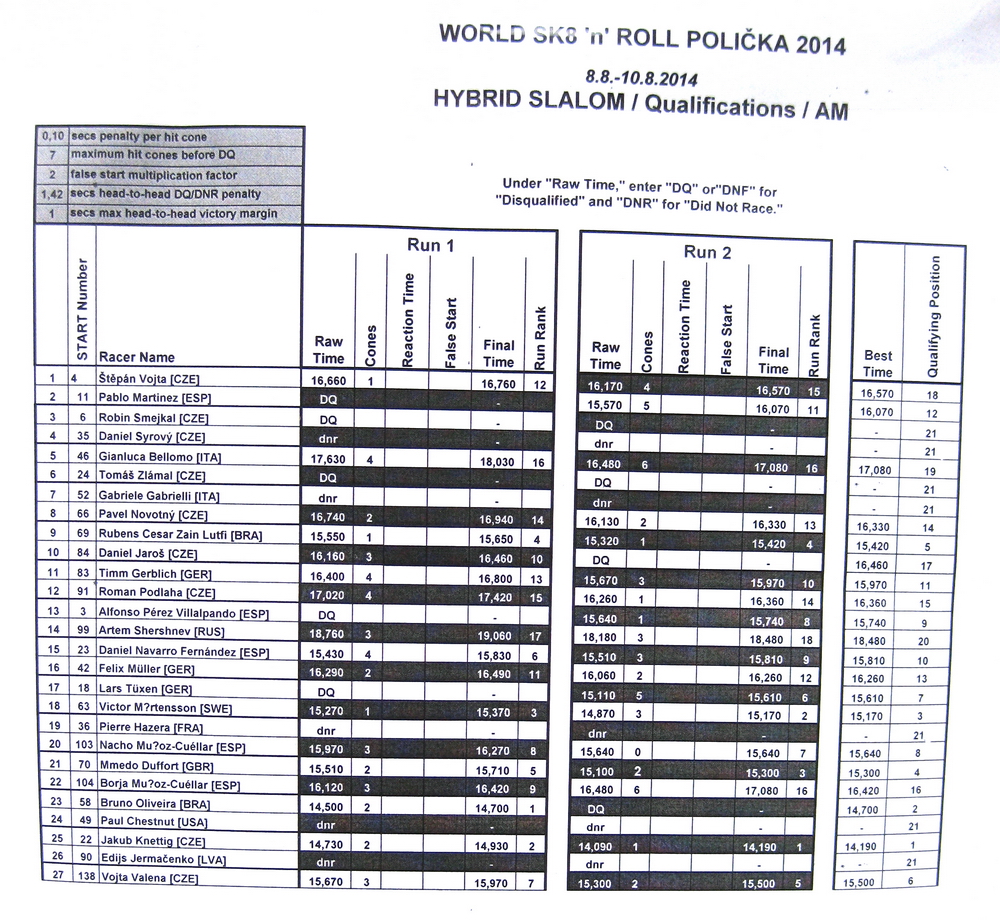 Juniors 11 yrs (2 runs only):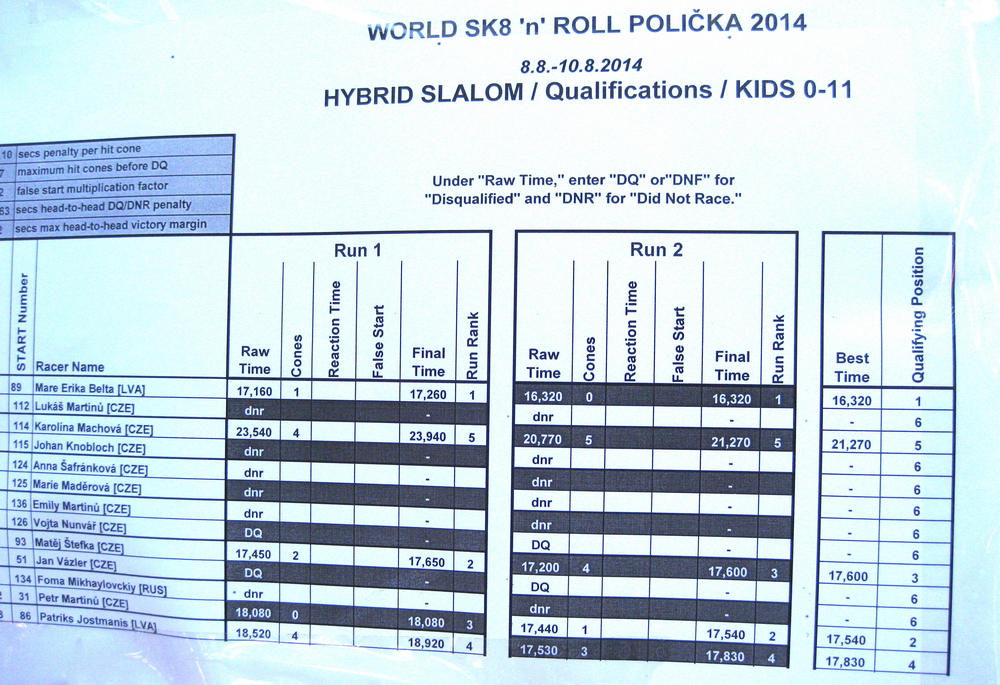 Juniors 14 yrs (2 runs only):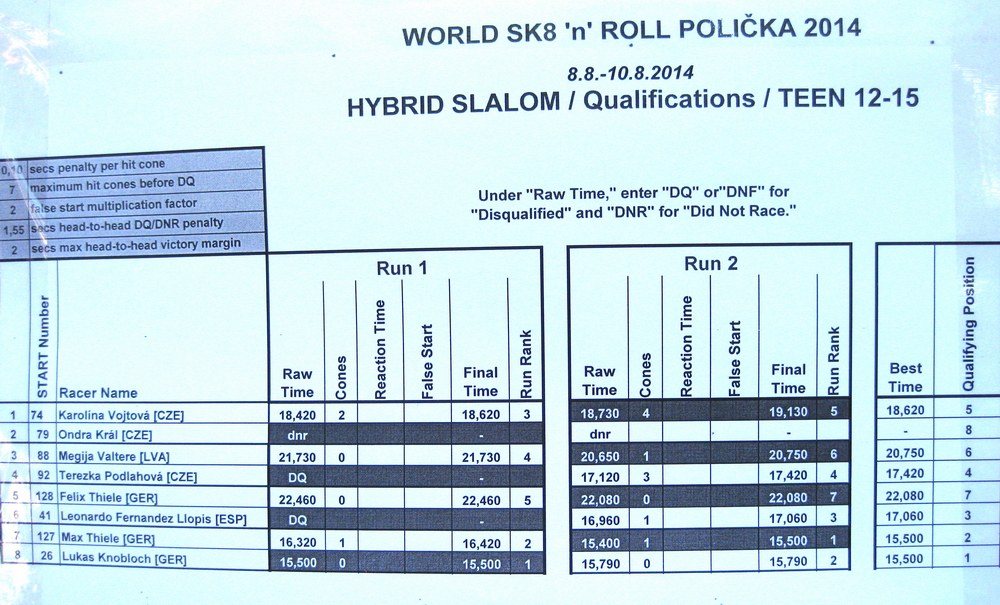 Juniors 17 yrs (2 runs only):
---
ISSA President 2011-2020

Posts: 4245
Joined: Thu Aug 22, 2002 2:00 am
Location: Sweden, lives in France
Contact:
Hybrid slalom, Pro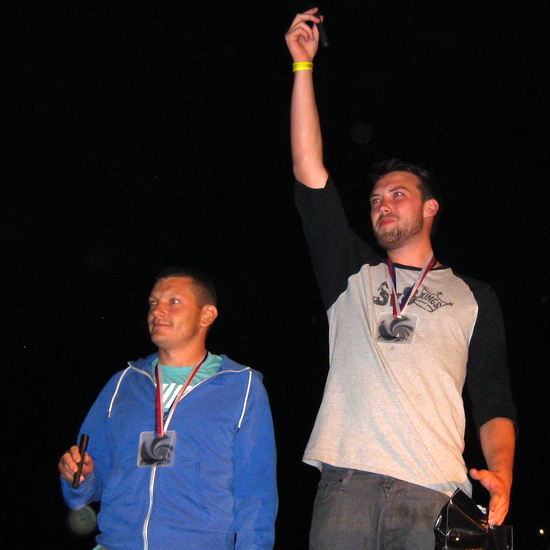 Hybrid slalom, AM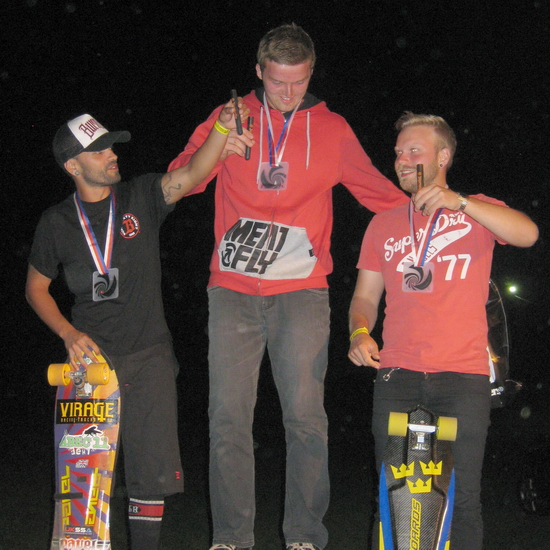 ---
ISSA President 2011-2020

Posts: 4245
Joined: Thu Aug 22, 2002 2:00 am
Location: Sweden, lives in France
Contact:
Tight slalom

Pro
1. Viking Hadestrand, SWE
2. Janis Kuzmins, LAT
3. Jaroslav Knettig, CZE

AM
1. Jakub Knettig, CZE
2. Edijs Jermacenko, LAT
3. Bruno Silva Da Oliveira, BRA

Master
1. Salvis Skaraine, LAT
2. Brad Jackman, USA
3. Radan Knobloch, GER

Women
1. Lienite Skaraine, LAT
2. Lynn Kramer, USA
3. Anna Gailite, LAT

Jun 17
1. Toms Dreiblats, LAT
2. Petr Matous, CZE
3. Zaccaria di Giorgio, ITA

Jun 14
1. Max Thiele, GER
2. Lukas Knobloch, GER
3. Leo Fernandez Llopis, SPA

Jun 11
1. Mare Erika Belta, LAT
2. Petr Martinu, CZE
3. Patriks Jostmanis, LAT
---
ISSA President 2011-2020

Posts: 4245
Joined: Thu Aug 22, 2002 2:00 am
Location: Sweden, lives in France
Contact:
Tight slalom results
(only a few )
Master, Finals:
AM, Finals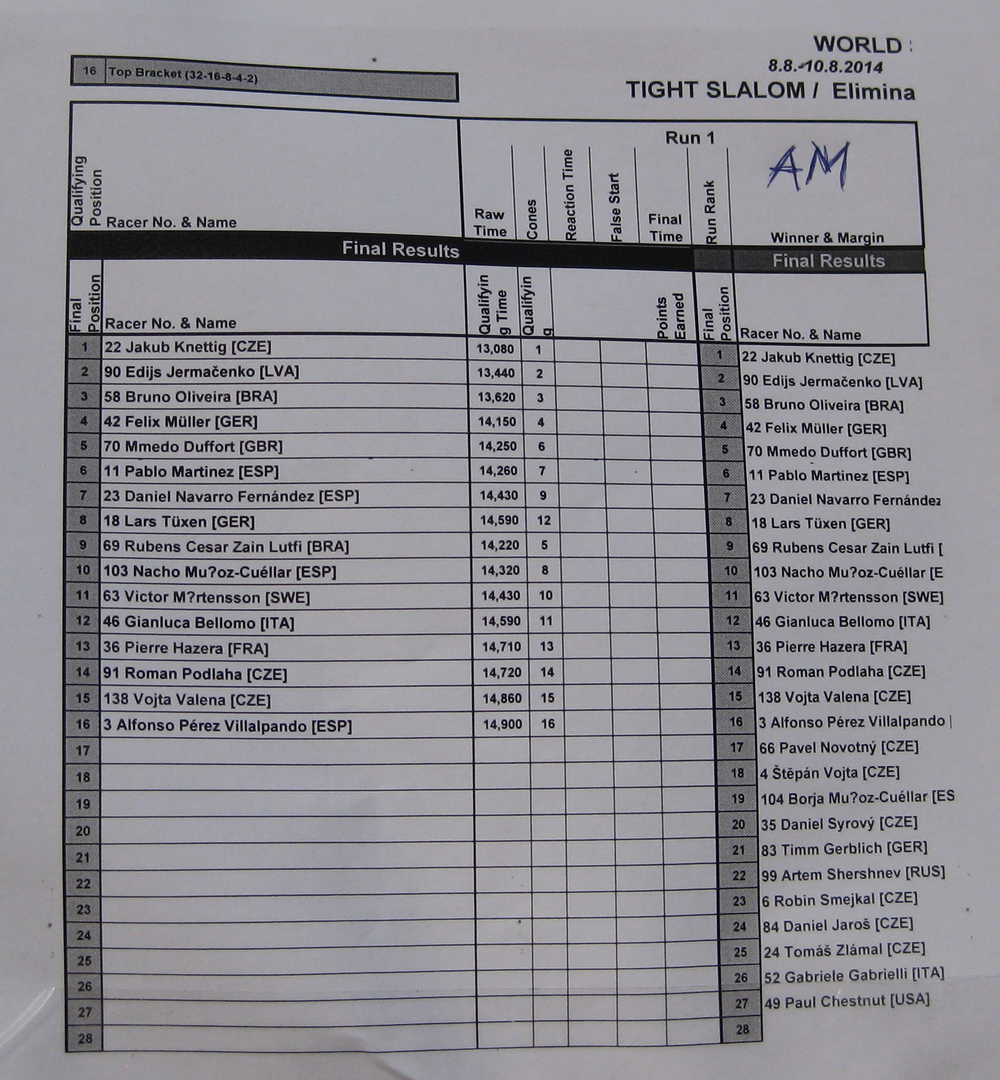 Juniors 11 yrs (2 runs only):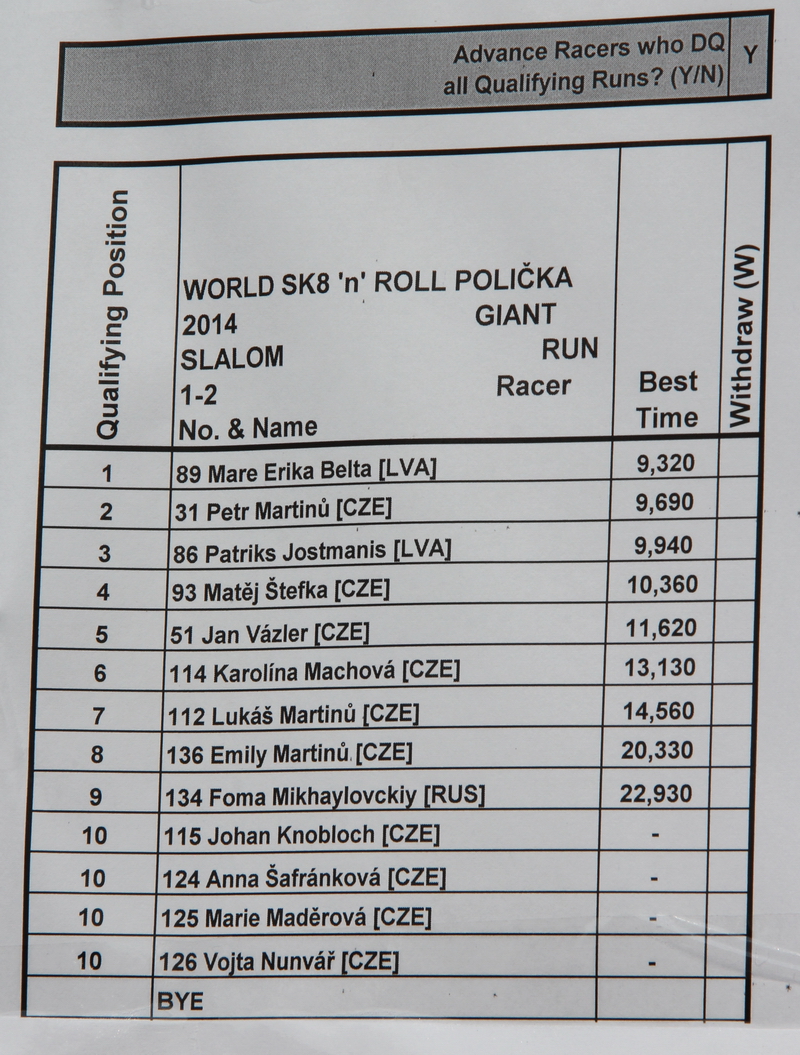 Juniors 14 yrs (2 runs only):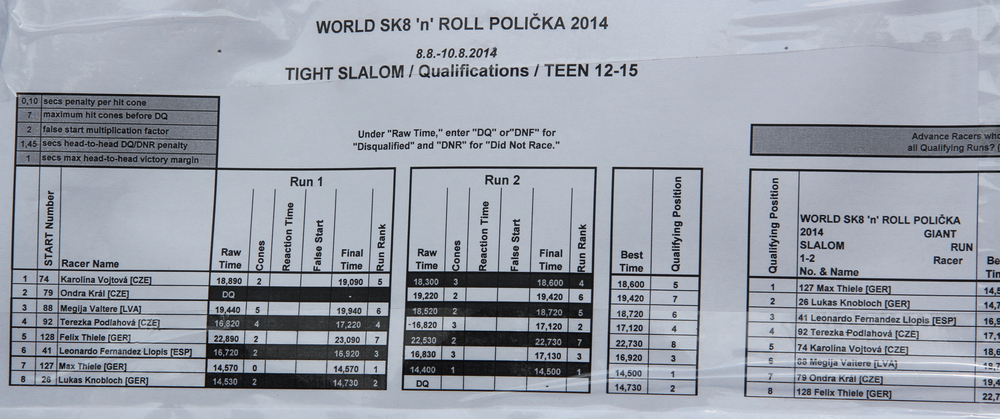 Juniors 17 yrs (2 runs only):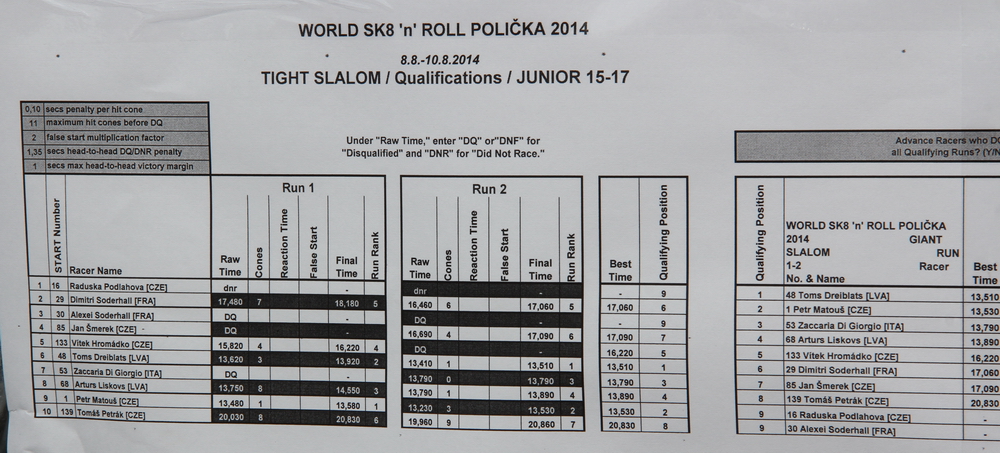 ---
ISSA President 2011-2020

Posts: 4245
Joined: Thu Aug 22, 2002 2:00 am
Location: Sweden, lives in France
Contact:
---