The legendary slopes of Trocadero are once again open to the worlds
best slalomers to battle it out in in Pro / Am and Womens categories covering
3 slalom events and a slide contest.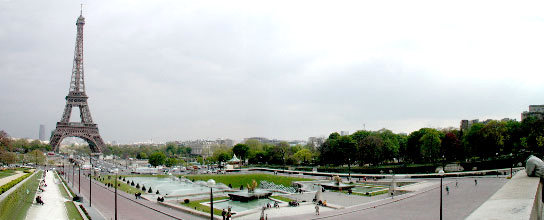 We hereby welcome all slalomers, longboarders and roller skaters to
Paris, May 29-31, 2004 for an exciting three day slalom event at the
famous Trocadero site opposite the Eiffel Tower in Paris.
The final approval from the Mayor of Paris came in this week and we're now proud to announce the Paris Slalom World Cup 2004, which promises to become the biggest slalom event ever at the Trocadero. The honour of competing and winning at the Trocadero is something that'll stay with you forever. The 3.000 euros in cash prizes, however, you're welcome to spend right away!
Disciplines:
The contest will feature the following disciplines for skateboarders:
* Tight / Straight parallel slalom, Pro/Am/Women
* Special slalom, dual, Pro/Am/Women
* Giant slalom, single lane, Pro/Am/Women
* Longboard slide contest, Open
Short summary of rules:
Basically we're running the event with the same set of rules and similar courses to last year. Tight straight will be 2.0 m for Pro, 2.5 m for Am and women. Two different special slalom (Pro/Am) will be set shortly before the race, probably a few days before to avoid wasting time on race day. The giant slalom will use the full length of the hill and will also be set in advance.
The dual races (straight and special) will have a qualifier to determine the top 16 of each Pro and Am class who'll then race in a traditional head-to-head format. In the womens class we'll bring along the top 8.
Starting ramp
There will be 2 starting ramps, approximately 1m high. That will be more than enough to give the speed necessary for the Trocadero slope.
Time penalty
Time penalty for a hit cone is 0.1 sec in all disciplines. No maximum cone count.
Entry fees
The entry fees are based upon the number of events you participate in. Amateurs and women pay a maximum of 30 euros to participate in all events. Pros pay 85 euros to participate in all. There will also be combo packs including 3 meals and a t-shirt at 25 euros. Those who register online, and pay before May 15, will save 10 euros on the entry fee.
Online registration, fees and payment options to be announced at
www.Event.Riderz.net
soon.
Trophies, prizes, prize money
There will be specially designed trophies (to continue the tradition of last year) to the three best in each category. In Am and Women's classes and for the longboard slide contest there will be sponsor prices distributed in addition to trophies. For the Pro event there will prize money down to 8th place in each discipline: 350, 250, 150, 100, 50, 50, 50, 50 euros. There will also be a surprise random prize purse of 100 euros awarded by a lottery draw to one of the Pro participants outside of the top 8.
3.250 euros in cash prices!
Women's category
The three slalom events will have a separate womens category and they'll use the Amateur courses. A winner will be awarded in each category. However trophies will only be awarded to the best three female skaters in the overall ranking (only counting the slalom events) (based upon the ISSA points system).
Best overall
An overall ranking of all three slalom disciplines will be defined. No special trophy, other than the honor is planned.
World Ranking points
With the new ISSA World Ranking in place, you cannot afford to miss out on this event! As you know the better the status of the event, the better the points awarded. Chances are this will be the European Major of this year. To be determined shortly.
Website:
http://www.riderz.net/site-troca
- It's still only in French, but we're working on the English translation and the online registration should be up in one week.
Sponsors
To be announced.
Questions?
Feel free to ask them! Post them here or send an email to me (jani @ slalomskateboarder.com) . If you speak French you can also follow the discussions on the
www.Riderz.net
forum.
The Riderz Association and the ISSA are pleased to welcome you to Paris once again for three action packed days, in beautiful weather this time and with an audience larger than at any other slalom event!
Welcome / Bienvenue !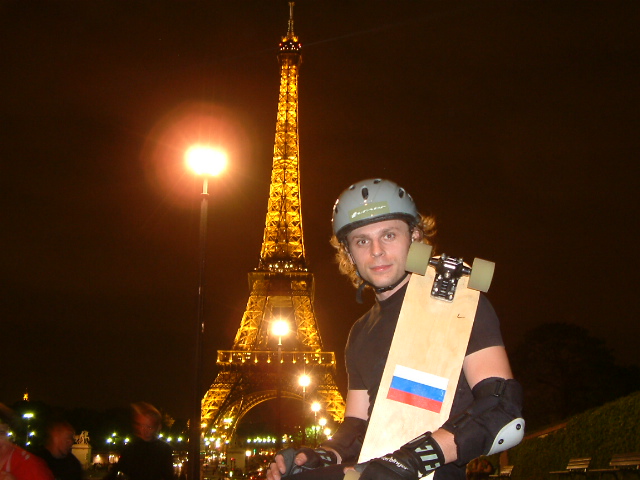 One of our international participants last year. You bet he'll be back this year!