Moderators: Jani Soderhall, Robert Thiele
ISSA President 2011-2020

Posts: 4213
Joined: Thu Aug 22, 2002 2:00 am
Location: Sweden, lives in France
Contact: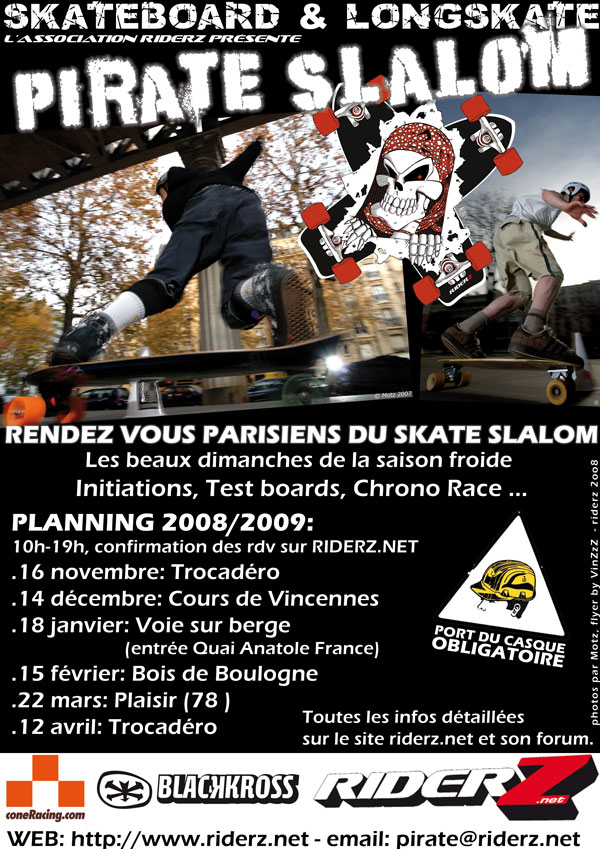 Info at
http://riderz.net/forum/viewtopic.php?t=22906
Ed note: Originally planned for Jan 18, 2009
Last edited by
Jani Soderhall
on Sun Jan 24, 2010 11:11 am, edited 2 times in total.
---
Jean-Sébastien

Posts: 117
Joined: Mon Aug 15, 2005 4:01 pm
Location: France, Paris
Contact:
Thaks Jani for posting about the Pirate Slalom !
Due to the rain the races moved to the 25/01.
It was a small Giant Slalom, vith view above the Seine...
Some pictures here :
http://www.flickr.com/photos/js-dennebo ... 585312882/
and results :
Code: Select all
		                         RUN 1	   RUN 2 (canceled)
1	Jean-Sébastien Dennebouy	15,217	14,930
2	Fréderic Huynh Bac Sach	 15,825	16,075
3	Nicolas Dmytruk             16,551	15,863
4	Antoine Caput	            16,804	16,679
5	Angelo Dao Castes        	17,345	16,934
6	Jean Gonzague Dutmoit	   19,613	
7	Erika Schoirfer             20,062	18,680
8	Laurent Grosjean	        20,311	
9	Yoann Rawet 	             20,684	
10	José Laurier           	21,071	20,586
11	Romain Brunot           	21,619	26,202
12	Alexandre Gil	           26,254
and pictures :

---