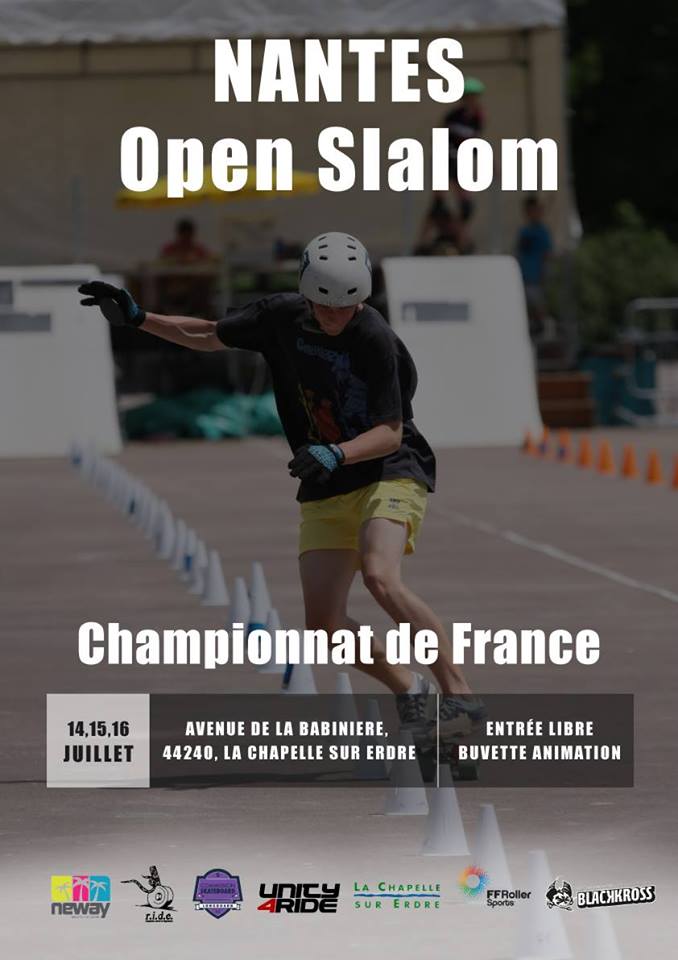 Ladies and Gentlemen,
We are pleased to announce you the Nantes Slalom Race for 2017.
What is it ?
This is the biggest French race of the year. 3 days of racing in the middle of July. 3rd year in a row organizing this contest, this year we're stepping up to main candidate!
Planned races: Special, hybrid and giant slalom.
Special and hybrid spot: a mellow hill in center of the city. Courses will be adapted to the venue and if possible created on race day by 2 or 3 racers.
Giant spot: Same as the last two years - a wide road with good pavement, course will be around 300m long.
Where is it ?
It will take place in Nantes.
Nantes is the biggest town in the north western part of France. Town center is a place to see, as well as the Loire, the biggest and longest river of France, splitting Nantes in two parts. Please visit
https://www.nantes-tourisme.com/en
for more informations and ideas to spice up your trip.
Friday July 14th is French national day, expect impressive fireworks.
When is it ?
It will happen from July 14th to 16th.
What will happen ?
There will be three different races: special, hybrid and giant slalom, each happening on a different day. As much as possible, courses will be set on the race day by volunteering racers.
Special and hybrid slalom will be happening on the same spot in Nantes town center on Friday and Saturday.
There will be 2 qualification runs per racer, and then head-to-head racing in open, women and junior categories (depending on the number of racers per category). We will take top 8 or 16 depending on time and number of racers. We will also take top 4 or 8 french racers for H2H racing for French championships.
We are still waiting for the official town agreement, but the spot would be Avenue Sainte-Anne, Nantes, on a wide road, 4-5% incline with good pavement.
http://fdhl.co/2mF3nPV
Giant slalom will take place on Sunday, on a 6-7% slope, smooth pavement, ending on flat, around 300m long. This is the historical spot of the contest, we've already had two GS on this hill, the steepness is good and the road is wide, allowing interesting and challenging courses.
The spot is just outside the town, in a quiet environment, there is a big parking lot on the spot.
http://fdhl.co/2nddZDh
What else ?
There are several hotels and hostels located nearby. We will have a foodtruck coming especially to the giant slalom hill. In town center there are a lot of snacks and places to eat, we will have a partnership with a local café/bakery. For Friday and Saturday evenings, we will also have a partnership with a pub, where we will have special prices.
Contest organizer having this race happening for third year in a row. He will be assisted by a team coming from two associations (street skating and longboarding) for timing and cone marshalling.
We are expecting around 1000€ of prizes, split between cash and gear value.
We are looking forward to welcome you here !