News
Mallorca Results, day 1 [Main]
[May 3rd, 2014 by Jani Soderhall]
Giant slalom, Pro
1. Janis Kuzmins, LAT
2. Chris Schütz, GER
3. Viking Hadestrand, SWE
4. Mikael Hadestrand, SWE
5. Christoph Baumann, GER
6. Stanislav Mironenko, UKR
7. Petr Novotny, CZE
8. Oleg Glushko, RUS
9. Pavel Holec, CZE

Giant slalom, Am (top 8)
1. Viktor Hadestrand, SWE
2. Anton Kolesov, RUS
3. Pierre Hazera, FRA
4. Nacho Muñoz Cuellar, ESP
5. Jadranko Radovanovic, SUI
6. Timm Gerblich, GER
7. Jaime Segura, ESP
8. Juan Pedro Fullana Morro, ESP

Giant slalom, Women
1. Tezzan Redman, SWE
2. Agata Clemente, ESP
3. Paula Carmona Lopez, ESP

Giant slalom, Masters
1. Peter Jachmann, GER
2. Pelle Plast, SWE
3. Franck Pannetier, FRA
4. Jose Antonio Muñoz-Cuéllar, ESP


Hybrid slalom, Pro
1. Janis Kuzmins, LAT
2. Viking Hadestrand, SWE
3. Chris Schütz, GER
4. Stanislav Mironenko, UKR
5. Mikael Hadestrand, SWE
6. Christoph Baumann, GER
7. Oleg Glushko, RUS
8. Petr Novotny, CZE
9. Pavel Holec, CZE

Hybrid slalom, Am (top 8)
1. Viktor Hadestrand, SWE
2. Pierre Hazera, FRA
3. Anton Kolesov, RUS
4. Nacho Muñoz Cuellar, ESP
5. Juan Pedro Fullana Morro, ESP
6. Timm Gerblich, GER
7. Jaime Segura, ESP
8. Xisco Pons, ESP

Hybrid slalom, Women
1. Tezzan Redman, SWE
2. Agata Clemente, ESP
3. Paula Carmona Lopez, ESP

Hybrid slalom, Masters
1. Peter Jachmann, GER
2. Pelle Plast, SWE
3. Jose Antonio Muñoz-Cuéllar, ESP
4. Franck Pannetier, FRA
Chris Yandall 1955-2014 R.I.P.
[April 20th, 2014 by Jani Soderhall]
Legendary southern California skater Chris Yandall passed away today following a massive stroke about a week ago. Chris was one of those that frequently appeared in the skate mags in the mid to late 70's and inspired us all. He excelled in both freestyle and slalom, and in the 2000's invented and promoted the skogging technique as a way to exercise and keep physically fit. He was much too young to pass away at this time. R.I.P.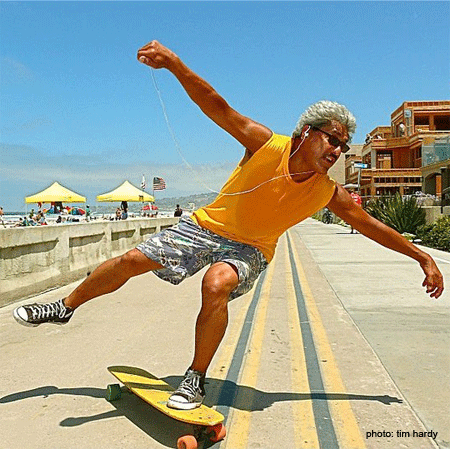 For more information on Chris visit his site http://www.skogging.com.
Texas Sizzler #11, Results
[March 30th, 2014 by Jani Soderhall]
GS PRO
1. Zak Maytum
2. Jonathan Harms
3. Chris Barker
4. Ryan Smith
5. Lou Statman
7. Lynn Kramer
8. Brad Jackman
9. Chris Doan
10. Keith Hollien

GS AM (top 4)
1. Matthew Franklin
2. Humberto Salcedo
3. Scott Sheridan
4. Dylan Greenbaker

HYBRID PRO
1 Zak Maytum
2 Jonathan Harms
3 Ryan Smith
4 Chris Barker
5 Brad Jackman
6 Lou Statman
7 Keith Hollien
8 Lynn Kramer
9 Chris Doan

HYBRID AM (top 4)
1 Matt Franklin
2 Marcos Soulsby-Monroy
3 Stephen Lavin
4 Brad Burnell

TIGHT PRO
1. Zac Maytum
2. Chris Barker
3. Keith Hollien
4. Lynn Kramer
5. Brad Jackman
6. Jonathan Harms
7. Ryan Smith
8. Chris Doan
9. Lou Statman

TIGHT AM (top 4)
1. Matt Franklin
2. Dylan Greenbaker
3. Marcos Soulsby-Monroy
4. Stephen Lavin
First European ISSA Main: Mallorca
[March 12th, 2014 by Jani Soderhall]

http://www.slalomskateboarder.com/events/2014/Mallorca/2014-Mallorca-banner-550.jpg
Euros 2014
[March 7th, 2014 by Jani Soderhall]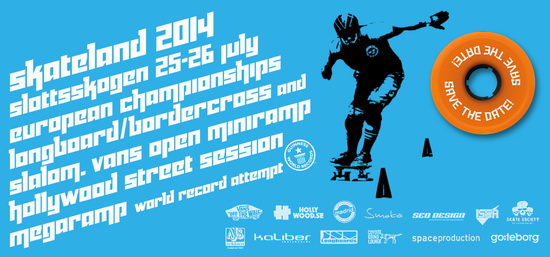 http://www.slalomskateboarder.com/events/2014/Gothenburg/2014-Euros-Skateland-banner-550.jpg

There is an entry limitation for this event. The top level racers are directly qualified and should have received their invitation by now. Some may be on waiting list until we see how many has registered at the registration deadline and paid the registration fee by the payment deadline.
Registration deadline: 2014-03-31
Payment deadline: 2014-04-07

The event will be run as two classes
- OPEN
- WOMEN

Note! Master and junior classes are excluded from the event and will not give any ranking points. Masters and Juniors can still race if they qualify for the existing classes according to the selection .

Trophies for the overall 3 in AM, PRO and WOMEN categories (Pro and AM race as Open).
Medals for place 1,2,3 in each separate discipline.
We have also a lot of goodies from our sponsors.

The price money for the OPEN overall class is…
1st place: 1000 EUR
2nd place: 600 EUR
3rd place: 400 EUR
4th place: 200 EUR
5th place: 100 EUR
6th place: 50 EUR

Here's how the selection works: Forum topic
ISSA Main, Major Events in Europe
[February 14th, 2014 by Jani Soderhall]
The top level events of the 2014 season in Europe has been awarded as follows:
Time to get into shape. We can look forward to a hot racing season. As usual there is one Major event on each side of the Atlantic. As the Worlds will be held in Europe this time, it's been awarded Major status. The Euros this year will be a Main status event, so point-wise worth equally as much as the other Main events.

MAJOR

World Championships
CZ Policka, August 08. + 09. + 10. (Fr.+Sat.+Sun.)

European Championships
SWE Gothenburg July 25. + 26. + 27. (Fr.+Sat.+Sun.)

MAIN
ESP Mallorca, May 02. + 03.+ 04. (Fr.+Sat.+Sun.)
IT Milano, June 14. + 15. (Sat.+ Sun.)
F Grenoble, June 27. + 28. +29. (Fr.+Sat.+Sun.)
LAT Liepaja, July 11. + 12. + 13. (Fr.+Sat.+Sun.)

Signed by EU status marshals: Robert Thiele, Gustavs Gailitis, Peter Klang

Note: Gothenburg has been allowed to restrict participation in the Euros and we are working with them to settle the best selection method. We already know that there will be no Masters or Juniors class at this event, and we are considering other locations for their Euros. More info on these topics will follow shortly.
Milano 2014
[February 3rd, 2014 by Jani Soderhall]
The status marshals are working hard to determine the cities to host this years MAIN races, first out with a complete race poster: Milano!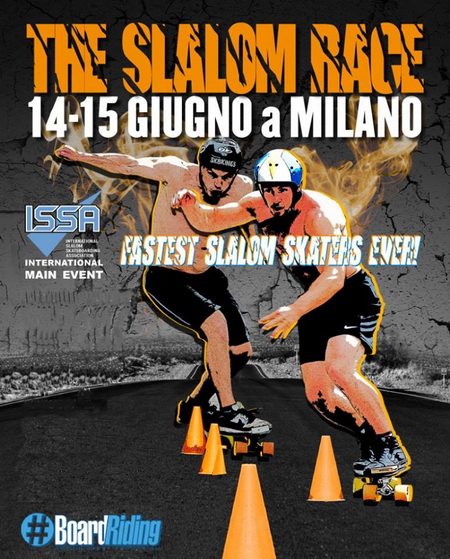 ISSA Board of Directors 2014
[December 21st, 2013 by Jani Soderhall]
Every second year we elect four new members. This year we've had four nominees that have accepted their nomination so there is no need for a formal election. All four nominees are accepted and the ISSA Board of Directors for 2014 will be as follows:

Elected late 2012, for a period of two years, 2013-2014:
Jani Söderhäll, SWE, president
Ron "Fatboy" Barbagallo, USA

Newly elected for the period 2014-2015:
Hans "Corky" Koraeus, SWE (re-elected)
Robert Thiele, GER
Sammy Rogerio Nogueira , BRA
Humberto Salcedo, USA

In addition, Jonathan Harms, USA has been nominated as advisor of the BOD and we also hope he will continue as treasurer.
European Indoor Championships 2013
[December 14th, 2013 by Jani Soderhall]
Hybrid, top 16

1. Dominik Kowalski, GER
2. Christof Baumann, GER
3. Robert Thiele, GER/CZE
4. Chris Schütz, GER
5. Stas Mironenko, UKR
6. Gustavs Galitis, LAT
7. Ferdinand Lindner, GER
8. Sebastian Vorhoelter, GER
9. Louis Selby, GBR
10. Bart Brunninghuis, NED
11. Torbjörn Sunde, NOR
12. Radan Knobloch, GER
13. Frank Beste, GER
14. Petr Novotny, CZE
15. Lars Tüxen, GER
16. Felix Müller, GER


Tight, top 16:

1. Dominik Kowalski, GER
2. Stas Mironenko, UKR
3. Christophe Baumann, GER
4. Robert Thiele, GER/CZE
5. Gustavs Gailitis, LAT
6. Chris Schütz, GER
7. Markus Roch, GER
8. Radan Knobloch, GER
9. Ferdinand Lindner, GER
10. Sebastian Vorhölter, GER
11. Petr Novotny, CZE
12. Louis Selby, GBR
13. Torbjörn Sunde
14. Lars Tüxen, GER
15. Bart Brunninkhuis, NED
16. Felix Müller, GER

B-Group:

1. StickerPeter
2. Lukas Knobloch, GER
3. Kathrin Sehl, GER
4. Martin Hoppe, GER
5. Alf Olsen, NOR
6. Max Thiele, GER
7. Malte Strunk
8. Anna Vackova, CZE
2014 Board of Directors election
[November 10th, 2013 by Jani Soderhall]
Four positions are up for election before the end of the year and we are currently looking for candidates to fill these positions. Candidates are welcome to contact any of the current BOD members for more information.
Page:
1
,
2
,
3
,
4
,
5
,
6
,
7
,
8
,
9
,
10
,
11
,
12
, 13,
14
,
15
,
16
,
17
,
18
,
19
,
20