News
Amsterdam Slalom Series 12-13 May 2012
[May 13th, 2012 by Flavio Badenes]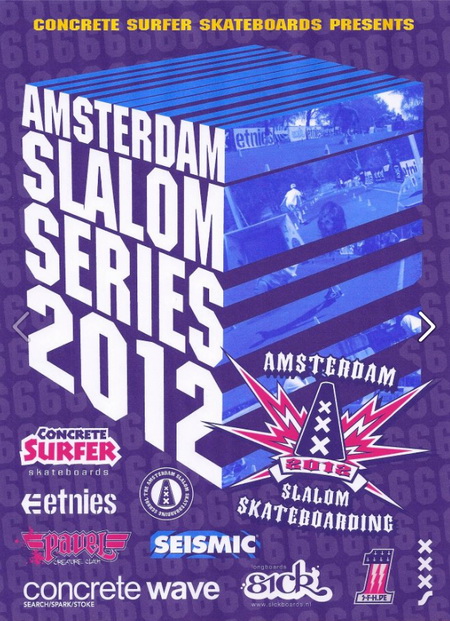 Hey hey hey what a super weekend! The best racers in the world. The new generation is Slalom skateboarding, including that 49 year-old teenager called Fabian
Björnstjerna. It was great to watch such an unbelievable technical level. Viking, Viktor, J?nis Kuzmins, Gustavs Gailitis, the new comer Russian lady Alessya Naumchik, old friends like Markus Roch, Donald Campbell, Sam Gordon, Rob Ashby, Louis Selby, Bruno Silva De Oliveira. Too many great riders to name. It was great to see you all here again!

The kids, amazing! Vincent, Melle, Milos, Max and Felix. Super well done.

Katrin Sehl Amsterdam Ladies Champion again!

With the help of our sponsors: SICKBOARDS, PAVELS SKATES, STUUF FROM HELL, MONSTER ENERGY DRINKS, ETNIES, CONCRETE SURFER, AMSTERDAM SLALOM SCHOOL, SEISMIC ,CONCRETE WAVE, THE CITY OF AMSTERDAM and ISKATEBOARD. we were able to share 1000 Euros in cash,500 Euros in vouchers and lots of swags among the winners. We were able to help new skaters learn new techniques and more important of all we were having a good time under Dutch sunshine watching the best in the World.

Bart is busy now with the final results, please bear a little long with us. We were all super tired yesterday after the contest.

THE HELL edition ASS666 was a total success. One that we as The Dutch Crew proudly pulled out.

Ernst-jan de Boom, Debbie Tix, Wouter van Hamburg, Bart Brunninkhuis, Paul Brunninkhuis. THANK YOU!!

On behalf of the Dutch Crew.

Flávio Badenes.


Results, Hybrid:

Open, top 3:

1. Viking Hadestrand, SWE
2. Fabian Björnstjerna, SWE
3. Gustavs Gailitis, LAT

Open qualifications (pdf)
Open eliminations (pdf)
Women eliminations (pdf)
Junior eliminations (pdf)

Results, Special:

Open, top 3:

1. Janis Kuzmins, LAT
2. Viking Hadestrand, SWE
3. Gustavs Gailitis, LAT

Open qualifications (pdf)
Open eliminations (pdf)
Women eliminations (pdf)
Junior eliminations (pdf)



Results, Giant Slalom:

Open, top 3:

1. Viking Hadestrand, SWE
2. Janis Kuzmins, LAT
3. Viktor Hadestrand, SWE

Open qualifications (pdf)

Results, Overall:

Open, top 5:

1. Viking Hadestrand, SWE
2. Janis Kuzmins, LAT
3. Fabian Björnstjerna, SWE
4. Gustavs Gailitis, LAT
5. Viktor Hadestrand, SWE

Overall, points and stuff (pdf)
Ranking update April 30
[May 6th, 2012 by Hans Koraeus]
ISSA World Ranking - April 30 2012

The monthly ranking update for 2012 is calculated.
See ranking article.
See ranking overview.

The event list are missing some results from April events.

______________________________________________________________
ISSA World Ranking - April 30 2012
www.slalomranking.com
First ranking update 2012
[April 5th, 2012 by Hans Koraeus]
ISSA World Ranking - 2012 (March)

The first ranking update for 2012 is calculated.
Ranking Overview to see all the the most important ranking results.

Rank website news this month
- You now can sign up for having a special forum for your event where you can add your own news and articles.
You manage it just as normal posts in the forum.

Now working on...
- World rank event home page management.

More ranking info...
Event Calendar 2012 for current status of all events.
ISSA World ranking pages for more info
Martin Luther King of the Hill - Jan 14 - 15, 2012
[March 14th, 2012 by Ron Barbagallo]
Martin Luther King of the Hill - Jan 14 - 15, 2012
An early kick off to the season in So Cal -- Two days at the Pump Station -- including Hybrid, Giant & Slalom X. The event featured a serious lineup with local legends and top pros - Richy Carrasco, Mike Maysey, Lynn Kramer and Chris Yandall along with visiting racers including Lou Statman, Am World Champ 2011, who came all the way from Texas, Jonny Miller (Central Cal) and Josh Harvey (Nor Cal). Great to see the legendary Hackman not only at the event but looking fit and racing fast too!

Awesome to see the fresh group of young gun racers fired up and off to a great start for Saturday's Hybrid. Props to Lynn Kramer and the Brickners at The Grind Skate Shop for working with these juniors to get them race ready -- check the pics for some styling young talent.

What a blast! Top Finishers are:

Overall King of the Hill - Richy Carrasco!

Slalom X:
1 Richy Carrasco
2 Mike Maysey
3 Jonny Miller

Giant Slalom:
1 Richy Carrasco
2 Mike Maysey
3 Lou Statman

Hybrid Pro A:
1 Mike Maysey
2 David Hackett
3 Richy Carrasco

Hybrid Open B:
1 Lynn Kramer
2 Michael Kaelon
3 Pat Brickner

Jr Hybrid:
1 - CJ
2 - Ocean
3 - Orion

Check out the full results and spreadsheet downloads here:
http://www.ncdsa.com/contest_registrati ... testID=532

event thread on issa website: viewtopic.php?f=86&t=8239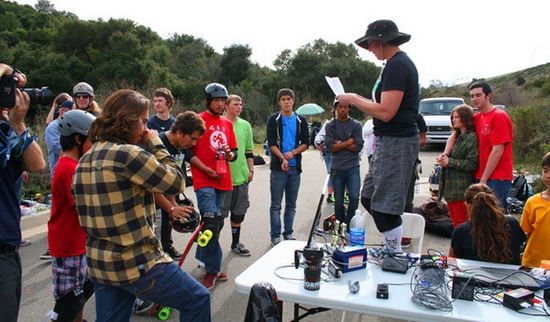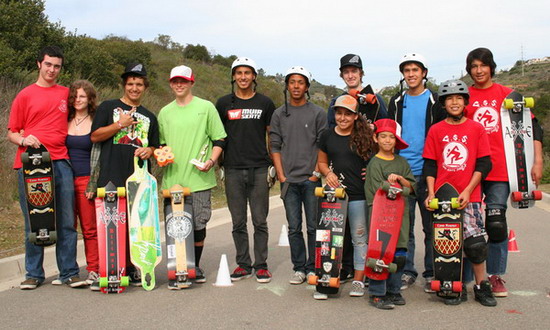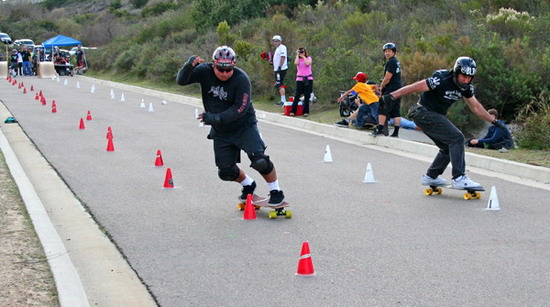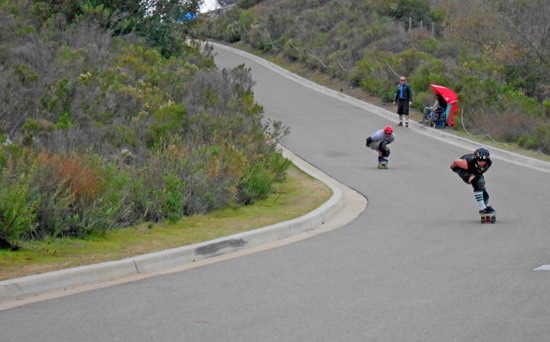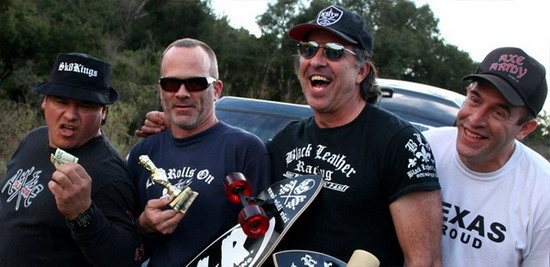 Worlds and Euros 2012
[February 29th, 2012 by ISSA Board of Directors]
It is with great pleasure that the ISSA Board of Directors today can announce two of the most important races of 2012: The Worlds and the Euros.

ISSA World Championships 2012
Location: Stuttgart, Germany
Date: 27-28-29 July
Main organizer: Robert Thiele
Topics: viewforum.php?f=241
Status: MAJOR

European Championships 2012
Location: Riga, Latvia
Date: 14-15 July
Main organizer: Gustavs Gailitis
Topics: viewforum.php?f=242
Status: MAIN

Announcements from each of the organizers will be presented in the forums dedicated to these races. Also, we encourage you to ask questions to the organizers in these topics, so that answers become available for all.

The ISSA Board of Directors would like that thank these organizers and their teams for their efforts in preparing these events.

Let the racing begin!

Forum announcement, and discussions: viewtopic.php?f=45&t=8279
ISSA Newsletter - February 2012
[February 18th, 2012 by ISSA Board of Directors]
The February ISSA Newsletter is out

Topics:

- Thanks to BOD members of 2011
- ISSA World Ranking 2011 - final
- ISSA World Championships 2012 - soon to be announced
- Sponsors 2012
- Monthly sponsors 2012
- Voting membership 2012

Interesting facts in the news letter includes the statistics from the ISSA World Ranking where it shows that 2011 was the most active year in the history of the ranking.
932 riders participated in the 88 events of last year and creating a total of 4969 individual results. Nearly 5000 results done by close to a 1000 skaters. Very impressive!

viewtopic.php?p=76050
Re: ISSA World Ranking 2011
[February 12th, 2012 by Hans Koraeus]
ISSA World Ranking - 2011 (Final)

The final ranking update for 2011 is calculated.
To see the overview of all the most important ranking results see the new Ranking overview.

PRO
1. Joe McLaren (USA) 1:st PRO this season 2011.
His best ever season result. And he now also tops the official (4-year) World Ranking so he has a long and proven record behind him. Congratulations Joe!
2. Janis Kuzmins (LAT) 2:nd place PRO season 2011.
The highest place he has ever had. Also 2:nd place in the official (4-year) World Ranking 2011.
3. Viking Hadestrand (SWE) 3:rd place PRO season 2011.
3. Dominik Kowalski (GER) 3:rd place official (4-year) World Ranking 2011.

AM/MASTER/JUNIOR
1. Lou Statman (USA) 1:st place AM 2011.
1. Mikael Hadestrand (SWE) 1:st place Master ranking 2011. Also 4:th place PRO season 2011.
1. Gabriel Duquet (CAN) 1:st place Jun 2011.

WOMEN
1. Lynn Kramer (USA) 1:st place Women Season 2011. Also 1:st place in the official (4-year) World Ranking 2011.
1. Lienite Skaraine (LAT) 1:st place Women Season 2011. 2:nd place in the official (4-year) World Ranking 2011.
1. Lisa Scott (USA) 1:st place Women Masters 2011.
1. Irene Di Giorgio (ITA) 1:st place Jun Girls 2011.

ROOKIE
1. Steve Pederson (USA) 1:st place Rookie PRO 2011.
1. Bruno Olivera (BRA) 1:st place Rookie AM 2011.
1. Lisa Scott (USA) 1:st place Rookie Women 2011.



Rank website news this month
- Ranking overview page.

Now working on...
- Ranking tools for event management.

Check the event calendar for current status of all events.
Calendar 2011
Calendar 2012
News updates at SlalomSkateboarder.com
[January 2nd, 2012 by Jani Soderhall]
To start off the new year we've made some updates to the front page of SlalomSkateboarder.com.

The purpose is to bring the two sites SlalomSkateboarder and SlalomRanking closer together and also better integrate the Forum. We also wanted to allow for some "static" informational pages such as Resources, About, and Join the ISSA. We've done so by creating a common menu that will soon be present across the whole ISSA site. It's work in progress and this is only the first step, but we thought it was worthwhile to go live even while still working on it.

Besides improved navigation and a better website experience, another advantage is that it's easier to post news on the front page now. Any administrator or ISSA Board Member can post a new article without fiddling with html and ftp. The news topics are being read from a regular but hidden forum and then automatically translated into html thanks to the work of Guillaume StCriq and our web programmer George. Corky then integrated the entire menu system, designed by Stefan Åkesson, into the different sections of this site to give the site that common access and common design.

There's still plenty of work to be done, but this is an important step!

Enjoy!
ISSA Board of Directors 2012
[January 2nd, 2012 by Jani Soderhall]
The ISSA board 2012 consists of the following board members:
- Jani Söderhäll (FRA)
- Jonathan Harms (USA)
- Petr Janousek (CZE)
- Flavio Badenes (NL)
- Ron Barbagallo (USA)
- Hans "Corky" Koraeus (SWE)
- Ricardo Damborenea (ESP)
European Indoor Championships 2011
[January 2nd, 2012 by Jani Soderhall]
Brno, Czech Republic, November 12-13, 2011
[November 21, 2011 by Jani Soderhall]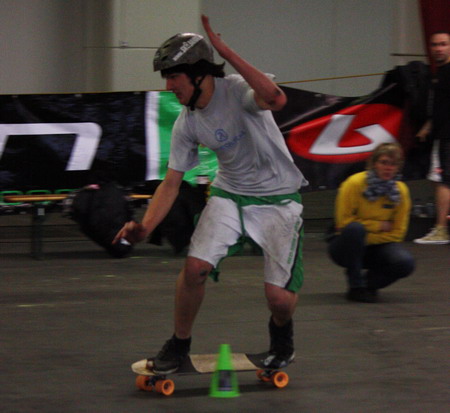 Jaroslav Knettig, Czech Republic, sensationally grabs the gold just ahead of Sweden's Viking Hadestrand in the first discipline of the Indoor European Championships 2011, Brno, Czech Republic

Even if cold winds had already chilled down most of Europe, one last Main event of the 2011 season remained: The European Indoor championships. 75 skaters had registered in the event that was to become of the largest events in Europe this year. And especially pleasant to see what the numerous girls and women participating (16 in all!) and the strong Junior class (about 20) finally subdivided into three different junior classes.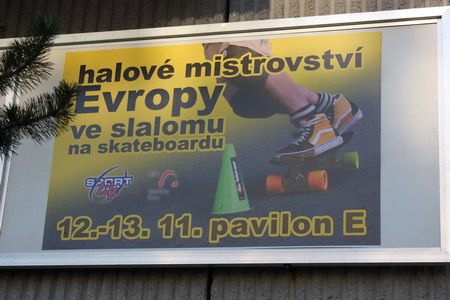 Catered inside a major sports fair, the racing conditions were excellent and the event was well run and provided a relaxed, yet competitive atmosphere. Taking advantage of the indoor location, results were being displayed by video projector directly on to the wall, for all riders to see. Along the race track on both sides were large corridors allowing racers to return back up to the start, but also for the kids to play around with the boards left by their parents or siblings. Kids were heading up and down these spaces learning to skate on feet, knees. Just rolling was the main objective, but pumping was also a popular past time. One could also see an occasional slide and even a hand or head stand as the kids just played around for two days. Once the men's racing got underhand, attention was immediately drawn to Jaroslav Knettig, just recently out of junior class challenging all of the known Euro top riders: Kuzmins, Gustavs, Hadestrand (Viking and Mika) etc. This guy was so fast, no one could fend him off. The audience went louder and louder as the gold came within reach and once it was confirmed! Gold to Jaroslav and Czech Republic!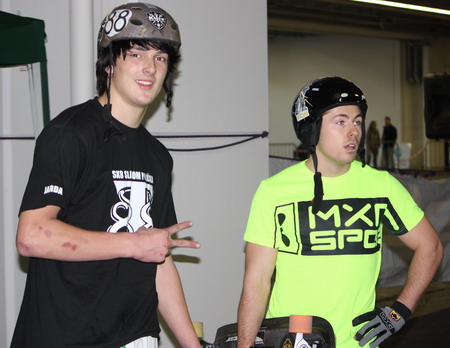 Jaroslav looking confident while Viking starts to realize that he just lost the race.

Kuzmins and the other high ranked guys wasn't going to give it up that easily and together with Viking they both threw in an extra gear and made sure that Jaroslav was kept out of the finals in the tight discipline, one where experience would count more than size and strength. Viking was first across the finish line, but Kuzmins obtained a re-run due to an incorrect course and gave it just a little bit extra to grab the second gold medal of the race.

Third and last chance for the guys to battle it out: S-straight slalom, ie a snaking course of straight slalom. Pure strength required and hungry for gold Viking wasn't going to give this one up easily. Up against Janis again in the finals he manages to preserve his cool and pushes across the finish line first not only once but twice to grab the third gold medal of the event!

In the ladies class Lienite won all three disciplines fairly easily, but she'd better be careful because two strong juniors are heading up the ranks. Anna Gailite was just behind her and reportedly has already beat Lienite on their home turf. Irene Di Giorgio skipped her junior class competition and immediately moved up to second place among the ladies. Give her a couple of years and nobody will be able to withstand her speed and strength. Both of these girls are charging hard and they're less than 15 years old! Now add to that the Czech girls Anna, Eva, Eva, Renata and others and the new competition coming from Finland (Hanna), Ukraine/Germany (Sveta) and Moscow (Natalya) and the ladies event is looking increasingly interesting!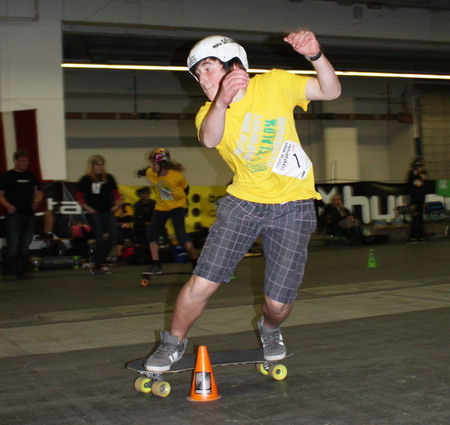 Young racers were everywhere! The skate schools are starting to give results!

European Indoor Champions 2011:
Men
Hybrid slalom: Jaroslav Knettig, CZE
Tight slalom: Janis Kuzmins, LAT
S-Straight slalom: Viking Hadestrand, SWE

Women
Hybrid slalom: Lienite Skaraine, LAT
Tight slalom: Lienite Skaraine, LAT
S-Straight slalom: Lienite Skaraine, LAT

Overall, Men
1. Viking Hadestrand, SWE
2. Janis Kuzmins, LAT
3. Jaroslav Knettig, CZE
4. Mikael Hadestrand, SWE
5. Gustavs Gailitis, LAT
6. Robert Thiele, GER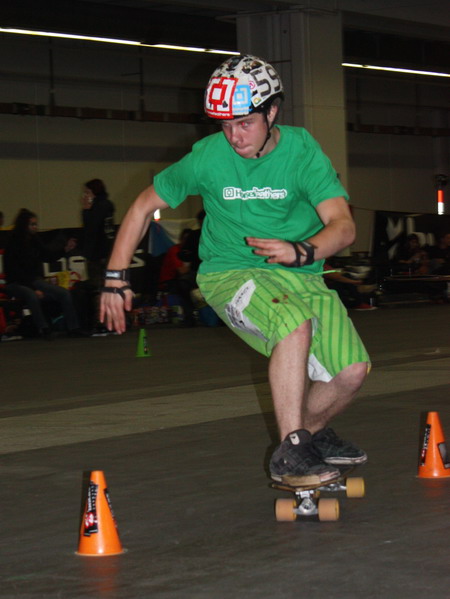 European Indoor Championships 2011 - Results
Slaloms (all classes)
Team Race
Overall (men, women)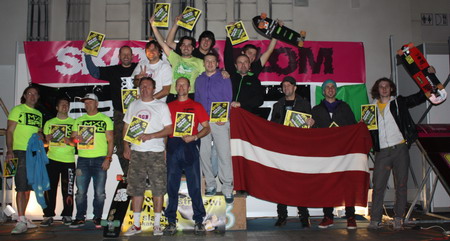 Team Podium 2011
Page:
1
,
2
,
3
,
4
,
5
,
6
,
7
,
8
,
9
,
10
,
11
,
12
,
13
, 14,
15