News
World Championships Update - Day 2
[July 29th, 2012 by Rob Ashby]
After heavy overnight rain and a very wet start to the day Hybrid qualifying got underway later than scheduled at Scharnhauser Park.
Some timing issues delayed proceedings and things were further compounded when another heavy downpour halfway through the second qualifying runs bought things to an abrupt end - seemingly for the day!

Following an extended lunch break Robert announced that we would have to use the completed first run times to decide the final positions for the Hybrid. However with the sun shining through, starting to dry out the track the racers decided with a show of hands that they would prefer to wait for the track to dry and complete the second qualifying runs. The earlier wind having dropped away times were a lot quicker in the second session of qualifying.

In the Womens Division Kathrin Sehl took the Hybrid title from Olesya Naumchik and Lienite Skaraine took the third place spot following a protest from Olesya regarding cone counts.

After some very intense, fast runs it was Joe McLaren that won through to take the Mens Hybrid crown with a time of 12.70 with Viking Hadestrand (12.83) in second and after a long absence from the racing scene the returning Henrik Wadsten (12.89) took the third spot. Dominik Kowalski just missed out on a podium place by the narrowest of margins with his time of 12.93.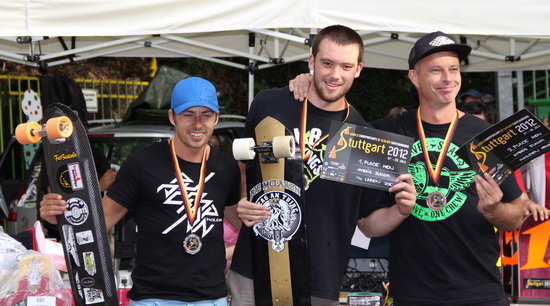 Over and out from Stuttgart - off to the Giant Slalom this morning.

Hybrid results:

1. Joe McLaren, USA
2. Viking Hadestrand, SWE
3. Henrik Wadsten, SWE


Women

1. Kathrin Sehl, GER
2. Olesya Naumchik, RUS
3. Lienite Skaraine, LAT

Jun

1. Petr Matouš, CZE
2. Edijs Jermacenko, LAT
3. Toms Dreiblats, LAT

Jun girls

1. Anna Tehza, CZE
2. Raduška Podlahová, CZE
3. Charlota Kleinova, CZE

Kids

1. Vincent Kitzhöfer, GER
2. Vitek Hromadko, CZE
3. Max Thiele, GER
World Championships Update - Day 1
[July 27th, 2012 by Rob Ashby]
The first day of the 2012 Worlds got underway at Scharnhauser Park under clear blue skies and 33 degree heat!
Following a warm welcome from Robert, his crew and the City of Stuttgart qualifying got underway for the Tight Slalom. Times were incredibly close, nowhere more so that in the Mens Open Division where just 0.96 seconds separated the top 16 riders!
The under 12 Junior Division was won by up and coming Dutch rider Melle Stolk who put in a solid performance - one to watch out for in coming years.
In the 12-16 Juniors the racing was really fast and furious. After some very close heats it was Pavel protege Vincent Kitzhöfer that took the first place, with Czech Vitek Hromadko in second. Anna Tehza and Max Thiele took third and fourth respectively.
In the Womens Division relative newcomer Olesya Naumchik of Russia was keen to build on her recent performance in the Euro's, alas she took a nasty fall in one of her final heats.
Lienite Skaraine was then left to battle it out with Kathrin Sehl, but cone penalties were to be Kathrin's undoing leaving Lienite to take the title. Olesya bravely fought back and took third place in the consolation round from Eva Jedlickova.
The mens round of 16 started under overcast skies and as things were really hotting up going into the round of 8 the heavens open causing the days racing to come to a premature end.
Full results from today will be posted up by the organisers tomorrow as I understand. Stay tuned for more tomorrow, this is your Worlds correspondent signing off for now!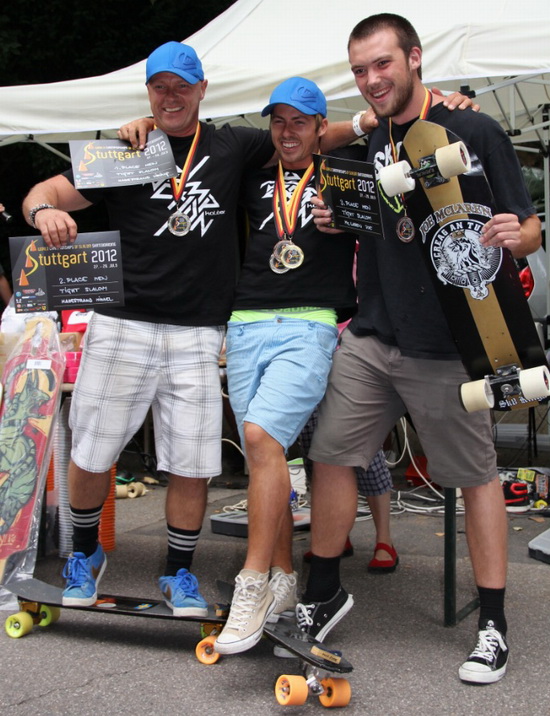 Men:

1. Viking Hadestrand, SWE
2. Mikael Hadestrand, SWE
3. Joe McLaren, USA
4. Janis Kuzmins, LAT
5. Christoph Baumann, GER
6. Dominik Kowalski, GER
7. Louis Ricard, CAN
8. Gustavs Gailitis, LAT
9. Henrik Wadsten, SWE
10. Stanislav Mironenko, UKR

Women:

1. Lienite Skaraine, LAT
2. Kathrin Sehl, GER
3. Olesya Naumchik, RUS


Juniors:

1. Petr Matous, CZE
2. Vojta Valena, CZE
3. Edijs Jermacenko, LAT


Kids:

1. Melle Stolk, NED
2. Terezka Podlahova, CZE
3. Lukas Knobloch, GER
Overall victories at Euros to Germany!
[July 16th, 2012 by Jani Soderhall]
The Euros suffered plenty of rain, not constant, but enough to keep the ground unskateable but racers and organizers didn't give up. Saturday the GS finished close to midnight and Sunday two disciplines was held indoors. But the skaters were skating and new European Champions were crowned! Overall honors goes to Germany with Dominik Kowalski winning the overall mens category and Katrin Sehl winning the overall ladies category.

GS:
1. Dominik Kowalski
2. Janis Kuzmins
3. Gustavs Gailitis

HS:
1. Janis Kuzmins
2. Mikael Hadestrand
3. Dominik Kowalski

TS:
1. Dominik Kowalski
2. Mikael Hadestrand
3. Janis Kuzmins

GS Women:
1. Lienite Skaraine
2. Katrin Sehl
3. Olesya Naumchik

HS:
1. Olesya Naumchik
2. Katrin Sehl
3. Lienite Skaraine

TS:
1. Katrin Sehl
2. Olesya Naumchik
3. Hanna Jaakola
TEXAS OUTLAWS Will Host 2013 World Championships!
[July 2nd, 2012 by ISSA Board of Directors]


After careful consideration, the ISSA Board of Directors has unanimously approved the Texas Outlaws' application to host the 2013 World Championships of Slalom Skateboarding. The Outlaws' application, and their track record of hosting the very popular Cold Fusion Sizzler race for nine years in a row, showed that they have access to world-class hills and facilities, along with an organization that is capable of hosting an event of World Championship size and scope.

The 2013 World Championships will receive the ISSA's highest event status, Major, for 2013 in North America.

Exact dates have not yet been decided, but the event will likely be held in late October or early November 2013. It is hoped that awarding the World Championships designation well in advance will allow the group ample time to recruit and attract sponsors.

More details will be announced here on slalomskateboarder.com as further developments occur.
Amsterdam Slalom Series 12-13 May 2012
[May 13th, 2012 by Flavio Badenes]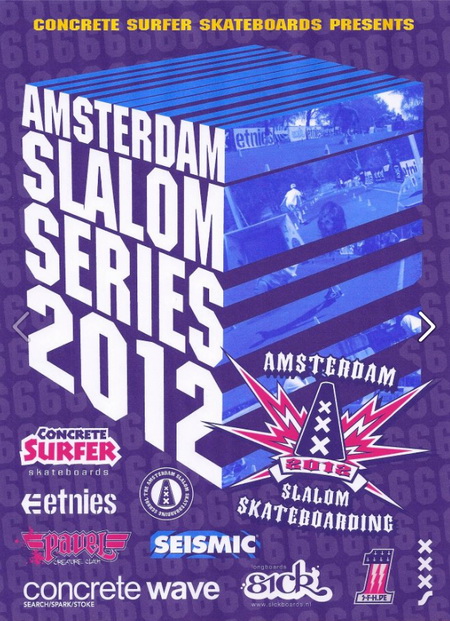 Hey hey hey what a super weekend! The best racers in the world. The new generation is Slalom skateboarding, including that 49 year-old teenager called Fabian
Björnstjerna. It was great to watch such an unbelievable technical level. Viking, Viktor, Jānis Kuzmins, Gustavs Gailitis, the new comer Russian lady Alessya Naumchik, old friends like Markus Roch, Donald Campbell, Sam Gordon, Rob Ashby, Louis Selby, Bruno Silva De Oliveira. Too many great riders to name. It was great to see you all here again!

The kids, amazing! Vincent, Melle, Milos, Max and Felix. Super well done.

Katrin Sehl Amsterdam Ladies Champion again!

With the help of our sponsors: SICKBOARDS, PAVELS SKATES, STUUF FROM HELL, MONSTER ENERGY DRINKS, ETNIES, CONCRETE SURFER, AMSTERDAM SLALOM SCHOOL, SEISMIC ,CONCRETE WAVE, THE CITY OF AMSTERDAM and ISKATEBOARD. we were able to share 1000 Euros in cash,500 Euros in vouchers and lots of swags among the winners. We were able to help new skaters learn new techniques and more important of all we were having a good time under Dutch sunshine watching the best in the World.

Bart is busy now with the final results, please bear a little long with us. We were all super tired yesterday after the contest.

THE HELL edition ASS666 was a total success. One that we as The Dutch Crew proudly pulled out.

Ernst-jan de Boom, Debbie Tix, Wouter van Hamburg, Bart Brunninkhuis, Paul Brunninkhuis. THANK YOU!!

On behalf of the Dutch Crew.

Flávio Badenes.


Results, Hybrid:

Open, top 3:

1. Viking Hadestrand, SWE
2. Fabian Björnstjerna, SWE
3. Gustavs Gailitis, LAT

Open qualifications (pdf)
Open eliminations (pdf)
Women eliminations (pdf)
Junior eliminations (pdf)

Results, Special:

Open, top 3:

1. Janis Kuzmins, LAT
2. Viking Hadestrand, SWE
3. Gustavs Gailitis, LAT

Open qualifications (pdf)
Open eliminations (pdf)
Women eliminations (pdf)
Junior eliminations (pdf)



Results, Giant Slalom:

Open, top 3:

1. Viking Hadestrand, SWE
2. Janis Kuzmins, LAT
3. Viktor Hadestrand, SWE

Open qualifications (pdf)

Results, Overall:

Open, top 5:

1. Viking Hadestrand, SWE
2. Janis Kuzmins, LAT
3. Fabian Björnstjerna, SWE
4. Gustavs Gailitis, LAT
5. Viktor Hadestrand, SWE

Overall, points and stuff (pdf)
Ranking update April 30
[May 6th, 2012 by Hans Koraeus]
ISSA World Ranking - April 30 2012

The monthly ranking update for 2012 is calculated.
See ranking article.
See ranking overview.

The event list are missing some results from April events.

______________________________________________________________
ISSA World Ranking - April 30 2012
www.slalomranking.com
First ranking update 2012
[April 5th, 2012 by Hans Koraeus]
ISSA World Ranking - 2012 (March)

The first ranking update for 2012 is calculated.
Ranking Overview to see all the the most important ranking results.

Rank website news this month
- You now can sign up for having a special forum for your event where you can add your own news and articles.
You manage it just as normal posts in the forum.

Now working on...
- World rank event home page management.

More ranking info...
Event Calendar 2012 for current status of all events.
ISSA World ranking pages for more info
Martin Luther King of the Hill - Jan 14 - 15, 2012
[March 14th, 2012 by Ron Barbagallo]
Martin Luther King of the Hill - Jan 14 - 15, 2012
An early kick off to the season in So Cal -- Two days at the Pump Station -- including Hybrid, Giant & Slalom X. The event featured a serious lineup with local legends and top pros - Richy Carrasco, Mike Maysey, Lynn Kramer and Chris Yandall along with visiting racers including Lou Statman, Am World Champ 2011, who came all the way from Texas, Jonny Miller (Central Cal) and Josh Harvey (Nor Cal). Great to see the legendary Hackman not only at the event but looking fit and racing fast too!

Awesome to see the fresh group of young gun racers fired up and off to a great start for Saturday's Hybrid. Props to Lynn Kramer and the Brickners at The Grind Skate Shop for working with these juniors to get them race ready -- check the pics for some styling young talent.

What a blast! Top Finishers are:

Overall King of the Hill - Richy Carrasco!

Slalom X:
1 Richy Carrasco
2 Mike Maysey
3 Jonny Miller

Giant Slalom:
1 Richy Carrasco
2 Mike Maysey
3 Lou Statman

Hybrid Pro A:
1 Mike Maysey
2 David Hackett
3 Richy Carrasco

Hybrid Open B:
1 Lynn Kramer
2 Michael Kaelon
3 Pat Brickner

Jr Hybrid:
1 - CJ
2 - Ocean
3 - Orion

Check out the full results and spreadsheet downloads here:
http://www.ncdsa.com/contest_registration.asp?ContestID=532

event thread on issa website: http://www.slalomskateboarder.com/phpBB/viewtopic.php?f=86&t=8239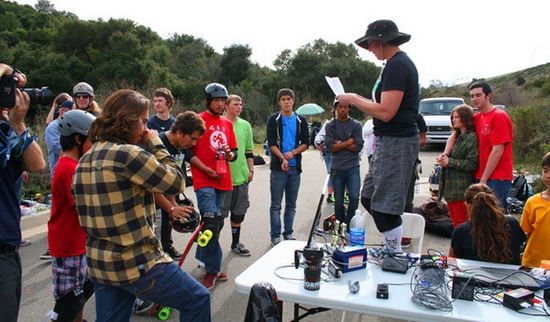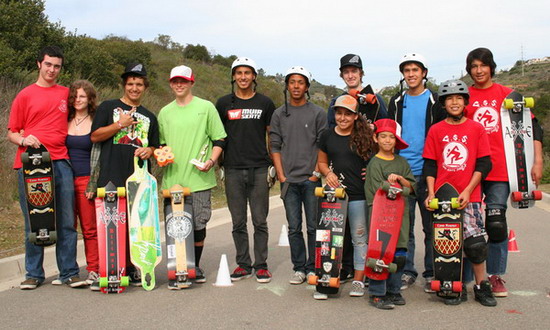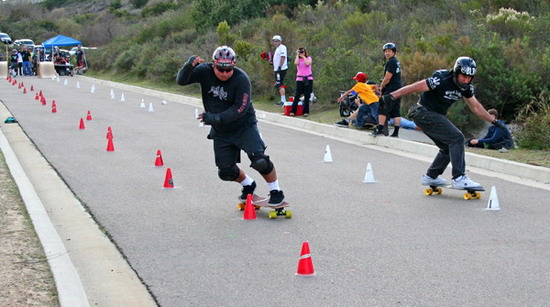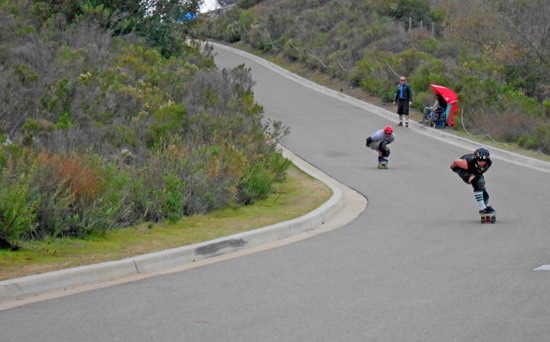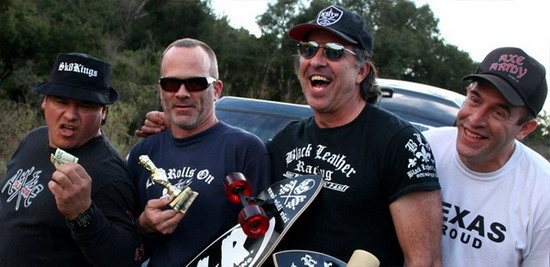 Worlds and Euros 2012
[February 29th, 2012 by ISSA Board of Directors]
It is with great pleasure that the ISSA Board of Directors today can announce two of the most important races of 2012: The Worlds and the Euros.

ISSA World Championships 2012
Location: Stuttgart, Germany
Date: 27-28-29 July
Main organizer: Robert Thiele
Topics: http://www.slalomskateboarder.com/phpBB/viewforum.php?f=241
Status: MAJOR

European Championships 2012
Location: Riga, Latvia
Date: 14-15 July
Main organizer: Gustavs Gailitis
Topics: http://www.slalomskateboarder.com/phpBB/viewforum.php?f=242
Status: MAIN

Announcements from each of the organizers will be presented in the forums dedicated to these races. Also, we encourage you to ask questions to the organizers in these topics, so that answers become available for all.

The ISSA Board of Directors would like that thank these organizers and their teams for their efforts in preparing these events.

Let the racing begin!

Forum announcement, and discussions: http://www.slalomskateboarder.com/phpBB/viewtopic.php?f=45&t=8279
ISSA Newsletter - February 2012
[February 18th, 2012 by ISSA Board of Directors]
The February ISSA Newsletter is out

Topics:

- Thanks to BOD members of 2011
- ISSA World Ranking 2011 - final
- ISSA World Championships 2012 - soon to be announced
- Sponsors 2012
- Monthly sponsors 2012
- Voting membership 2012

Interesting facts in the news letter includes the statistics from the ISSA World Ranking where it shows that 2011 was the most active year in the history of the ranking.
932 riders participated in the 88 events of last year and creating a total of 4969 individual results. Nearly 5000 results done by close to a 1000 skaters. Very impressive!

http://www.slalomskateboarder.com/phpBB/viewtopic.php?p=76050
Page:
1
,
2
,
3
,
4
,
5
,
6
,
7
,
8
,
9
,
10
,
11
,
12
,
13
,
14
,
15
,
16
,
17
,
18
, 19,
20