News
Stuttgart [Main]
[August 22nd, 2022 by Jani Soderhall]
<News coming>
World Skate Slalom Working Group Announced
[July 11th, 2022 by Jani Soderhall]
We are excited to share this official release from World Skate:

World Skate announces Slalom Skateboard Racing Debut - Slalom Skateboard Racing will make its first appearance in the 2022 World Skate Games in Argentina October 24 - November 13. We are pleased to welcome this exciting racing discipline to our roster of skateboarding competition events featured in our biennial World Championships – and look forward to introducing this discipline to the rest of the World Skate community.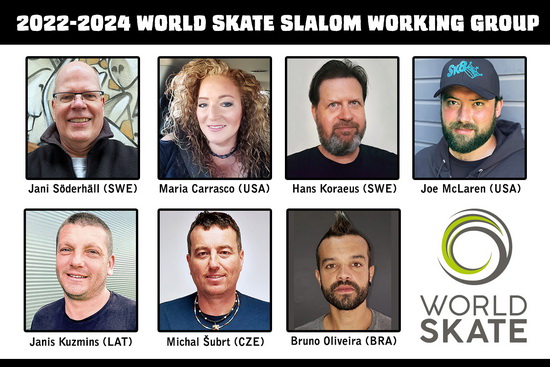 Slalom racing has been a part of skateboarding since its earliest days in the 1960's and has continued in some form over the decades. Over the past 30 years, the sport has been overseen and cared for by the International Slalom Skateboarding Association (ISSA) – keeping the active regions of racers organised, with standardised rules, sanctioned events, and a World Ranking system to honour the World's best slalom racers, and to encourage participation in local, national, continental or World-wide events.

Most recently, members of the World Skate Skateboard Technical Commission and the ISSA Board of Directors have come together to form the World Skate Slalom Working Group. The objective is to further the growth of slalom skateboarding as a professional sport within the IOC-recognised governing body. The new Slalom Working Group's primary goals include developing the sport's global participation and progressively introducing Slalom Skateboarding to Olympic cycle events.
Plans are already in motion for the slalom skateboard racing competition at the 2022 World Skate Games, with three events: giant, hybrid and tight slalom racing, planned for Oct 27 – Nov 1, in San Juan, Argentina.

@worldskatesb
#worldskatesb #worldskateofficial #SlalomSkateboarding #ISSA #ISSASlalomSB
Latvians dominate the European Championships 2022
[July 4th, 2022 by Jani Soderhall]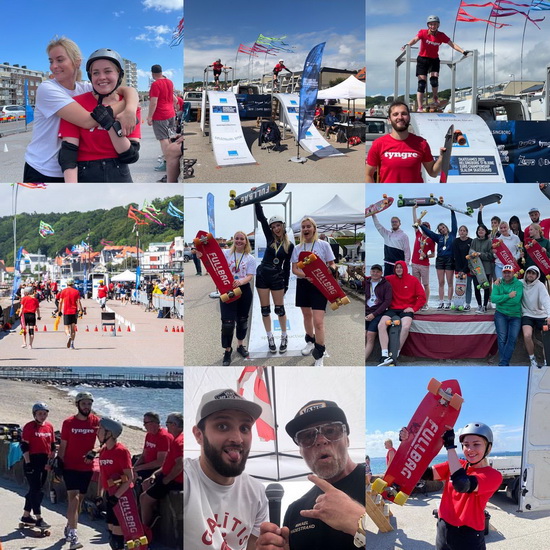 By Gustavs Gailitis

Sunny Swedish coastal city Helsingborg hosted European slalom skateboarding championships of 2022. Nine riders of the World rankings top 20 were present which promised exciting racing all weekend long. After great weather on Friday for the giant slalom, organizers made a smart decision to put both hybrid and tight slalom races on Saturday due to weather concerns later in the weekend. It meant a long day of racing, but it in the end it was the right decision, as it rained almost all Sunday.

Jānis Kuzmins was in an excellent form by taking hat-trick – winning all three disciplines – giant, hybrid and tight slalom. The last time a Pro group rider won every discipline at European championships was in 2004 when Maurus Strobel won in Cologne, Germany (that year only two disciplines were held, but the last time someone won every discipline at European championships with all three disciplines was back in 1995 in Riga, Latvia when Luca Giammarco was unbeatable).

7th time European champion Viking Hadestrand was the local favourite, but this time his younger brother Viktor took the top honours of the Hadestrand family – 2nd place in all disciplines, while Viking took 3rd in hybrid and tight (in giant Artūrs Liskovs took the last spot on the podium).
Defending European champion Christopher Dupont this time stayed right behind podium with 4th places in giant and tight, which usually is his specialty.

In ladies' group Endija Līga Rūja dominated by winning every discipline, while twin sisters Anna Monika Gailīte and Elīza Marija Gailīte shared the next two steps of the podium after almost 5 years hiatus from international competitions.
In Masters group Mikael Hadestrand was unstoppable, followed by two other locals - Emrik Larsson and Swedish skateboarding legend Hans Gothberg.

In Amateur group it was a battle between Germany and Latvia – German Lukas Mehler won giant by 0,5 seconds, but Mārtiņš Bārdulis was unreachable in hybrid and tight. In junior girls Elija Ļebedeva secured the title while in junior boys Rūdolfs Dreiblathens took the top spot.
It was a great weekend in beautiful Sweden and luckily, they will host another World class event this summer, when the fastest riders will meet in Båstad on 5-7 August.

Forum topic: http://www.slalomskateboarder.com/phpBB/viewtopic.php?p=81501
Paris Slalom World Cup 2022 - a success!
[June 15th, 2022 by Jani Soderhall]



After several years of hiatus, the world famous ''Paris Slalom World Cup'' race at the legendary Trocadero square with view at the Eiffel Tower was back on race calendar. It was the season opening race for international slalom racing in Europe. Great weather (with small rain delays) and quite international field promised action-packed racing in hybrid, giant and tight slalom and it sure delivered.

In Open category defending European champion Christopher Dupont from France managed to win every discipline and overall, respectively, earning the title ''Roi du Trocadero'' (King of Trocadero). Petr Matouš from Czech Republic scored two seconds and a third in tight slalom taking the second overall spot. Most probably the biggest surprise of the event came from Sweden - Olle Bauer was fast from the very beginning and grabbed the final podium spot in overall. Second place in tight slalom and fourth place in overall classification went to Louis Selby. Briton had a great pace all weekend long and will be force to recon in the upcoming European events.

Battles were fierce on both days and overall Open classification from 5th till 10th was as follows: Christoph Baumann (Germany), Vincent Tanguy (France), Gustavs Gailitis (Latvia), Zdenek Mach, Stepan Vojta (both Czech Republic) and Max Thiele (Germany).
In lady's category one of the fastest female slalom skateboarders in the world Karolina Vojtova from Czech Republic was unstoppable with three wins over her mother Hana Vojtova and Therese Redman from Sweden.

In teens and juniors, the Czech young talent pool took the top honours: in teen category Emily Martinu won giant and tight, but Anna Safrankova was fastest in hybrid. In junior category Dan Syrovy jr had a clean sweep with three first place finishes beating Karolina Machova and Tomas Mach, all from Czech Republic.

The event was a great success and slalom skateboarding community is hoping to have more races in this legendary and mythical place at the very centre of Paris. The international racing season continues on 17-19th June in Helsingborg, Sweden with the European Championships of slalom skateboarding.
European Championships 2022, Helsingborg - Register now!
[May 25th, 2022 by Jani Soderhall]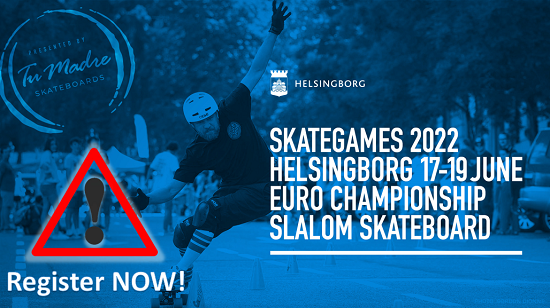 LAST CALL!
The last date for registration has been extended another week, however Tuesday 31/5 is the last day to sign up and also pay. Do not miss this! The registration will be removed on Wednesday and then you will not be able to participate in this wonderful event. 🙂
REGISTER HERE: https://forms.gle/jGp7ooYoYMBNQbXY6

ISSA Status: Major
FB event: https://www.facebook.com/events/1092139251584425
Paris Slalom World Cup 2022, May 21-22 [Prime]
[May 4th, 2022 by Jani Soderhall]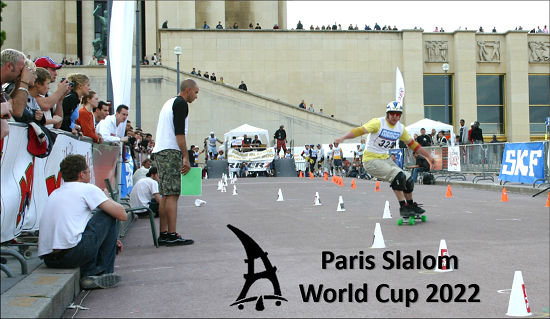 Paris Slalom World Cup returns to the Trocadero once again. Don't miss this unique opportunity to race on this legendary skate spot right in the city centre of Paris. RiderZ, ISSA and the CDRS 75 hereby welcomes you to Paris for what may possibly be the last of slalom races at the Trocadero.

It's a two day race with tight and special slalom in an Open category, and two junior categories Jun 17 and Jun 14. We'll also try to add a fun race, such as a surf-skate style giant slalom.

Schedule:
Saturday 21 May : 11:00 - 19:00
Sunday 22 May : 10:00 - 18:00

Registration: Pre-register at slalomranking.com
FB event: https://www.facebook.com/events/677167370212417
Forum topic: Discussions, questions for riders
World Skate Games 2022, Oct 24 - Nov 13
[April 2nd, 2022 by Jani Soderhall]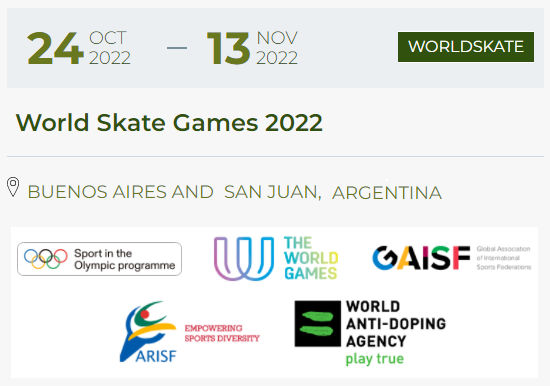 Following the announcement of World Skate, dated March 3 (received by the ISSA April 1), in relation to the war in Ukraine, no Russian, or Belarus skaters, or officials, will be allowed to participate in any races organized by World Skate. Also, World Skate announced that no World Skate sanctioned events will be held in either Russia or Belarus. This decision is valid until further notice.
Note: The updated World Skate policy is in line with the previously announced ISSA policy.
Most races raced, current standings
[March 30th, 2022 by Jani Soderhall]
A little known category of our ranking system ...

Most race results record in the ISSA World Ranking, as of March 2022: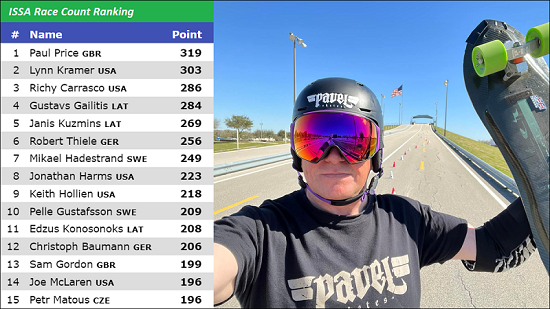 Paul Price in first place with 319 races, with Lynn Kramer not far behind at 303, followed by Richy Carrasco 286.
Congrats Paul, well done!
US qualifier #1 for World Skate Games
[March 28th, 2022 by Jani Soderhall]
What a pleasure to see that racers gathered for the first (out of three) US qualifiers for World Skate Games 2022 in Argentina. Thanks Texas for hosting the event!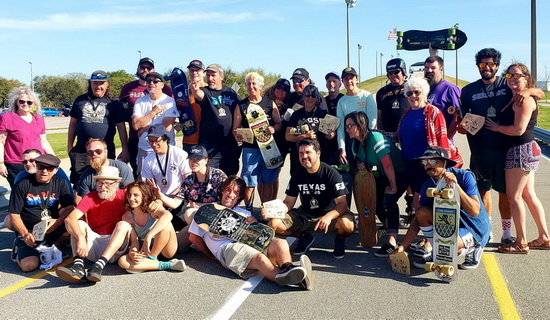 ISSA announcement in support of Ukraine
[March 11th, 2022 by Jani Soderhall]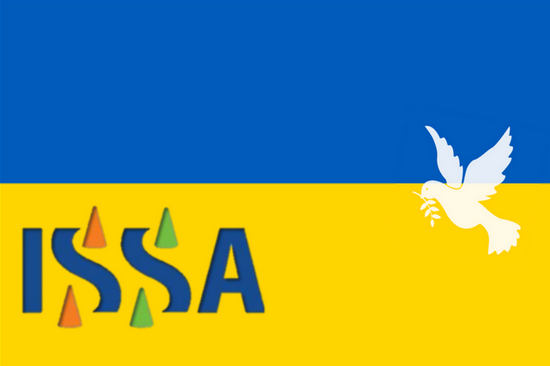 Due to the current ongoing war in Ukraine, the ISSA hereby announces it's decision that all Russian and Belarusian skaters shall be suspended from participation in any ISSA sanctioned events and from currently running rankings. As well, the ISSA will not be sanctioning further events in these countries (including the upcoming 25 coneseries). In addition, all Russian and Belarusian national flags and mention of country of origin will be removed from the official ISSA site and World Ranking. We feel that these are necessary measures to show support to Ukraine against the hostile acts of Russia, protect the integrity of global slalom skateboard racing, and for the safety of all participants.

These measures come following, and in support of, the recent World Skate announcement (http://www.worldskate.org/news/17-world-skate/3411-war-in-ukraine-world-skate-official-statement.html). The ISSA fully supports the stance taken by WSK but feels that additional measures must be taken in support of Ukraine.

These measures will remain in place until further notice.
Page:
1
, 2,
3
,
4
,
5
,
6
,
7
,
8
,
9
,
10
,
11
,
12
,
13
,
14
,
15
,
16
,
17
,
18
,
19
,
20