News
World Skate Games 2022
[November 8th, 2021 by Jani Soderhall]
World Skate has now announced that these three skateboard disciplines will be part of World Skate Games 2022: Vert, Slalom, and Downhill.
The games will be held in Argentina at two different locations: Buenos Aires and San Juan.
The dates are Oct 24 - Nov 13, 2022.
ISSA & World Skate collaboration
[November 8th, 2021 by Jani Soderhall]
Hello everyone,

We have been working hard behind the scenes and have some very exciting news to share – the ISSA has joined forces with World Skate to be the governing body for slalom skateboarding.
- World Skate - Background
-WSK is the result of a merger, in 2016, between the International Roller Skating and International Skateboard Organizations, a process accelerated by the need to govern skateboarding in the Tokyo 2020 Olympics.
-Within WSK skateboarding is considered one discipline (whereas roller skaters have several disciplines). Each discipline has a Technical Commission. The WSK Skateboarding Technical commission handles the disciplines Street, Park and Vert.
-In 2019 the International Downhill Federation joined forces with WSK to create a Working Group for Downhill racing under the Skateboarding Technical Commission. Their first mission was to plan and organize downhill racing at the Barcelona World Roller Games.
-Now it is time to include yet another skateboard discipline: Slalom Skateboarding. And yet another Working Group under the Skateboarding Technical Commission will be created for Slalom.
-The current ISSA Board of Directors will take the major part of the new World Skate Slalom Skateboarding Working Group and represent slalom skateboarding worldwide.
The other very exciting news as a part of this merger of the ISSA and World Skate is the inclusion of slalom skateboarding in the World Skate Games which we will first showcase slalom in the 2022 World Skate Games in Buenos Aires Argentina (date TBD).
​
- About World Skate Games
-World Skate organizes the bi-annual World Skate Games, comprising all roller sport disciplines governed by World Skate.
-The World Skate Games are a multi-roller-sport event that serves as the World Championship of eleven disciplines of the roller sports represented by World Skate. The skateboarding disciplines for 2022 WSG's will include Vert, Downhill, and Slalom.
-The World Skate Games is intended to show the best talent from all countries and skaters will represent their National Federation. The qualifying process for slalom skateboarding is currently being finalized and will be communicated in the near future.
The addition of slalom skateboarding in both World Skate and World skate games is a big step forward for the future and growth of slalom skateboarding. We understand that you, the slalom skateboarding community, probably have questions on this merger and we welcome any questions but please understand that not everything has been fully finalized and there are a lot of moving parts so we may not have all the answers at this time.
With best regards,

Joe McLaren
(on behalf of the ISSA Board of Directors)

Jani Söderhäll - ISSA President: jani.soderhall@slalomskateboarder.com
Maria Carrasco - ISSA Vice President, North American Status Marshal: maria@slalomskateboarder.com
Joe McLaren - ISSA Secretary: joe@slalomskateboarder.com
Hans Koraeus - ISSA World Ranking Supervisor: hans.koraeus@slalomskateboarder.com
Michal Subrt - ISSA European Status Marshal: michal@slalomskateboarder.com
Bruno Oliveira - ISSA BOD member, South American Status Marshal: bruno@slalomskateboarder.com
Janis Kuzmins - ISSA BOD member: janis@slalomskateboarder.com
Anatoly Matsukevich, 1957 - 2021 [RIP]
[October 20th, 2021 by Jani Soderhall]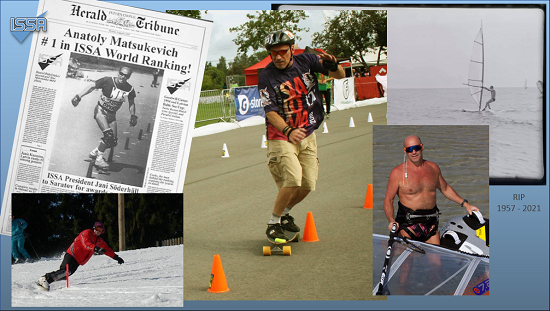 It is with profound sadness we've learned of the recent passing of Anatoly Matsukevich, Russian slalomer of Saint Petersburg, at the age of 64.

For those of you who may not have met or known Anatoly, he was THE number 1 Russian slalom, and on the local scene, he was pretty much unbeatable for a good number of years. Sharing his love for the sport across the former states of the Soviet union, the popularity of slalom racing spread, and eventually, younger talents in Latvia, Ukraine, Russia, Estonia, and Lithuania started reaching his skill level and occasionally leaving him a millisecond behind. For those who achieved that accomplishment, those moments are well remembered. And it didn't happen many times, in fact, they could certainly be counted on the fingers of one hand.

Who would have thought that such an American sport would, or even could, gain any popularity in the Soviet union in the 1980s? Somewhat surprisingly it did, even behind the old iron curtain. With no possibility of importing skateboards, millions of completes were made locally and these boards had amazing steering abilities, with high, unstable trucks with soft bushings.

These decks, from brands such as Rula, gave the locals an edge when it came to extremely tight slalom courses, and among the classic ones are 100 cones set 1 meter apart (just over three feet), probably nobody ever beat Anatoly in that discipline. The English were famous for tight courses, but in Saint Petersburg, Anatoly was pushing for ever more complex courses. And why put the cones in a line, when you can place cones put pretty much anywhere. The figure slalom discipline was invented, with cones placed at around 1 m apart, often in a somewhat symmetrical pattern. Anatoly excelled once again, with turns and elegant pirouettes unimaginable on any other type of skateboard.

When the first ISSA World Ranking was published in 1994 Anatoly became our first ever #1 ranked slalom racer. His perseverance and passion was officially recognized!

Other passions of Anatoly were windsurfing and snowboarding and he was teaching also in those sports. Active in snowboarding, Anatoly was handpicked to participate in the volunteer force at the 2014 Sotchi Winter Olympics where he was working the slopes preparing for the world elite in yet another slalom discipline.

With the revival of slalom racing in the 2000s Anatoly was once again back on the racing scene, and sometimes travelled to international events including several World Championships and European Championships. Although he would no longer be able to claim any victories his motivation and passion was always present.

Anatoly leaves behind his wife Nina, daughter Dina and son Slavik.
Our thoughts are with his family at this difficult time.

Legends never die!
Rest in peace, dear Anatoly.

Forum, racer profile:
http://slalomskateboarder.com/phpBB/viewtopic.php?p=81447
Denis Kozhin, 1975 - 2021 [RIP]
[July 16th, 2021 by Jani Soderhall]
The sad news has just arrived that Denis Kozhin recently passed away and his funeral was held on July 16, 2021.
Denis was an active slalomracer in the early 90's but later focused more on other sports such as water skiing and snowboarding. Denis returned to slalomracing in 2017 and raced in Madrid, Policka, Latvia as well as in several races in Russia during a period of 3 years.

During the World record attempt at 100 cones in 1995, Denis was second only to Luca Giammarco with a time of 20.50+two cones so 20.70 seconds and a second ahead of the rest of the riders. It would then take more than 10 years for anyone to come close, or beat those times.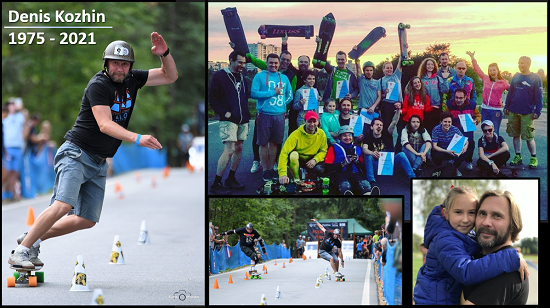 Our deepest sympathies to his closest family.

Rider profile here with photos: http://www.slalomskateboarder.com/phpBB/viewtopic.php?f=110&t=9743
Ranking profile with results here: http://slalomskateboarder.com/slalomranking/mvc.php?action=racer&subaction=racerhome&pid=4305&eventid=0
Båstad 2021 cancelled - Båstad 2022 announced!
[July 9th, 2021 by Jani Soderhall]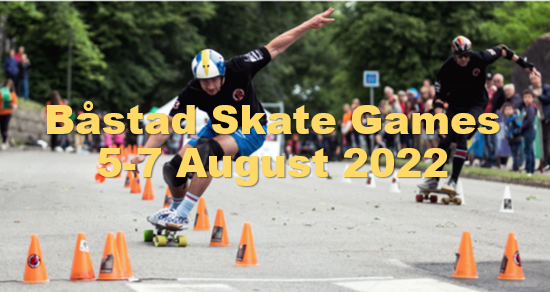 Message from the organizers:
We have long believed that we will be able to carry out the event that was originally meant to be the World Championships, but the Covid-19 situation in the world still makes it impossible for most riders to travel freely. We have now made the difficult decision to move the competition to August 5-7, 2022. Take care, and see you in Båstad 2022!
Have a nice summer wishes Mika, Viking, Viktor & Peter.
Båstad Skate Games
[June 4th, 2021 by Jani Soderhall]
Let's race!

Mikael Hadestrand, Peter Menke, and Jonas Wikström along with the city of Båstad on the west coast of Sweden are preparing an event for us all August 6-8 that surely merits your attention although it can no longer merit a true World Championships title.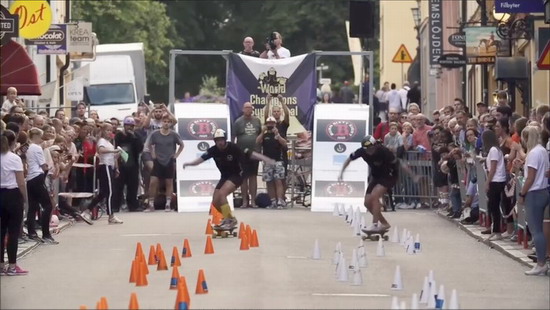 Due to COVID no events in 2020 or 2021 will have the usual status assignments (Major, Main, Prime ...) instead we're doing national rankings 2021 from the events that are held. Our logic is that people can't really travel freely thus we cannot encourage international participation and potentially put people at risk of this pandemic. If you feel safe (vaccinated, taking appropriate precautions, ...), then go out and skate, travel to races, and get back to the pleasure of slalom racing!

Registration is now open at: https://wcsbs.com/event/wcsbs-2021/




See you in Båstad!
ISSA 25-cone World Series 2021/2022 #1
[June 3rd, 2021 by Hans Koraeus]

First weekend session of the second season of ISSA 25-cone World Series!

Note! Organizers of local spot events need to pre-register. Check deadline!

25-cone session weekend.
Saturday-Monday, Jun 19-21.

It is still hard to hold regular international slalom events. But with the 25-cone slalom discipline there is a way around this. It is the next best thing we can do for the moment to gather everybody and compete virtually. We compete together the same weekend, running the same course but on different places around the world.

1. Before event - Sub spot organizers:
Connect your local race to the "ISSA 25-cone World Series".
Note for organizers! Be aware of registration deadline!

2. Event weekend:
Racing the standardized 25-cone event and slalom course format at your local flat spot according to the common rules.

Note! New event format! See new rules!

3. Register times and cones for all racers.
Note for organizers! Be aware of on-line result registration deadline. Time deadline is according to the time zone of each spot.
Top 3 results: Monday 23:55.
Complete results: Tuesday 23:55.

4. After event:
Tuesday evening, after last official event result registration, all racer results from around the world should be complete.

Rules, Results, Pictures and more info on the homepages.
Event homepage #1 - Event leaderboard #1

This year we're suggesting two courses, the first one being the original (unchanged) course set up first started by the NCDSA forum 20 years ago. The second course is a special slalom alternative that is challenging and requires additional skills, yet is easy to set up starting from the regular 25 cone course. Here's a description of how you set it up: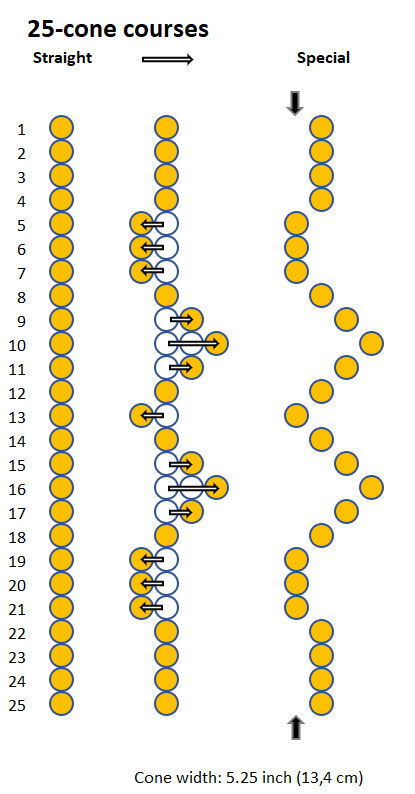 ISSA 25-cone World Series 2020/2021 #4
[January 23rd, 2021 by Hans Koraeus]

Fourth session of the ISSA 25-cone Slalom event!

Note! Organizers of local spot events need to pre-register before 1-month deadline.

Fourth session weekend.
Saturday and Sunday, Jan 23-24.

In these pandemic times it is hard to hold regular international slalom events. But with the 25-cone slalom discipline there is a way around this. It is the next best thing we can do for the moment to gather everybody and compete virtually. We compete together the same weekend, running the same course but on different places around the world.

1. Before event - Sub spot organizers:
Connect your local race to the "ISSA 25-cone World Series".
Note for organizers! Be aware of registration deadline!

2. Event weekend:
Racing the standardized 25-cone slalom course at your local flat spot according to the common rules.

3. Register times and cones for all racers.
Note for organizers! Be aware of on-line result registration deadline. Time deadline is according to the time zone of each spot.
Top 3 results: Sunday 23:55.
Complete results: Monday 23:55.

4. After event:
Monday evening, after last official event result registration, all racer results from around the world should be complete.

Rules, Results, Pictures and more info on the homepages.
Event leaderboard
Facebook event homepage
ISSA BOD 2021
[December 7th, 2020 by Jani Soderhall]
ISSA 2021 BOD

Jani Söderhäll (SWE) - President
Maria Carrasco (USA) - Vice President and North America Status Marshal, head
Hans "Corky" Koraeus (SWE) - Ranking Supervisor
Joe McLaren (USA) - Secretary
Michal Subrt (CZE) - European Status Marshal, head
Janis Kuzmins (LAT) - BOD member
Bruno Silva Da Oliveira - BOD member

North American Status Marshals:
Maria Carrasco (USA)
Jack Andros (USA)
Chris Cousineau (CAN)

European Status Marshals:
Michal Subrt (CZE)
Tezzan Redman (SWE)
Lukas Mehler (GER)

South American Status Marshal:
Bruno Silva Da Oliveira (BRA)

Australian Status Marshal:
Bernie Griffiths (AUS)

ISSA Volunteers and specific responsibilities:
Jonathan Harms (USA) - Treasurer
Jonas "Yoda" Wikström (SWE) - ISSA YouTube Channel
Jean-Philippe Bouckaert (BEL) - ISSA Video Manager
ISSA 25-cone World Series 2020-2021 #3
[September 7th, 2020 by Hans Koraeus]

Third session of the ISSA 25-cone Slalom event!

Note! Organizers of local spot events need to pre-register before 1-month deadline.

Third session weekend.
Saturday and Sunday, Oct 17-18.

In these pandemic times it is hard to hold regular international slalom events. But with the 25-cone slalom discipline there is a way around this. It is the next best thing we can do for the moment to gather everybody and compete virtually. We compete together the same weekend, running the same course but on different places around the world.

1. Before event - Sub spot organizers:
Connect your local race to the "ISSA 25-cone World Series".
Note for organizers! Be aware of registration deadline!

2. Event weekend:
Racing the standardized 25-cone slalom course at your local flat spot according to the common rules.

3. Register times and possible cones for all racers.
Note for organizers! Be aware of on-line result registration deadline. Time deadline is according to the time zone of each spot.
Top 3 results: Sunday 23:55.
Complete results: Monday 23:55.

4. After event:
Monday evening, after last official event result registration, all racer results from around the world should be complete.

Rules, Results, Pictures and more info on the homepages.
ISSA event homepage
Facebook event homepage
Page:
1
, 2,
3
,
4
,
5
,
6
,
7
,
8
,
9
,
10
,
11
,
12
,
13
,
14
,
15
,
16
,
17
,
18
,
19