News
Most races raced, current standings
[March 30th, 2022 by Jani Soderhall]
A little known category of our ranking system ...

Most race results record in the ISSA World Ranking, as of March 2022: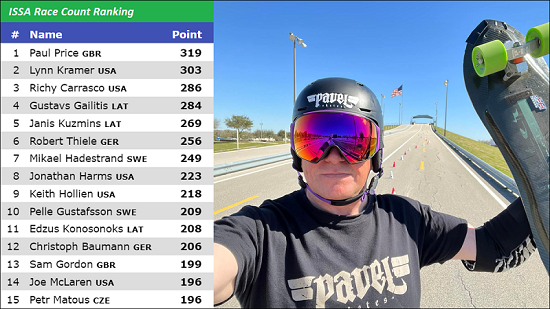 Paul Price in first place with 319 races, with Lynn Kramer not far behind at 303, followed by Richy Carrasco 286.
Congrats Paul, well done!
US qualifier #1 for World Skate Games
[March 28th, 2022 by Jani Soderhall]
What a pleasure to see that racers gathered for the first (out of three) US qualifiers for World Skate Games 2022 in Argentina. Thanks Texas for hosting the event!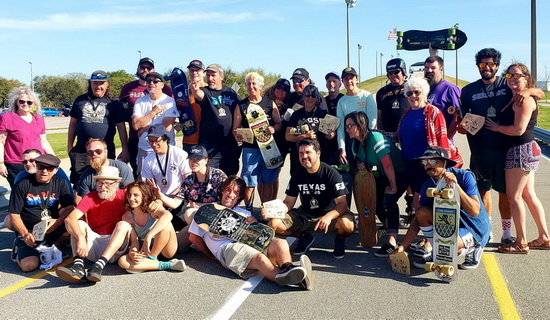 ISSA announcement in support of Ukraine
[March 11th, 2022 by Jani Soderhall]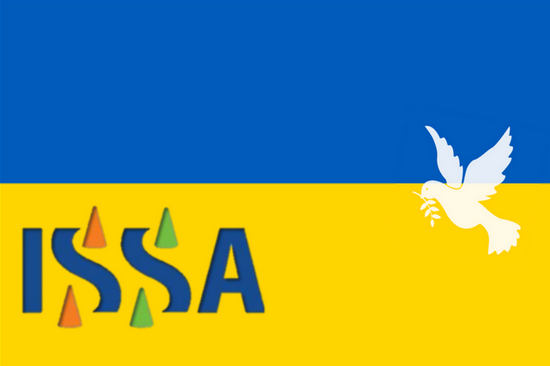 Due to the current ongoing war in Ukraine, the ISSA hereby announces it's decision that all Russian and Belarusian skaters shall be suspended from participation in any ISSA sanctioned events and from currently running rankings. As well, the ISSA will not be sanctioning further events in these countries (including the upcoming 25 coneseries). In addition, all Russian and Belarusian national flags and mention of country of origin will be removed from the official ISSA site and World Ranking. We feel that these are necessary measures to show support to Ukraine against the hostile acts of Russia, protect the integrity of global slalom skateboard racing, and for the safety of all participants.

These measures come following, and in support of, the recent World Skate announcement (http://www.worldskate.org/news/17-world-skate/3411-war-in-ukraine-world-skate-official-statement.html). The ISSA fully supports the stance taken by WSK but feels that additional measures must be taken in support of Ukraine.

These measures will remain in place until further notice.
European Championships 2022, June 17-19 [Major]
[February 17th, 2022 by Jani Soderhall]



The ISSA is proud to present the 2022 European Championships Helsingborg Sweden, June 17-19. The event will be held in conjunction with Helsingborg City Expo 2022 (www.h22.se).

The registration is now open.

ISSA sanction: MAJOR
Website: www.skategames.eu
FB event: https://www.facebook.com/events/s/european-championship-slalom-s/1092139251584425/
Forum topic: http://www.slalomskateboarder.com/phpBB/viewtopic.php?f=85&t=9778
Bruno Bianciardi 1960 - 2022, RIP
[January 29th, 2022 by Jani Soderhall]
Europan Champion Bruno Bianciardi, age 61, dies in skiing accident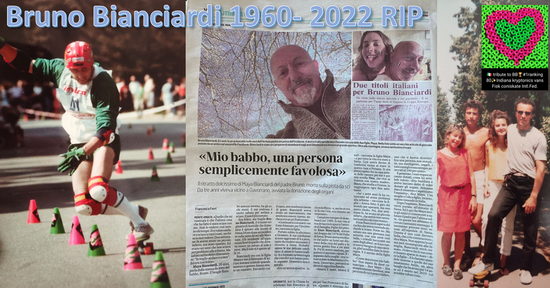 January 23rd, the former European skateboard slalom Champion Bruno Bianciardi, passed away in a tragic skiing accident. Bruno, or BB to his close friends (initials and nickname like the 70's movie star Brigitte Bardot), was born in Tuscany in a family of hotel owner. He was the of the best Italian slalom racers in 1979 and 1980 and became European Champion in Turin 1980.

Prior to slalom racing, Bruno was also a top waterskiing athlete. And within skateboarding, of course, he was was also practising freestyle, dreaming of beting top freestylers like Richy Carrasco and Martin Eggeling in 360's. Although he was the best in Italy, his top performance in spinning was 29.

He originally rode a Turner deck, winning the first price trophy in the Italian Cup, but was one of the first to give up flexible boards for slalom racing replacing it with a solid wood deck for increased control and speed. In the slalom revival in the early 2000 racers in Europe and North America were blown away by Giammarco Luca's speed and control, using a solid wood deck "BB style" (made by Indiana to resemble a 1970's solid wood deck), to win several titles and the overall #1 place in the ISSA World Ranking. Today all of the World's top racers have adopted Bruno's idea that torsionally stiff, even solid, decks provide better control in slalom racing. He was 20 years ahead of most of us!

In straight dual slalom Bruno had an impressive pumping force that would often let him win with a margin of 2-3 cones, and was for a while considered unbeatable. He used coned wheels (self-made) that were great for grip even at high speed. His method was later adopted by all of the best Italian slalomers including myself and World Champions Paolo Gatti and Giammarco Luca in the years that followed.

Those early years Bruno and I skated a lot together, like brothers, encouraging each other to improve, but eventually work had to be given priority, and our sessions became more rare. However, Bruno came back to slalom racing preparing for the 1988 for the European Championships "EuroSkate" in Prague, placing second in the Italian qualifications. However due to his business commitments he did not actually race in Prague.

Bruno ran his family business, a luxury resort, was married and had two daughters. He passed away in the best way he wanted, doing sport activity and without suffering. His passing did not go unnoticed by the local media that honored him with articles that illustrated his love for his family, and even featured slalom racing pictures from the past!

His organs will be donated to people waiting for a transplant, before his earthly body is cremated and his ashes distributed at sea. BB was very generous throughout life and so to the very end. And who knows, maybe his generosity will help someone else to the reach the same sport level as he enjoyed through water skiing, skateboarding and skiing?

Rest in Peace Bruno, the entire Italian scene will forever remember you. Enjoy skating in heaven with the legends that have also left us too early!

Gianluca Ferrero and the Italian Team


Forum topic: http://www.slalomskateboarder.com/phpBB/viewtopic.php?p=81493
World Skate Games 2022, Oct 24 - Nov 13
[January 22nd, 2022 by Jani Soderhall]
Hello everybody in the slalom skateboard community,

As we have already announced we are about to create a new international work group for slalom under World Skate (WSK). With slalom racing as one of the official disciplines of WSK, we're now preparing for our participation at the World Skate Games (WSG) in Argentina 2022. WSG is a multi-sport, multi-discipline event organized by WSK every second year. At WSG 2022 there will be Vert, Downhill and Slalom for skateboarding, while Street and Park will have their own separate events. The dates for WSG 2022 are Oct 24 - Nov 13 and will be hosted by the cities of Buenos Aires and San Juan.

The qualification for these Skate Games is more formal than what we are used to in the slalom community.
And with a new year starting we want to present how it's going to work. National associations being the base of World Skate are a natural part of the Qualification, so we have integrated possibilities for them to determine who should represent each country.

There will be two classes: Men and Women, and no age classes.
There will be three ways to qualify for these classes:
a) The top 20 racers (20 men, 20 women) from the current world ranking.
b) Each national association can select and register 3 men and 3 women, in addition to the top 20.
c) Persons in countries with no national association can also participate.

The pandemic situation in the world is still in play, so it's important that you already start to plan for national qualifications to determine the top three men and women in your country. Here's what is needed in terms of preparation:

- Contact your national association for skateboarding.
- Prepare them for what is coming and your national slalom scene.
- Discuss ideas with them about how to make the rider selections (three men and three women) to represent in the 2022 WSK Games
- Remember that the registration for the games are done through the national association.
- To be selected you will probably need to be a member of the national association, so check how membership works locally (in your club and whether it's affiliated with your national skateboard federation).

For the top 20 on the world rankings, even though pre-qualified, they also need to register individually, to confirm their participation. The deadline has not yet been decided but we expect it to be two months prior to the WSG, so end of August or early September. For those of you who do not have any national association connected to World Skate contact ISSA and we'll help you check what options are available and help you register.

Finally to clarify the roles of the different organizations and joint efforts, here's an overview:

WSK (World Skate)
Although initially created in roller skating in 1924, it is now the official international sport organization for rollerskating, skateboarding and even kickbikes. It was needed to get skateboarding into the Olympic family and be part of the Olympic games in Tokyo 2021. Since then it has been decided to keep skateboarding in the Olympic Games for both Paris 2024 and LA 2028. Although we'd love to see slalom racing to one day be part of the Olympic Games, the road is still long ahead.

WSG (World Skate Games)
World Skate Games is like an Olympic Games every second year for all sports and disciplines in WSK (World Skate). For 2022 skateboarding will have the Vert, Downhill and Slalom disciplines represented at the Games.
Street and Park skateboarding is not attending WSK. They are fully occupied with the Olympics and qualifiers for the Olympics.

ISSA (International Slalom Skateboard Association)
Has been the international skateboard slalom association for decades. It has held together the slalom skateboard scene with organizing the yearly slalom events and world rankings. With its forum, website and social media it has kept the slalom scene rolling over the years. We are now joining forces with WSK so that all ISSA activities can migrate over to become WSK activities.

WSK Slalom Skateboarding Work Group
A slalom work group comprised of 3 people from WSK and the 7 members of our current ISSA BOD. This is the group who will speak for international slalom skateboarding into the future. The formalities of this group are being finalized and will be officially announced soon by WSK and ISSA.

World Championships
In the years when WSG is held that event is considered the World Championships for all disciplines participating. The other years "in-between" we'll hold separate Worlds for slalom racing, starting in 2023. They will eventually be sanctioned by World Skate but until those formalities are in place, we'll sanction Worlds through the ISSA as we have done in the past.

Continental Championships
There are plans for continental championships organized through World Skate, but it's unclear when and how they will be organized. The continents would be like for the Olympics: Americas (North and South america), Europe, Asia, Oceania and Africa. In the mean time we will have, as before, North American Championships, European Championships and then nationals in Japan, Australia and Brazil.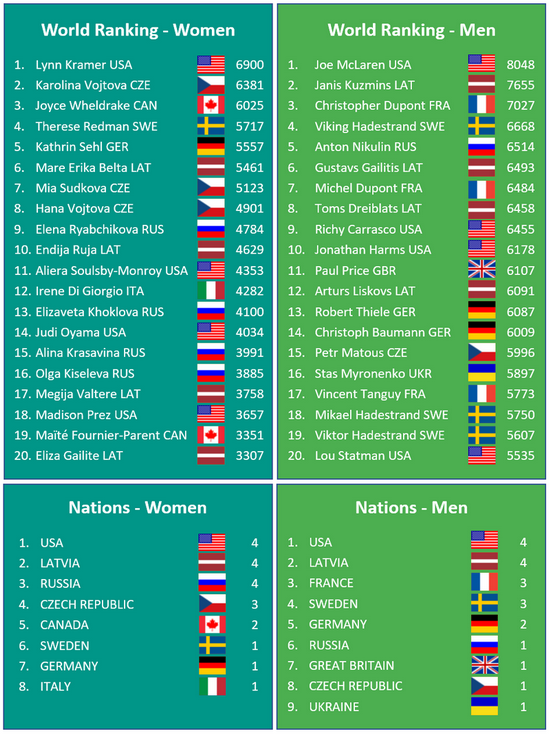 Jani Söderhäll
ISSA President 2022

Jani Söderhäll - ISSA President: jani.soderhall@slalomskateboarder.com
Maria Carrasco - ISSA Vice President, North American Status Marshal: maria@slalomskateboarder.com
Joe McLaren - ISSA Secretary: joe@slalomskateboarder.com
Hans Koraeus - ISSA World Ranking Supervisor: hans.koraeus@slalomskateboarder.com
Michal Subrt - ISSA European Status Marshal: michal@slalomskateboarder.com
Bruno Oliveira - ISSA BOD member, South American Status Marshal: bruno@slalomskateboarder.com
Janis Kuzmins - ISSA BOD member: janis@slalomskateboarder.com


Forum topic: http://www.slalomskateboarder.com/phpBB/viewtopic.php?f=301&t=9770
BOD election for 2022
[December 15th, 2021 by Jani Soderhall]
With no additional nominees it is my pleasure to announce that Hans "Corky" Koraeus, Michal Subrt and Joe McLaren have been reelected for another two term. The BOD has also decided that positions within the BOD will be unchanged for 2022. Thank you for you confidence in steering the ISSA towards our new goals in 2022 with the union of ISSA and World Skate, the inclusion of slalom racing in the World Skate Games (WSG) in Argentina late October, early November 2022!

WSG is recognized as the World Championships every second year (2022, 2024, etc) which will be a joint event with downhill and vert skating as well as a number of roller skate disciplines. The two Olympic skateboarding events, park and street, are not participating and will instead hold their own series and World Championships.
Nominations for election of BOD members for 2022
[November 8th, 2021 by Jani Soderhall]
The ISSA Board of Directors (BOD) has 7 elected members. Each member serves for a period of two years. Three members are elected at the end of uneven years, and four are elected at the end of even years.

This is the current ISSA Board of Directors (BOD) 2021:

Jani Söderhäll (SWE) - President
Maria Carrasco (USA) - Vice President, North America Status Marshal
Hans "Corky" Koraeus (SWE) - Ranking Supervisor
Michal Subrt (CZE) - European Status Marshal
Joe McLaren (USA) - Secretary
Janis Kuzmins (LAT) - BOD member
Bruno Silva De Oliveira - Brazilian Status Marshal

The following BOD members are nearing the end of their term 2020-2021:

Hans "Corky" Koraeus (SWE) - Ranking Supervisor
Michal Subrt (CZE) - European Status Marshal
Joe McLaren (USA) - Secretary

All three have volunteered to continue for another period of 2 years, but in order to maintain the democratic process determined by our Constitution, we are opening for nominations of other potential candidates to join the BOD.

The nomination period is now open for two weeks until Nov 22, noon (Central European Time).

If you would like to nominate someone please do so here:
http://slalomskateboarder.com/phpBB/viewtopic.php?p=81473
World Skate Games 2022
[November 8th, 2021 by Jani Soderhall]
World Skate has now announced that these three skateboard disciplines will be part of World Skate Games 2022: Vert, Slalom, and Downhill.
The games will be held in Argentina at two different locations: Buenos Aires and San Juan.
The dates are Oct 24 - Nov 13, 2022.
ISSA & World Skate collaboration
[November 8th, 2021 by Jani Soderhall]
Hello everyone,

We have been working hard behind the scenes and have some very exciting news to share – the ISSA has joined forces with World Skate to be the governing body for slalom skateboarding.
- World Skate - Background
-WSK is the result of a merger, in 2016, between the International Roller Skating and International Skateboard Organizations, a process accelerated by the need to govern skateboarding in the Tokyo 2020 Olympics.
-Within WSK skateboarding is considered one discipline (whereas roller skaters have several disciplines). Each discipline has a Technical Commission. The WSK Skateboarding Technical commission handles the disciplines Street, Park and Vert.
-In 2019 the International Downhill Federation joined forces with WSK to create a Working Group for Downhill racing under the Skateboarding Technical Commission. Their first mission was to plan and organize downhill racing at the Barcelona World Roller Games.
-Now it is time to include yet another skateboard discipline: Slalom Skateboarding. And yet another Working Group under the Skateboarding Technical Commission will be created for Slalom.
-The current ISSA Board of Directors will take the major part of the new World Skate Slalom Skateboarding Working Group and represent slalom skateboarding worldwide.
The other very exciting news as a part of this merger of the ISSA and World Skate is the inclusion of slalom skateboarding in the World Skate Games which we will first showcase slalom in the 2022 World Skate Games in Buenos Aires Argentina (date TBD).
​
- About World Skate Games
-World Skate organizes the bi-annual World Skate Games, comprising all roller sport disciplines governed by World Skate.
-The World Skate Games are a multi-roller-sport event that serves as the World Championship of eleven disciplines of the roller sports represented by World Skate. The skateboarding disciplines for 2022 WSG's will include Vert, Downhill, and Slalom.
-The World Skate Games is intended to show the best talent from all countries and skaters will represent their National Federation. The qualifying process for slalom skateboarding is currently being finalized and will be communicated in the near future.
The addition of slalom skateboarding in both World Skate and World skate games is a big step forward for the future and growth of slalom skateboarding. We understand that you, the slalom skateboarding community, probably have questions on this merger and we welcome any questions but please understand that not everything has been fully finalized and there are a lot of moving parts so we may not have all the answers at this time.
With best regards,

Joe McLaren
(on behalf of the ISSA Board of Directors)

Jani Söderhäll - ISSA President: jani.soderhall@slalomskateboarder.com
Maria Carrasco - ISSA Vice President, North American Status Marshal: maria@slalomskateboarder.com
Joe McLaren - ISSA Secretary: joe@slalomskateboarder.com
Hans Koraeus - ISSA World Ranking Supervisor: hans.koraeus@slalomskateboarder.com
Michal Subrt - ISSA European Status Marshal: michal@slalomskateboarder.com
Bruno Oliveira - ISSA BOD member, South American Status Marshal: bruno@slalomskateboarder.com
Janis Kuzmins - ISSA BOD member: janis@slalomskateboarder.com
Page:
1
, 2,
3
,
4
,
5
,
6
,
7
,
8
,
9
,
10
,
11
,
12
,
13
,
14
,
15
,
16
,
17
,
18
,
19