News
2017 ISSA World Championships - Cornwall, Canada
[September 8th, 2017 by Jani Soderhall]
World Champions 2017

Congratulations to the winners of each category!

Hybrid slalom:
--------------------------------
Pro: Joe McLaren, USA
AM: Anton Sundling, SWE
Masters: Niklas Hyland, SWE
Women: Lynn Kramer, USA

Giant slalom:
--------------------------------
Pro: Joe McLaren, USA
AM: Dan Duquet, CAN
Masters: Scott Hostert, USA
Women: Lynn Kramer, USA

Tight slalom:
--------------------------------
Pro: Joe McLaren, USA
AM: Anton Sundling, SWE
Masters: Niklas Hyland, SWE
Women: Lynn Kramer, USA


Complete results
http://slalomskateboarder.com/phpBB/viewtopic.php?f=283&t=9308
2017 Banked Slalom World Championships
[August 21st, 2017 by Jani Soderhall]
Banked Slalom

OPEN
1. Viktor Hadestrand (SWE)
2. Viking Hadestrand (SWE)
3. Toms Dreiblats (LAT)
4. Christopher Dupont (FRA)
5. Henrik Wadsten (SWE)

WOMEN
1. Carmen Walker (SWE)
2. Irene Di Giorgio (ITA)
3. Fanny Sahlberg Ahlström (SWE)

MASTERS
1. Henrik Wadsten (SWE)
2. Mikael Hadestrand (SWE)
3. Hans Göthberg (SWE)
4. Michel Dupont (FRA)
5. Niklas Hyland (SWE)

JUNIORS
1 Max Thiele (GER)
2 Leonardo Fernandez (ESP)
3 Alex Trapaga (SWE)


Straight slalom - ISSA MAIN

OPEN
1. Viking Hadestrand (SWE)
2. Christopher Dupont (FRA)
3. Mikael Hadestrand (SWE)
4. Gustavs Gailitis (LAT)
5. Michel Dupont (FRA)

WOMEN
1 Therese Redman (SWE)
2 Irene Di Giorgio (ITA)
3 Adriana Fernandez (ESP)

MASTERS
1. Niklas Hyland (SWE)
2. Peter Klang (SWE)
3. Henrik Wadsten (SWE)
4. Salvis Skarainis (LAT)
5. Jani Söderhäll (SWE)

JUNIORS
1 Leonardo Fernandez (ESP)
2 Max Thiele (GER)
3 Felix Thiele (GER)


Special Slalom - ISSA MAIN

OPEN
1. Viking Hadestrand (SWE)
2. Christopher Dupont (FRA)
3. Mikael Hadestrand (SWE)
4. Viktor Hadestrand (SWE)
5. Michel Dupont (FRA)

WOMEN
1 Irene Di Giorgio (ITA)
2 Therese Redman (SWE)
3 Adriana Fernandez (ESP)

MASTERS
1. Mikael Hadestrand (SWE)
2. Michel Dupont (FRA)
3. Fabian Björnstjerna (SWE)
4. Robert Thiele (GER)
5. Niklas Hyland (SWE)

JUNIORS
1 Leonardo Fernandez (ESP)
2 Max Thiele (GER)
3 Felix Thiele (GER)


Full results available at:
http://slalomskateboarder.com/slalomranking/mvc.php?action=news&articleid=1036
(Still some minor bugs to access all results though)
(also, let us know about any mistakes you see in the Straight slalom results. They're not fully accurate.)
Stuttgart July 21-23 [Main]
[August 8th, 2017 by Jani Soderhall]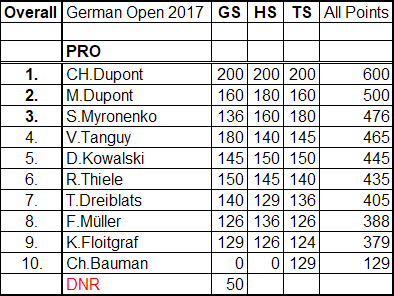 Nantes July 14-16 [Main]
[August 8th, 2017 by Jani Soderhall]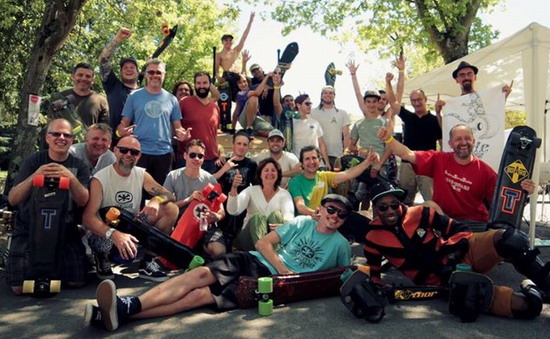 Giant slalom:

1. Christopher Dupont, FRA
2. Michel Dupont, FRA
3. Vincent Tanguy, FRA
4. Robert Thiele, GER
5. Josef Stefka, CZE
6. Petr Novotny, CZE
7. Marc Camelan, FRA
8. Alex Lutz, GER

Hybrid slalom:

1. Christopher Dupont, FRA
2. Michel Dupont, FRA
3. Robert Thiele, GER
4. Vincent Tanguy, FRA
5. Alex Lutz, GER
6. Karl Floitgraf, USA/GER
7. Josef Stefka, CZE
8. Marc Camelan, FRA

Tight slalom:

1. Christopher Dupont, FRA
2. Michel Dupont, FRA
3. Vincent Tanguy, FRA
4. Robert Thiele, GER
5. Josef Stefka, CZE
6. Petr Novotny, CZE
7. Marc Camelan, FRA
8. Alex Lutz, GER
ISSA European Championships
[June 9th, 2017 by Jani Soderhall]
Full information on the Euros now available!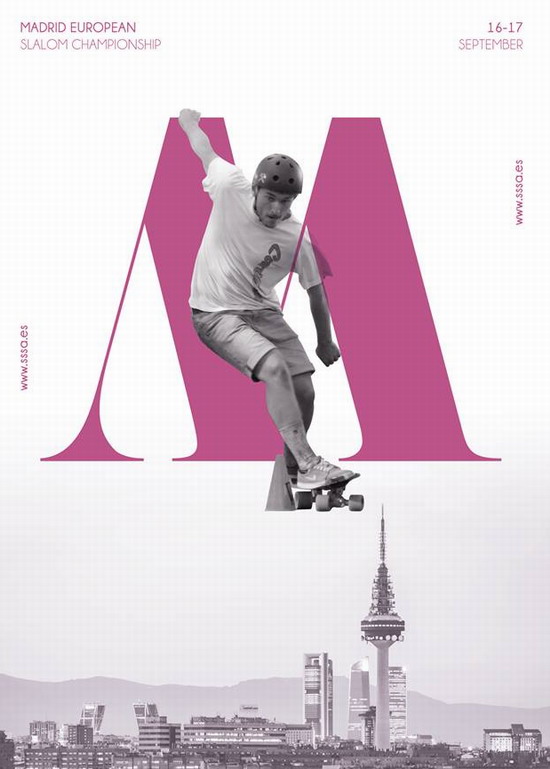 Forum topic: http://www.slalomskateboarder.com/phpBB/viewtopic.php?f=85&t=9285
ISSA World Championships Cornwall, Canada
[March 12th, 2017 by Jani Soderhall]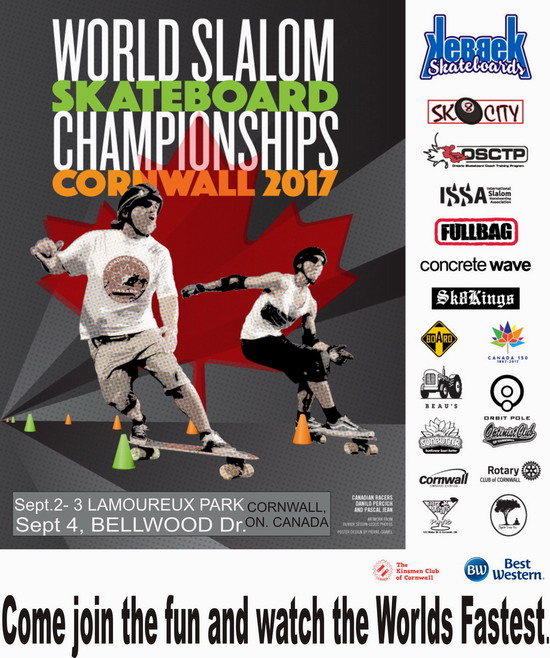 The ISSA is proud to announce that the ISSA World Championships of Slalom Skateboarding will be held in Cornwall, Canada September 2-4 2017. Claude Reginer, MB Lavoie and Chris Cousineau will be taking care of you for this years most important race.
Time to make your travel plans!
German Open 2016, Stuttgart
[September 27th, 2016 by Jani Soderhall]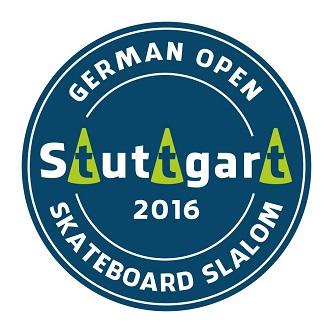 GERMAN OPEN 2016
Overall Results

PRO
1. Christoph Baumann, GER
2. Stas Mironenko, UKR
3. Anton Nikulin, RUS
4. Robert Thiele, GER
5. Paul Price, USA
6. Patric Duletzki, GER


AM
1. Pablo Martinez /ESP
2. Toms Dreiblats /LAT
3. Felix Müller /GER
4. Jakub Jirman /CZE
5. Karl Floitgraf /USA


KIDS
1. Lukas Martinu / CZE


JUNIORS
1. Lukas Knobloch /GER
2. Max Thiele /GER
3. Felix Thiele/GER


TEENS
1. Leo Fernandez /ESP
2. Petr Martinu /CZE
3. Foma Mikhailovskiy/RUS


WOMEN
1. Karolina Vojtová, CZE
2. Mia Sudková, CZE
3. Anna Tehza, CZE
4. Hanna Vojtová, CZE
5. Tezzan Redman, SWE


MASTERS
1. Remigius Petrauskas, LIT
2. Radan Knobloch, GER
3. Alex Lutz, GER
4. Stepan Vojta, CZE
5. Michal Subrt, CZE

Full results here: http://slalomskateboarder.com/phpBB/viewtopic.php?p=80150#p80150
Euros 2016 - Policka, Czech Republic
[August 27th, 2016 by Jani Soderhall]
European Championships 2016 - Hybrid Slalom

Pro:
1. Janis Kuzmins, LAT
2. Michel Dupont, FRA
3. Christopher Dupont, FRA

Am:
1. Arturs Liskovs, LAT
2. Daniel Syrovy, CZE
3. Felix Müller, GER

Women:
1. Karolina Vojtova, CZE
2. Kathrin Sehl, GER
3. Mia Sudkova, CZE

Masters:
1. Stepan Vojta, CZE
2. Danhel Dalibor, CZE
3. Salvis Skarainis, LAT

Juniors 17:
1. Toms Zubarevs, LAT
2. Alexei Soderhall, FRA,
3. Liga Ruja Endija, LAT

Juniors 14:
1. Matej Stefka, CZE
2. Erika Mare Belta, LAT
3. Petr Martinu, CZE

Juniors 11:
1. Karolina Machova, CZE
2. Dan Syrovy, CZE
3. Gustavs Lauva Karlis, LAT

Complete results: http://slalomskateboarder.com/phpBB/viewtopic.php?p=80120#80120
Euros 2016 - Policka, Czech Republic
[August 26th, 2016 by Jani Soderhall]
European Championships 2016 - Giant Slalom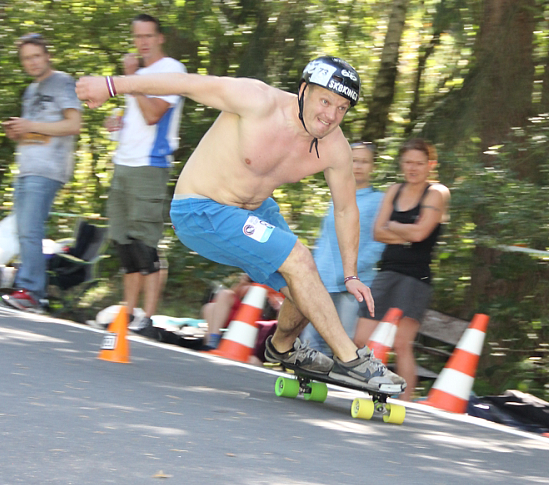 Janis Kuzmins winning the GS Pro race.

Pro:
1. Janis Kuzmins, LAT
2. Vincent Tanguy, FRA
3. Petr Janousek, CZE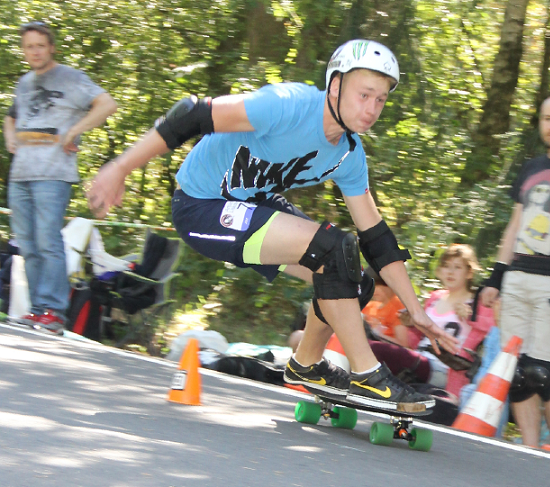 Arturs Liskovs winning the GS AM race.

Am:
1. Arturs Liskovs, LAT
2. Martins Liepins, LAT
3. Toms Dreiblats, LAT

Women:
1. Karolina Vojtova, CZE
2. Kathrin Sehl, GER
3. Mia Sudkova, CZE

Masters:
1. Michal Subrt, CZE
2. Edzus Konosonoks, LAT
3. Stepan Vojta, CZE

Juniors 17:
1. Alexei Soderhall, FRA
2. Megija Valtere, LAT,
2. Toms Zubarevs, LAT

Juniors 14:
1. Erika Mare Belta, LAT
2. Patriks Jostmanis, LAT
3. Matej Stefka, CZE

Juniors 11:
1. Karolina Machova, CZE
2. Dan Syrovy, CZE
3. Lukas Marinu, CZE

Complete results: http://slalomskateboarder.com/phpBB/viewtopic.php?p=80116#p80116
ISSA World Championships 2016
[August 8th, 2016 by Jani Soderhall]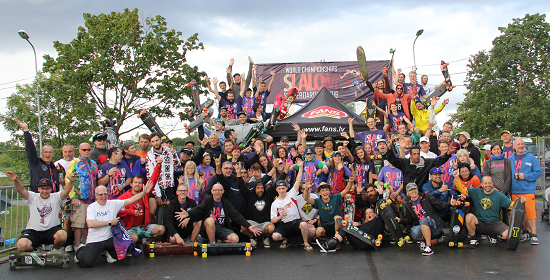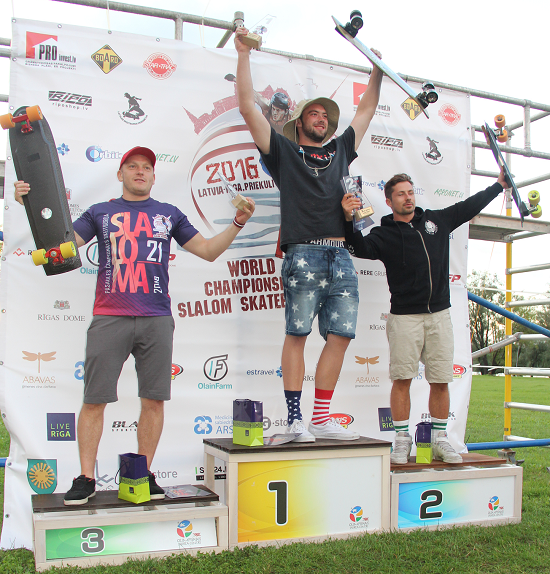 Congratulations to these new world champions!

World Champions Giant Slalom 2016
Pro: Joe McLaren, USA
Women: Lynn Kramer, USA
AM: Arturs Liskovs, LAT
Masters: Remijius Petrauskas, LIT
Jun 17: Lukas Knobloch, GER
Jun 14: Erika Mare Belta, LAT
Kids 11: Johan Knobloch, CZE

World Champions Hybrid Slalom 2016
Pro: Joe McLaren, USA
Women: Lynn Kramer, USA
AM: Arturs Liskovs, LAT
Masters: Mikael Hadestrand, SWE
Jun 17: Max Thiele, GER
Jun 14: Erika Mare Belta, LAT
Kids 11: Karolina Machova, CZE

World Champions Tight Slalom 2016
Pro: Viking Hadestrand, SWE
Women: Lynn Kramer, USA
AM: Toms Dreiblats, LAT
Masters: Mikael Hadestrand, SWE
Jun 17: Max Thiele, GER
Jun 14: Leonardo Fernandez Llopis, ESP
Kids 11: Karolina Machova, CZE

Overall World Champions 2016:
Pro: Joe McLaren, USA
Women: Lynn Kramer, USA
AM: Arturs Liskovs, LAT
Masters: Mikael Hadestrand, SWE
Jun 17: Max Thiele, GER
Jun 14: Erika Mare Belta, LAT
Kids 11: Karolina Machova, CZE

Detailed results for Pro, Women, AM and Masters:
Giant slalom: http://www.slalomskateboarder.com/events/2016/Worlds/2016-Worlds-GS-PRO-AM-WOMEN-MASTERS.pdf
Hybrid slalom: http://www.slalomskateboarder.com/events/2016/Worlds/2016-Worlds-HS-PRO-AM-WOMEN-MASTERS.pdf
Tight slalom: http://www.slalomskateboarder.com/events/2016/Worlds/2016-Worlds-TS-PRO-AM-WOMEN-MASTERS.pdf

Detailed results for Juniors 17, Juniors 14 and Kids 11:
Giant slalom: http://www.slalomskateboarder.com/events/2016/Worlds/2016-Worlds-GS-Juniors.pdf
Hybrid slalom: http://www.slalomskateboarder.com/events/2016/Worlds/2016-Worlds-HS-Juniors.pdf
Tight slalom: http://www.slalomskateboarder.com/events/2016/Worlds/2016-Worlds-TS-Juniors.pdf

Overall results (updated Tuesday August 9):
All categories: http://www.slalomskateboarder.com/events/2016/Worlds/2016-Worlds-Overall.pdf
Page:
1
,
2
,
3
,
4
,
5
,
6
,
7
,
8
, 9,
10
,
11
,
12
,
13
,
14
,
15
,
16
,
17
,
18
,
19
,
20