News
Re: ISSA World Ranking 2011
[February 12th, 2012 by Hans Koraeus]
ISSA World Ranking - 2011 (Final)

The final ranking update for 2011 is calculated.
To see the overview of all the most important ranking results see the new Ranking overview.

PRO
1. Joe McLaren (USA) 1:st PRO this season 2011.
His best ever season result. And he now also tops the official (4-year) World Ranking so he has a long and proven record behind him. Congratulations Joe!
2. Janis Kuzmins (LAT) 2:nd place PRO season 2011.
The highest place he has ever had. Also 2:nd place in the official (4-year) World Ranking 2011.
3. Viking Hadestrand (SWE) 3:rd place PRO season 2011.
3. Dominik Kowalski (GER) 3:rd place official (4-year) World Ranking 2011.

AM/MASTER/JUNIOR
1. Lou Statman (USA) 1:st place AM 2011.
1. Mikael Hadestrand (SWE) 1:st place Master ranking 2011. Also 4:th place PRO season 2011.
1. Gabriel Duquet (CAN) 1:st place Jun 2011.

WOMEN
1. Lynn Kramer (USA) 1:st place Women Season 2011. Also 1:st place in the official (4-year) World Ranking 2011.
1. Lienite Skaraine (LAT) 1:st place Women Season 2011. 2:nd place in the official (4-year) World Ranking 2011.
1. Lisa Scott (USA) 1:st place Women Masters 2011.
1. Irene Di Giorgio (ITA) 1:st place Jun Girls 2011.

ROOKIE
1. Steve Pederson (USA) 1:st place Rookie PRO 2011.
1. Bruno Olivera (BRA) 1:st place Rookie AM 2011.
1. Lisa Scott (USA) 1:st place Rookie Women 2011.



Rank website news this month
- Ranking overview page.

Now working on...
- Ranking tools for event management.

Check the event calendar for current status of all events.
Calendar 2011
Calendar 2012
News updates at SlalomSkateboarder.com
[January 2nd, 2012 by Jani Soderhall]
To start off the new year we've made some updates to the front page of SlalomSkateboarder.com.

The purpose is to bring the two sites SlalomSkateboarder and SlalomRanking closer together and also better integrate the Forum. We also wanted to allow for some "static" informational pages such as Resources, About, and Join the ISSA. We've done so by creating a common menu that will soon be present across the whole ISSA site. It's work in progress and this is only the first step, but we thought it was worthwhile to go live even while still working on it.

Besides improved navigation and a better website experience, another advantage is that it's easier to post news on the front page now. Any administrator or ISSA Board Member can post a new article without fiddling with html and ftp. The news topics are being read from a regular but hidden forum and then automatically translated into html thanks to the work of Guillaume StCriq and our web programmer George. Corky then integrated the entire menu system, designed by Stefan Åkesson, into the different sections of this site to give the site that common access and common design.

There's still plenty of work to be done, but this is an important step!

Enjoy!
ISSA Board of Directors 2012
[January 2nd, 2012 by Jani Soderhall]
The ISSA board 2012 consists of the following board members:
- Jani Söderhäll (FRA)
- Jonathan Harms (USA)
- Petr Janousek (CZE)
- Flavio Badenes (NL)
- Ron Barbagallo (USA)
- Hans "Corky" Koraeus (SWE)
- Ricardo Damborenea (ESP)
European Indoor Championships 2011
[January 2nd, 2012 by Jani Soderhall]
Brno, Czech Republic, November 12-13, 2011
[November 21, 2011 by Jani Soderhall]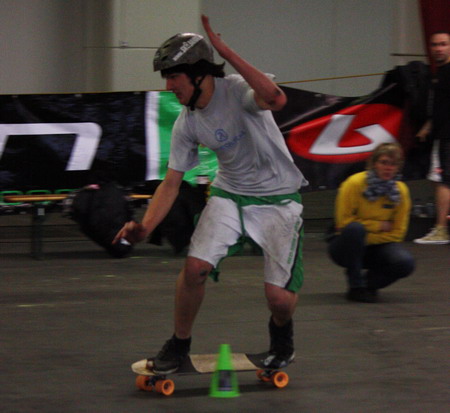 Jaroslav Knettig, Czech Republic, sensationally grabs the gold just ahead of Sweden's Viking Hadestrand in the first discipline of the Indoor European Championships 2011, Brno, Czech Republic

Even if cold winds had already chilled down most of Europe, one last Main event of the 2011 season remained: The European Indoor championships. 75 skaters had registered in the event that was to become of the largest events in Europe this year. And especially pleasant to see what the numerous girls and women participating (16 in all!) and the strong Junior class (about 20) finally subdivided into three different junior classes.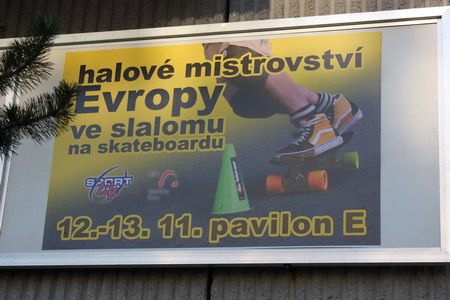 Catered inside a major sports fair, the racing conditions were excellent and the event was well run and provided a relaxed, yet competitive atmosphere. Taking advantage of the indoor location, results were being displayed by video projector directly on to the wall, for all riders to see. Along the race track on both sides were large corridors allowing racers to return back up to the start, but also for the kids to play around with the boards left by their parents or siblings. Kids were heading up and down these spaces learning to skate on feet, knees. Just rolling was the main objective, but pumping was also a popular past time. One could also see an occasional slide and even a hand or head stand as the kids just played around for two days. Once the men's racing got underhand, attention was immediately drawn to Jaroslav Knettig, just recently out of junior class challenging all of the known Euro top riders: Kuzmins, Gustavs, Hadestrand (Viking and Mika) etc. This guy was so fast, no one could fend him off. The audience went louder and louder as the gold came within reach and once it was confirmed! Gold to Jaroslav and Czech Republic!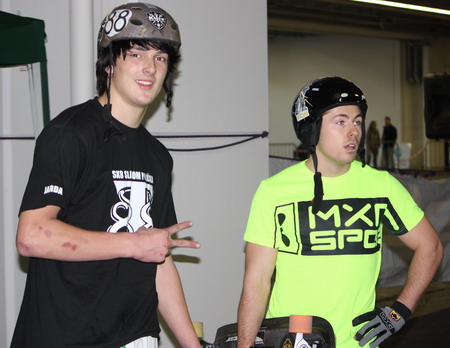 Jaroslav looking confident while Viking starts to realize that he just lost the race.

Kuzmins and the other high ranked guys wasn't going to give it up that easily and together with Viking they both threw in an extra gear and made sure that Jaroslav was kept out of the finals in the tight discipline, one where experience would count more than size and strength. Viking was first across the finish line, but Kuzmins obtained a re-run due to an incorrect course and gave it just a little bit extra to grab the second gold medal of the race.

Third and last chance for the guys to battle it out: S-straight slalom, ie a snaking course of straight slalom. Pure strength required and hungry for gold Viking wasn't going to give this one up easily. Up against Janis again in the finals he manages to preserve his cool and pushes across the finish line first not only once but twice to grab the third gold medal of the event!

In the ladies class Lienite won all three disciplines fairly easily, but she'd better be careful because two strong juniors are heading up the ranks. Anna Gailite was just behind her and reportedly has already beat Lienite on their home turf. Irene Di Giorgio skipped her junior class competition and immediately moved up to second place among the ladies. Give her a couple of years and nobody will be able to withstand her speed and strength. Both of these girls are charging hard and they're less than 15 years old! Now add to that the Czech girls Anna, Eva, Eva, Renata and others and the new competition coming from Finland (Hanna), Ukraine/Germany (Sveta) and Moscow (Natalya) and the ladies event is looking increasingly interesting!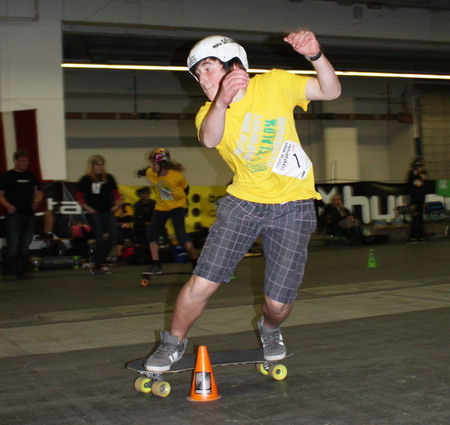 Young racers were everywhere! The skate schools are starting to give results!

European Indoor Champions 2011:
Men
Hybrid slalom: Jaroslav Knettig, CZE
Tight slalom: Janis Kuzmins, LAT
S-Straight slalom: Viking Hadestrand, SWE

Women
Hybrid slalom: Lienite Skaraine, LAT
Tight slalom: Lienite Skaraine, LAT
S-Straight slalom: Lienite Skaraine, LAT

Overall, Men
1. Viking Hadestrand, SWE
2. Janis Kuzmins, LAT
3. Jaroslav Knettig, CZE
4. Mikael Hadestrand, SWE
5. Gustavs Gailitis, LAT
6. Robert Thiele, GER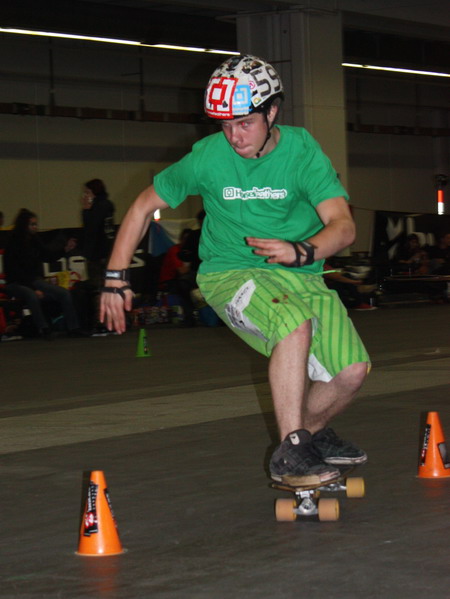 European Indoor Championships 2011 - Results
Slaloms (all classes)
Team Race
Overall (men, women)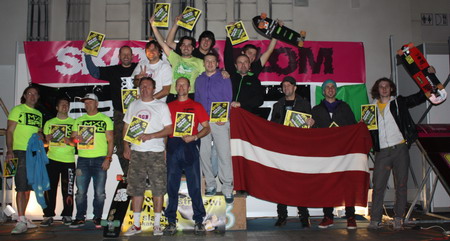 Team Podium 2011
Martin Kopecky - RIP
[January 2nd, 2012 by Jani Soderhall]
[November 22, 2011 by Jani Soderhall]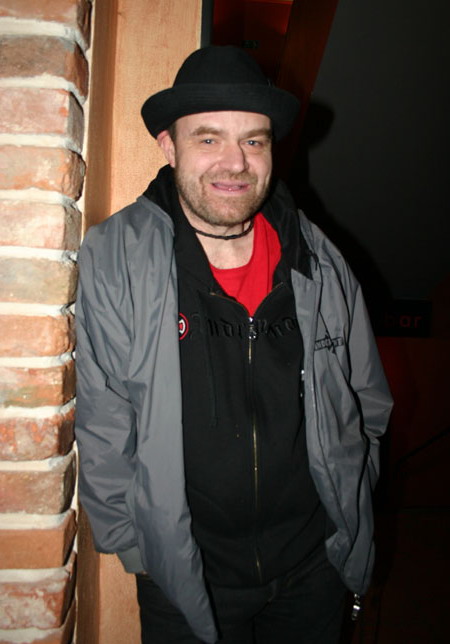 News is spreading that Martin Kopecky died yesterday, Nov 21, 2011.
The Czech skate site http://www.skaterock.cz is having a tribute article:
http://www.skaterock.cz/clanky.php?ru=1&cl=11856

Martin Kopecky was, as someone said, the GodFather of Czech skateboarding. He was the guy holding together the events in the 80's in Czechoslovakia (the joint country it was at the time) and thereafter. Together with Tomas Potucek he founded Rock'n Roll Skateboards, but later left skateboarding to concentrate in import of dart boards and promotion of dart as a sport. What is less known is that he in 2000 participated in the men's synchronized swimming in the Sydney Olympics! A true pioneer in all what he did! http://www.skaterock.cz/clanky.php?ru=3&cl=276

In 1987 Martin took over my position as President of the AES - Association of European Skateboarders and brought the European Championships to Prague in 1988. It was to be the most important Euros ever held, and the last great one where all the skateboard disciplines still kept together as one big family. It was organized in the World Championships Hockey stadium. Visiting skaters had never seen anything like it before. Here we were greeted with respect unseen in this sport, with dedicated translators (yes, of course good looking), great organization, great audience and live TV coverage during the race. Eurosport sent the event over and over again in the years to follow. At the end of the race, a party where we all literally bathed in champagne was held. There's never been anything like it ever since!

Martin's name is forever associated with Czech skateboarding's history and if it wasn't for Martin, Czech Republic wouldn't be the slalom nation it is today.

His absence at the European Indoor Championships a week ago was felt, but we all talked about him at one time or another during the weekend, going through old skate memories, not knowing then that 10 days later he'd no longer be with us.

Martin, you'll always be with us in our hearts and memories!
Thanks' for everything you've done for our sport!

R.I.P.
Grassroots slalom: Kerestat Wood Cup, Brittany, France
[December 17th, 2011 by Jani Soderhall]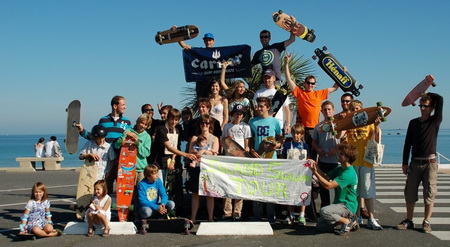 As Christmas is coming closer it's good to see there is still a positive slalom vibe out there! On small islands just outside the coast of Brittany, France, Charles Thubert is keeping the scene going with a series of local races. It started 6 years ago with the Christmas event at Batz island, but has now grown into a full race series, one out of three local race series in France this year.

The registration is now open for the next event - at Batz island:
Batz Island, Dec 30
Page:
1
,
2
,
3
,
4
,
5
,
6
,
7
,
8
,
9
,
10
,
11
,
12
,
13
,
14
,
15
,
16
,
17
,
18
,
19
, 20