News
ISSA joins World Skateboarding Federation
[May 22nd, 2015 by Jani Soderhall]
The International Olympic Committee (IOC) has shown renewed interest in skateboarding with an objective to have the sport included in the 2020 games in Tokyo. But they require an established international governing body and they have started to apply some pressure on the sport to get organized.

ISSA has decided to the join the World Skateboarding Federation (WSF) in it's effort to unite all skateboarders, regardless of discipline, in one international governing body of skateboarding. WSF is currently one of three international federations claiming ownership of skateboarding. The other two are: FIRS (the international roller sport federation) and ISF (the International Skateboard Federation).

WSF has already attracted the downhill and freestyle communities and we believe we are doing the right thing choosing the same path to make sure that the whichever becomes the final governing body of skateboarding includes all disciplines and not only what appears as the most popular at the time.

Read the full announcement here.
http://slalomskateboarder.com/phpBB/vie ... 623#p79623
First ISSA race in Argentina, April 26 2015
[May 18th, 2015 by Jani Soderhall]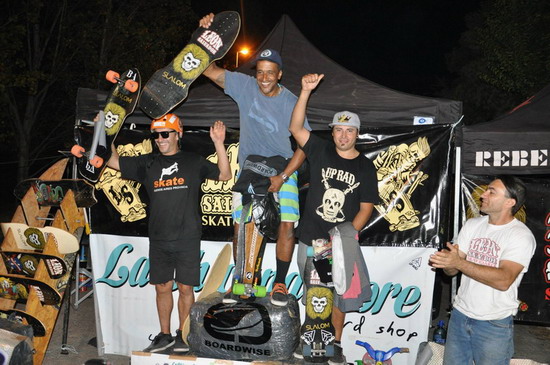 Hybrid slalom podium
1. Sammy Nogueira, Brazil
2. Facundo Quiroga (orange helmet), Argentina
3. Daniel Blanco, Argentina

Congratulations to Edi Leon Salvador, the president of the Argentine League and Daniel Blanco for the organization!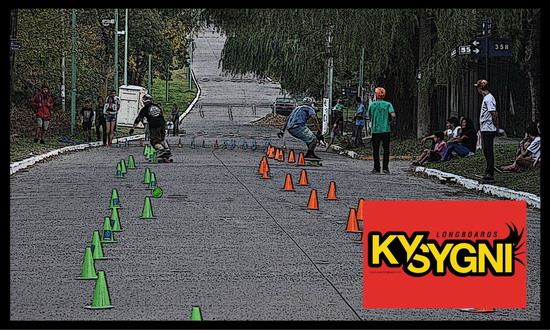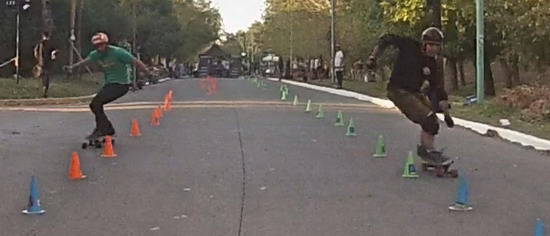 Gonzalo Rodriguez (X games vert medalist) vs Patrick Lozano

Forum topic with photos and full results:
viewtopic.php?p=79603
Slalom Conscience - Brazil [Main], May 1-3
[May 4th, 2015 by Jani Soderhall]
Overall results, top 4

1. Mikael Hadestrand, SWE
2. Bruno Silva de Olivera, BRA
3. Andre Fuchs, BRA
4. Thiago Gardenal, BRA

Complete PDFs:

Tight slalom
Hybrid slalom
Giant slalom
Overall

Thanks Sammy for pulling off this official ISSA sanctioned Main event in Brazil!

Forum topic:
http://www.slalomskateboarder.com/phpBB ... 185&t=9013
Worlds 2014 in Concrete Wave
[May 2nd, 2015 by Jani Soderhall]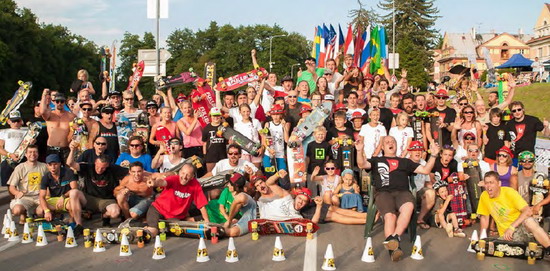 Richy Carrasco has authored a nice article in Concrete Wave (April 2015 issue) on the 2014 World Championships and slalom skateboard races in general. Thanks Richy and Maria. Thanks Concrete Wave for the ongoing support of slalom skateboard racing across the world!

Forum topic with race coverage (photos, videos and articles):
viewtopic.php?p=79575#p79575
Cone Fest 2014, September 20-21 [Main]
[September 22nd, 2014 by Jani Soderhall]
The results are in from the last US Main event of the season.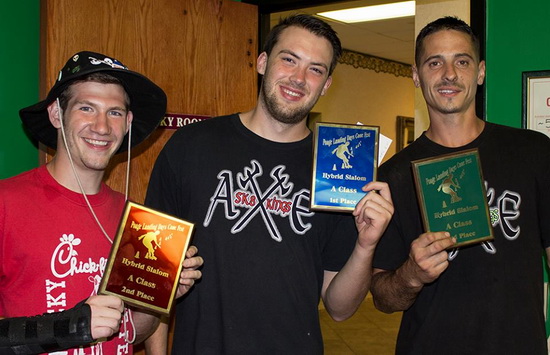 Hybrid podium: Joseph Kyle Smith (2nd), Joe McLaren (1st), Jason Yerke (3rd)

Results:
Tight slalom (pdf)
Hybrid slalom (pdf)
Giant slalom (pdf)

Forum topic:
viewtopic.php?f=86&t=8962
New ISSA Racing Rules
[September 13th, 2014 by Jani Soderhall]



The ISSA rules booklet has been updated. No major changes, it's basically just getting it in line with the current best practices. It's mostly the work of the previous BOD (2013). Editing and design by Jonathan Harms.

http://www.slalomskateboarder.com/Media ... -Rules.pdf

(also available through the Resources menu above)
World Championships 2014, Tight
[August 11th, 2014 by Jani Soderhall]
Tight slalom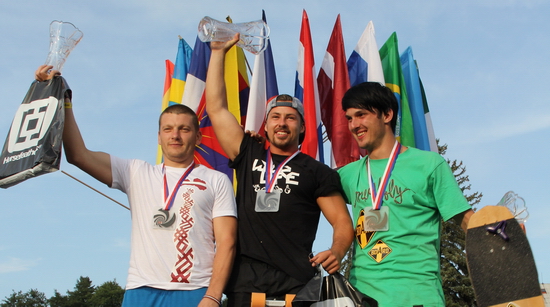 Pro
1. Viking Hadestrand, SWE
2. Janis Kuzmins, LAT
3. Jaroslav Knettig, CZE

AM
1. Jakub Knettig, CZE
2. Edijs Jermacenko, LAT
3. Bruno Silva Da Oliveira, BRA

Master
1. Salvis Skaraine, LAT
2. Brad Jackman, USA
3. Radan Knobloch, GER

Women
1. Lienite Skaraine, LAT
2. Lynn Kramer, USA
3. Anna Gailite, LAT

Jun 17
1. Toms Dreiblats, LAT
2. Petr Matous, CZE
3. Zaccaria di Giorgio, ITA

Jun 14
1. Max Thiele, GER
2. Lukas Knobloch, GER
3. Leo Fernandez Llopis, SPA

Jun 11
1. Mare Erika Belta, LAT
2. Petr Martinu, CZE
3. Patriks Jostmanis, LAT
World Championships 2014, Hybrid
[August 9th, 2014 by Jani Soderhall]
2014 ISSA World Championships
Hybrid slalom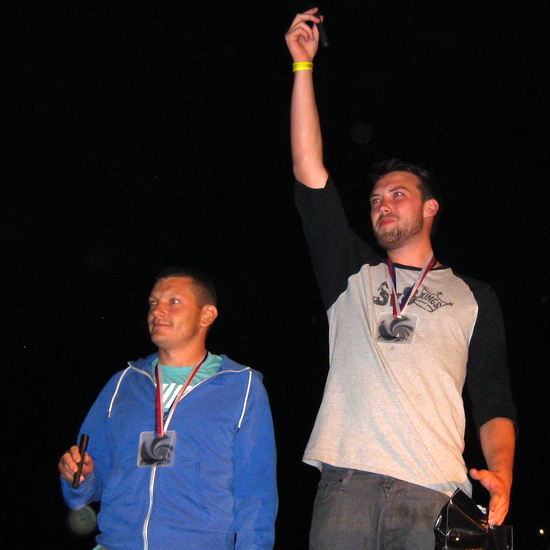 Hybrid slalom, Pro

Pro
1. Joe McLaren, USA
2. Janis Kuzmins, LAT
3. Viking Hadestrand, SWE

AM
1. Jakub Knettig, CZE
2. Bruno Silva Da Oliveira, BRA
3. Victor Mårtenson, SWE

Master
1. Scott Hostert, USA
2. Salvis Skaraine, LAT
3. Radan Knobloch, GER

Women
1. Lynn Kramer, USA
2. Kathrin Sehl, GER
3. Anna Gailite, LAT

Jun 17
1. Toms Dreiblats, LAT
2. Zaccaria di Giorgio, ITA
3. Artus Liskovs, LAT

Jun 14
1. Lukas Knobloch, GER
2. Max Thiele, GER
3. Leo Fernandez Llopis, SPA

Jun 11
1. Mare Erika Belta, LAT
2. Petr Martinu, CZE
3. Matej Stefka, CZE

More results:
viewtopic.php?p=79090#p79090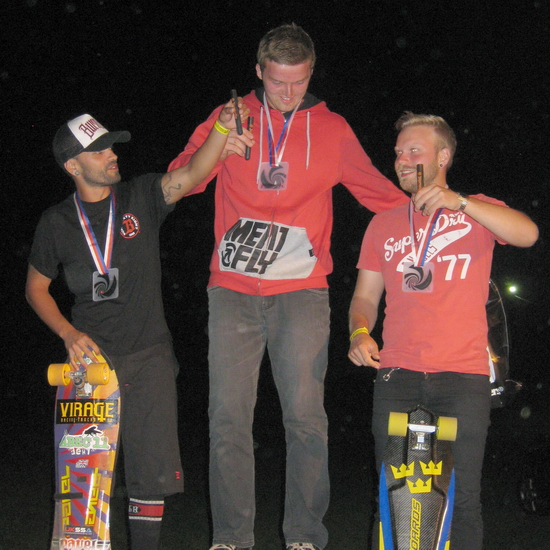 Hybrid slalom, AM
World Championships 2014, Giant
[August 8th, 2014 by Jani Soderhall]
Giant Slalom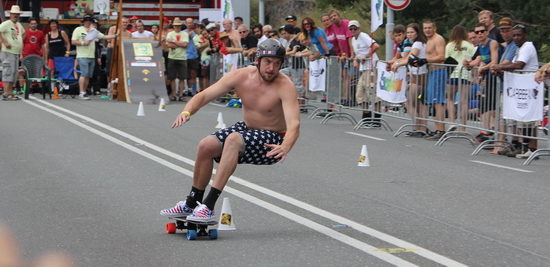 Joe McLaren, USA, completely dominated the mens Pro Giant slalom beating Janis Kuzmins and Chris Schütz with almost a second.

PRO

1. Joe McLaren, USA
2. Janis Kuzmins, LAT
3. Chris Schütz, GER
4. Viking Hadestrand, SWE
5. Jaroslav Knettig, CZE

AM
1. Edijs Jermacenko, LAT
2. Bruno Silva Da Oliveira, BRA
3. Rubens Cesar Zain Lutfi, BRA

WOMEN
1. Lynn Kramer, USA
2. Kathrin Sehl, GER
3. Anna Gailite, LAT

MASTERS
1. Radan Knobloch, GER
2. Jaroslav Smerek, CZE
3. Magnus Bobert, SWE

JUN 17
1. Toms Dreiblats, LAT
2. Petr Matous, CZE
3. Arturs Liskovs, LAT

JUN 14
1. Max Thiele, GER
2. Lukas Knobloch, GER
3. Terezka Podlahova, CZE

JUN 11
1. Mare Erika Belta, LAT
2. Petr Martinu, CZE
3. Patriks Jostmanis, LAT
European Championships 2014
[July 26th, 2014 by Jani Soderhall]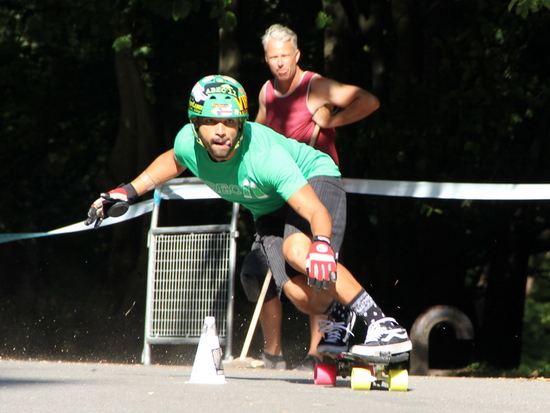 Giant slalom, PRO/Open
1. Henrik Wadsten, SWE
2. Ferdinand Lindner, GER
3. Viking Hadestrand, SWE

Giant Slalom, AM
1. Viktor Hadestrand, SWE
2. Edijs Jermacenko, LAT
3. Bruno Silva de Oliveira

Giant Slalom, Women
1. Anna Gailite, LAT
2. Hanna Jaakola, FIN
3. Eliza Gailite, LAT


Hybrid Slalom, Pro/Open
1. Janis Kuzmins, LAT
2. VIking Hadestrand, SWE
3. Mikael Hadestrand, SWE

Hybrid Slalom, Am
1. Viktor Hadestrand, SWE
2. Edijs Jermacenko, LAT
3. Bruno Silva de Oliveira, BRA

Hybrid Slalom, Women
1. Hanna Jaakola, FIN
2. Lienite Skaraine, LAT
3. Anna Gailitis, LAT


Tight Slalom, Pro/Open (Qual only)
1. Viking Hadestrand, SWE
2. Mikael Hadestrand, SWE
3. Christopher Dupont, FRA

Tight Slalom, Am (Qual only)
1. Edijs Jermacenko, LAT
2. Viktor Hadestrand, SWE
3. Bruno Silva de Oliveira, BRA

Tight Slalom, Women
Cancelled due to rain.

Link to Forum topic with complete results (pdfs) - Europe
Page:
1
,
2
,
3
,
4
,
5
, 6,
7
,
8
,
9
,
10
,
11
,
12
,
13
,
14
,
15