News
Slalom St Louis 2018
[May 28th, 2018 by Jani Soderhall]
The results are in from the second Main status event of the North American race season 2018!

Overall results:

1. Jonathan Harms
2. Kyle Smith
3. Paul Price
4. Lou Statman
5. Tom Weisenbach
6. Chris Favero
7. Lynn Kramer
8. Tod Oles

Full results (PDF) in this forum topic: http://slalomskateboarder.com/phpBB/viewtopic.php?f=86&t=9410
Czech Championships in Pilsen awarded Main status
[May 9th, 2018 by Jani Soderhall]
The ISSA board of directors have awarded Main status to the Czech Championships to be held in Pilsen end of June. Add it to your race calendar - and stay in the area and race in Stuttgart a week later!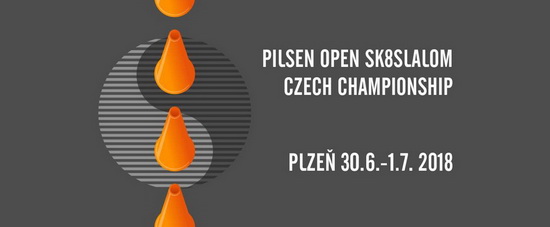 2018 Worlds - Policka instead
[April 6th, 2018 by Jani Soderhall]
Unfortunately the city of Brno will not be able to hold the Worlds on August 3-4-5. Petr Matous has instead mobilized his crew and the decision has now been taken to organize Worlds in Policka the following weekend, thus August 10-11-12.
Texas Sizzler, March 24-25
[March 25th, 2018 by Jani Soderhall]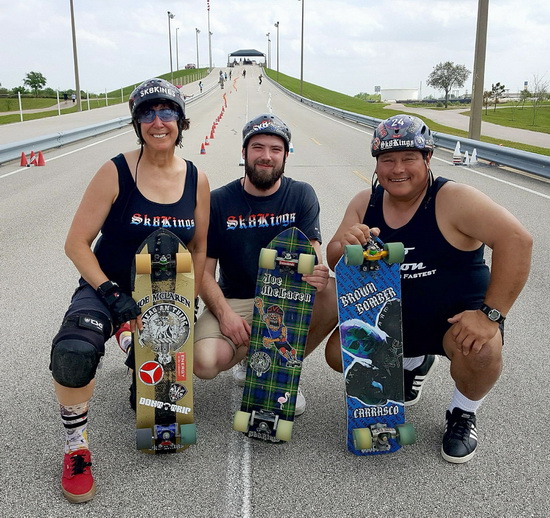 First Main race of the season, here are the results.

Overall
1. Joe McLaren
2. Jonathan Harms
3. Richy Carrasco
4. Paul Price
5. Lynn Kramer
6. Brad Jackman
7. Paul Chestnut
8. Lou Statman

Giant Slalom - Top 4:
1. Joe McLaren
2. Jonathan Harms
3. Richy Carrasco
4. Paul Chestnut

Hybrid Slalom - top 4:
1. Joe McLaren
2. Jonathan Harms
3. Paul Price
4. Brad Jackmans

Tight Slalom - top 3:
1. Joe McLaren
2. Lynn Kramer
3. Richy Carrasco
4. Jonathan Harms


Full details in the forum topic: http://slalomskateboarder.com/phpBB/viewtopic.php?f=86&t=9361
2018 Worlds and World Champions Super Final
[February 1st, 2018 by Jani Soderhall]



World Championships 2018 - Brno, CZE, Aug 3-4-5
World Champions Super Finals - Linköping, SWE, Aug 22-23(-24)

The ISSA board of directors in collaboration with the EU status Marshals have unanimously awarded the 2018 ISSA World Championships to the city of Brno in Czech Republic. The event will be held August 3-4-5 and cover three disciplines: giant, hybrid and tight, as well as all categories: Pro, AM, Women, Masters, Jun17, Jun14 and Jun11. It will be organized by a team of experienced race organizers led by Petr Matous. The race will be followed by the annual slalom camp (August 6-9) and a smaller event in Policka the following weekend (August 10-11).

We are also pleased to announce the ISSA World Champions Super Final 2018 which will be held in Linköping, Sweden, August 22 (quals), 23 (finals) and 24 (rainday). It will be a single category (Pro) giant and hybrid slalom race gathering all the best. If you are an amateur, master, woman or junior you will have a chance to participate too through a pre-qualifying race on the Wednesday. There will be an attractive prize purse in this high profile televised race. Niklas Hyland is leading the organization of this race which is held in the city center as part of the city anniversary celebrations.

The annual ISSA Banked Slalom World Championships will be held in Stockholm, High Valley skatepark, August (24)-25-26.

Note! The "ISSA World Champions Super Final" and "ISSA Banked Slalom World Championships" will be run as one event with Main status in the eyes of the world ranking from Aug 22-26. Pro class Aug 22-24 and Other classes Aug 25-26.


We'd like to extend our sincere gratitude towards the organizers of each of these events for their dedication to our sport.

Jani Söderhäll, President
Patric Duletzki, Vice President
Hans Koraeus
Robert Thiele
Janis Kuzmins
Maria Carrasco
Sammy Noguiera
Christopher Dupont, EU status marshal
European Indoor Slalom Championships 2017
[November 21st, 2017 by Jani Soderhall]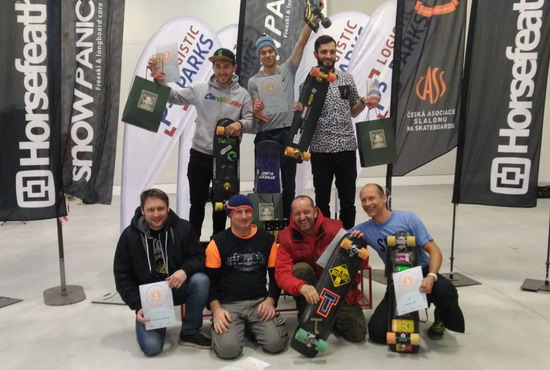 =================
PRO, overall, top 8
=================

1. Anton Nikulin, RUS
2. Pablo Martinez, ESP
3. Gustavs Gailitis, LAT
4. Stas Mironenko, UKR
5. Christoph Baumann, GER
6. Stanislav Nozka, CZE
7. Petr Matous, CZE
8. Robert Thiele, GER

=================
AM, overall, top 4
=================

1. Daniel Petersson, SWE
2. Jakub Jirman, CZE
3. Martin Kulhavy, CZE
4. Anton Sundling, SWE

=================
Women, overall, top 4
=================

1. Karolina Vojtova, CZE
2. Anna Tehza, CZE
3. Mia Sudkova, CZE
4. Hana Vojtova, CZE

=================
Masters, overall, top 4
=================

1. Niklas Hyland, SWE
2. Edzus Konosonoks, LAT
3. Alex Lutz, GER
4. Stephan Vojta, CZE

=================
Juniors, overall, top 3
=================

1. Leonardo Fernandez, ESP
2. Ondra Kral, CZE
3. Felix Thiele, GER

=================
Kids, overall, top 4
=================

1. Lukas Martinu, CZE
2. Emily Martinu, CZE
3. Tomas Mach, CZE
4. Marie Madarova, CZE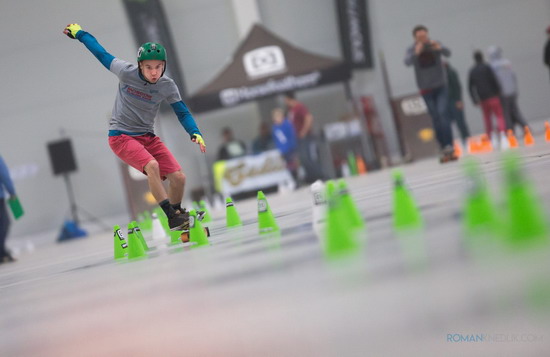 Martin Sweeney, legendary UK slalomer RIP
[October 8th, 2017 by Jani Soderhall]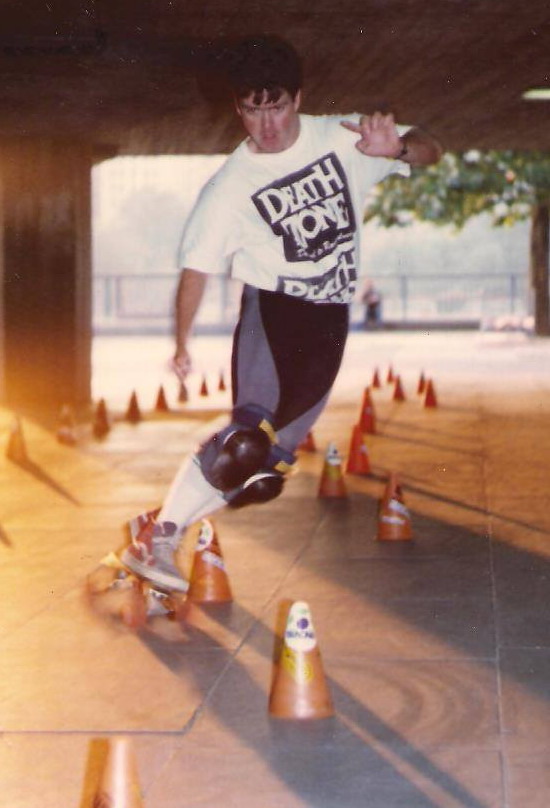 It is with great sadness that we have to report on the death of Martin Sweeney. Martin died Saturday October 8, following a period of frail health. We all recall when in 2013, despite not being in shape to race any longer, he came to Hog Hill for the European Championships to meet with the top slalomers and enjoy a full weekend of racing and ended up cone marshaling all day long. Some of the younger skaters and also most of the long distance travelers had no idea who he was, yet everyone had certainly seen him on his famous world record video online plenty of times.

In the early 80's Martin with his unique slalom talent set the tone for the UK slalom scene's push for harder and harder courses. If you could get through on any of your first three attempt, it certainly wasn't hard enough. Add in a cone or two where you'd have to slide to get through and it was just right for him. The type of really tight courses the Brits enjoyed later became known as English slalom. Martin never really felt comfortable at European races outside of Britain as cone distances would be much wider, and thus required none of the specific skills he had developed over the years.

Using one of the steepest hills on the famous race track Brands Hatch Martin invited Guinness to witness his setting of a world record that would be hard to beat. 100 cones tight slalom straight down the hill. Nobody had ever done anything like it before. A record was set and Guinness certified it. As the internet gained popularity some 15 years later Martin received millions of views on his record video.

Martin, rest in peace now and say hi to Piercy and Turner from us all!
2017 ISSA European Championships
[September 18th, 2017 by Jani Soderhall]
STRAIGHT SLALOM

PRO
1. Viking Hadestrand, SWE
2. Christopher Dupont, FRA
3. Janis Kuzmins, LAT

AM
1. Lukas Knobloch, GER
2. Max Thiele, GER
3. Daniel Petersson, SWE

WOMEN
1. Karolína Vojtová, CZE
2. Ann Monika Gailite, LAT
3. Eliza Gailite, LAT

MASTERS
1. Alexander Lutz, GER
2. Vlad Popov, RUS
3. Salvis Skarainis, LAT

JUNIORS
1. Mare Erika Belta, LAT
2. Leonardo Fernandez Llopis, ESP
3. Toms Zubarevs, LAT

TEEN
1. Patriks Jostmanis, LAT
2. Vlad Savkin, RUS

Complete results / forum topic:
http://www.slalomskateboarder.com/phpBB/viewtopic.php?p=80414#p80414
2017 ISSA European Championships
[September 18th, 2017 by Jani Soderhall]
HYBRID SLALOM

PRO
1. Janis Kuzmins, LAT
2. Viking Hadestrand, SWE
3. Christopher Dupont, FRA

AM
1. Lukas Knobloch, GER
2. Daniel Petersson, SWE
3. Mmedo Duffort, FRA/GBR

WOMEN
1. Karolína Vojtová, CZE
2. Eliza Gailite, LAT
3. Elena Ryabchikova, RUS

MASTERS
1. Vlad Popov, RUS
2. Salvis Skarainis, LAT
3. Petr Novotny, CZE

JUNIORS
1. Leonardo Fernandez Llopis, ESP
2. Mare Erika Belta, LAT
3. Toms Zubarevs, LAT

TEEN
1. Patriks Jostmanis, LAT
2. Vlad Savkin, RUS

Complete results / forum topic:
http://www.slalomskateboarder.com/phpBB/viewtopic.php?p=80412#p80412
2017 ISSA European Championships
[September 16th, 2017 by Jani Soderhall]
ISSA EUROPEAN CHAMPIONSHIPS 2017
MADRID - SPAIN

GIANT SLALOM

PRO
1. Janis Kuzmins, LAT
2. Mikael Hadestrand, SWE
3. Michel Dupont, FRA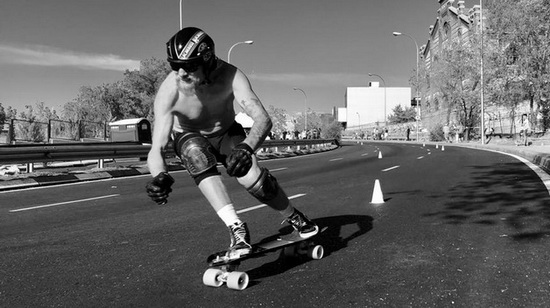 Giant slalom: Michel Dupont, photo by Pablo Ballester

AM
1. Lukas Knobloch, GER
2. Daniel Petersson, SWE
3. Mmedo Duffort, FRA/GBR

WOMEN
1. Elizaveta Khokhlova, RUS
2. Elena Ryabchikova, RUS
3. Karolína Vojtová, CZE

MASTERS
1. Petr Novotny, CZE
2. Vlad Popov, RUS
3. Salvis Skarainis, LAT

JUNIORS
1. Mare Erika Belta, LAT
2. Leonardo Fernandez Llopis, ESP
3. Toms Zubarevs, LAT

TEEN
1. Patriks Jostmanis, LAT
2. Vlad Savkin, RUS

Complete results / forum topic:
http://www.slalomskateboarder.com/phpBB/viewtopic.php?p=80409#p80409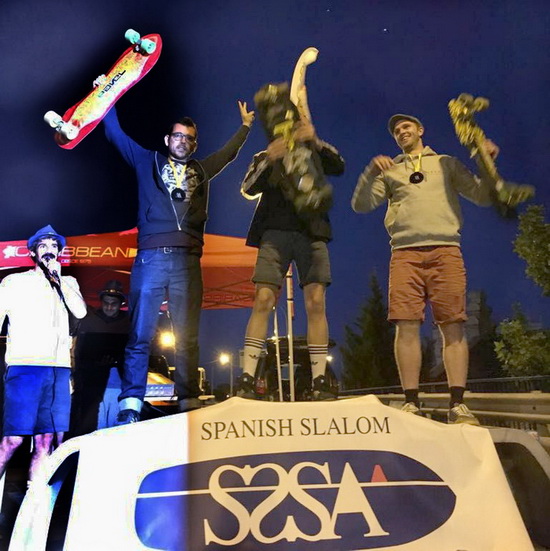 Giant slalom: AM podium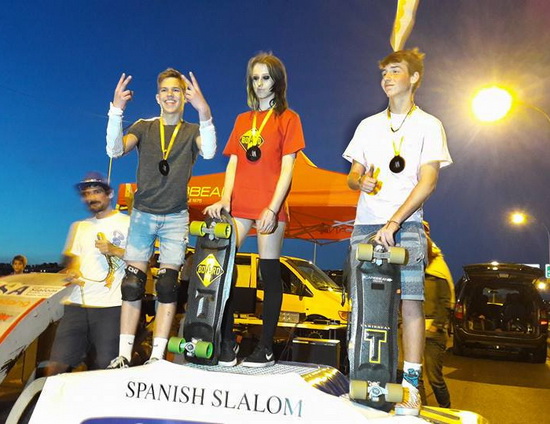 Giant slalom: JUN podium
Page:
1
,
2
,
3
,
4
,
5
,
6
,
7
, 8,
9
,
10
,
11
,
12
,
13
,
14
,
15
,
16
,
17
,
18
,
19
,
20